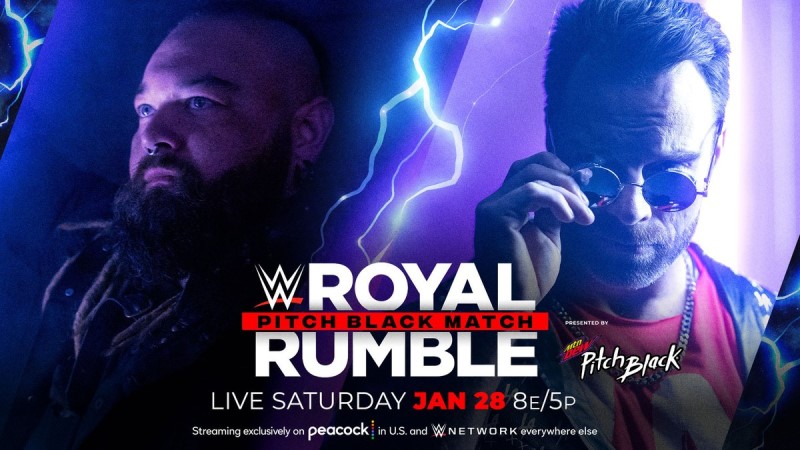 What Happened During The Pitch Black Match – Tonight's WWE Royal Rumble Premium Live Event saw Wyatt defeat LA Knight in the unique match, which featured glow in the dark and neon elements. A tool box and a kendo stick were also used, and at one point LA slammed Wyatt through the announce table.
The match, which was sponsored by Mountain Dew's Pitch Black flavor, actually ended somewhat abruptly with Wyatt hitting Sister Abigail in the middle of the ring, right after LA smashed Wyatt with a kendo stick. After the match, Wyatt came back up with some sort of gas mask on. He stalked LA up to the stage, while LA hit him with kendo stick shots that did nothing.
Wyatt then put Knight flat on his back with the Mandible Claw on the stage. Uncle Howdy appeared on a platform up above, and Wyatt acknowledged him. Howdy smiled, then flew off the platform, crashing down below to put LA through the stage. Flames shot up and there was an explosion as Wyatt stared ahead. After a replay, Wyatt continued to stare ahead while a fire burned down below where LA and Howdy were. The Firefly Funhouse puppets also appeared on a platform up high as Wyatt posed.
Besides the post-Christmas live event matches that saw Wyatt defeat Jinder Mahal, this was his first match since losing to Randy Orton at WrestleMania 37 on April 11, 2021.
Below are several shots from tonight's Pitch Black match at The Alamodome in San Antonio, TX:
Bray Wyatt is here 👀#RoyalRumble pic.twitter.com/sms8dtJGSV

— WWE on BT Sport (@btsportwwe) January 29, 2023
Ladies and gentlemen we have gone PITCH BLACK! 🤯#RoyalRumble pic.twitter.com/KWdxFHNOVj

— WWE on BT Sport (@btsportwwe) January 29, 2023
Through the table!! 😳#RoyalRumble pic.twitter.com/Mpam7gs54g

— WWE on BT Sport (@btsportwwe) January 29, 2023
Bray Wyatt defeated LA Knight! 😱#RoyalRumble pic.twitter.com/jUq5tVo7fs

— WWE on BT Sport (@btsportwwe) January 29, 2023
WOAH!!!#RoyalRumble pic.twitter.com/pdTuhG4LUc

— WWE on BT Sport (@btsportwwe) January 29, 2023
Uncle Howdy is here!#RoyalRumble pic.twitter.com/k1zKVbIJ20

— WWE on BT Sport (@btsportwwe) January 29, 2023
A family reunion.#RoyalRumble pic.twitter.com/DNWSxxg7Dd

— WWE on BT Sport (@btsportwwe) January 29, 2023
As Bray Wyatt and @RealLAKnight met in the first-ever @MountainDew Pitch Black Match at #RoyalRumble, Uncle Howdy made a big splash! pic.twitter.com/TqYhpt1sAZ

— WWE (@WWE) January 29, 2023
What Happened During The Pitch Black Match