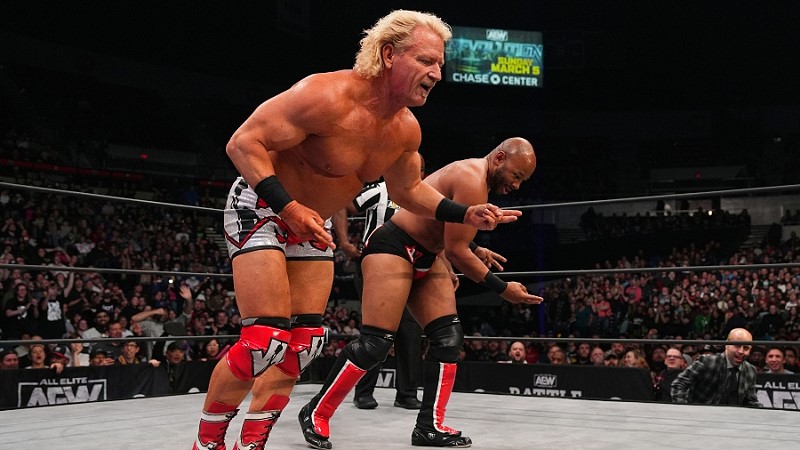 Jeff Jarrett And Jay Lethal Hint They May Pursue The Trios Titles Next – The Lethal Connection hyped their showdown against FTR at Double or Nothing during an interview with PWMania.
Lethal begins by talking about his relationship with Mark Briscoe, and how Mark may be the deciding factor in Sunday's title matchup with the Top Guys.
"Double or Nothing, I think Jeff and I have said it plenty of times on national television, or any time anybody will ever listen to what we're saying, we're going to become the next AEW Tag Team Champions and you ask will we get a new member, and I hope that you're not hinting at that being Mark Briscoe because Mark Briscoe, one of my best friends in the whole world and you know, Jeff's warming up to him," says Lethal. "And he's known Sanjay forever. I would say that he's already an honorary member of the Lethal Connection. If I can use that name that you've dawned us with."
Jarrett adds that the group could potentially pursue the AEW Trios Titles in the future, as he believes Satnam Singh has the most potential of anyone on the AEW roster. However, he says the group will first capture the tag titles this Sunday at Double or Nothing.
"I'll clear that up. A friend of Jay's, is a friend of mine," says Jarret. "It just goes without saying so. It just goes without saying, but Briscoe, he has a job to do this weekend. And we keep kind of using the same kind of mentality, he's going to do the right thing when the time comes. I'll leave it at that. But the Trio's Title, I'll say this, I think Satnam Singh has the most potential of anybody on the AEW roster, candidly, bar none. But when we win those Tag Titles, me and Jay, don't plan on losing them anytime soon. With the addition of Karen, you kind of look at our unit. A lot of names are bannering around; Lethal Connection, Triple J, I hear a name here and there. At the end of the day, we want to be called winners. And that's what we plan on doing when we win the Tag Team Titles."
Jeff Jarrett And Jay Lethal Hint They May Pursue The Trios Titles Next