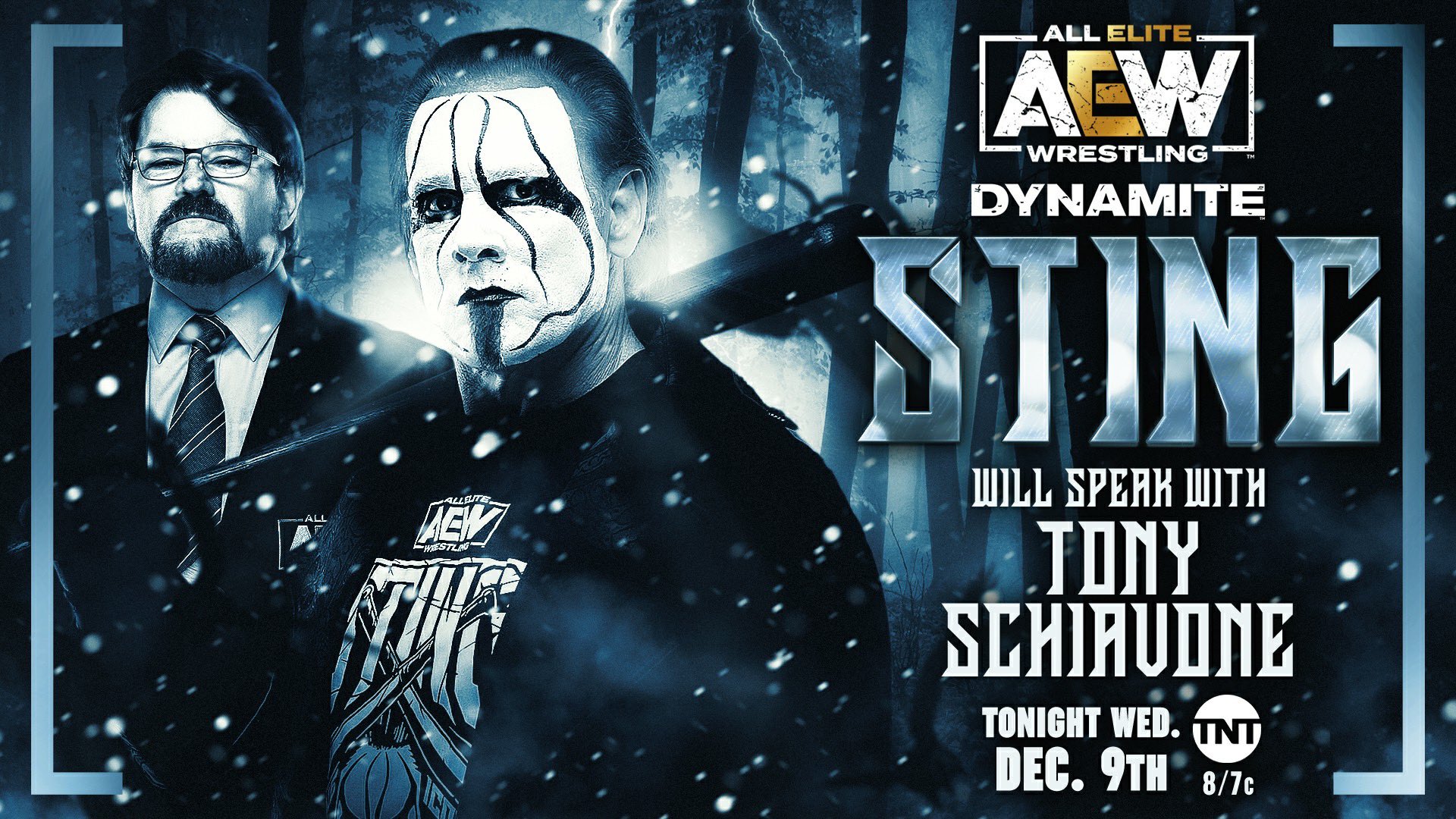 AEW Dynamite Results – December 9 – This week's show kicks off with a video package, which includes Kenny Omega with the AEW Championship, Sting's debut and other recent happenings.
Pyro and fireworks explode in the arena as Jim Ross welcomes us to this week's show from the commentary desk.
The Young Bucks vs. The Hybrid2 (Non-Title)
All four guys start brawling and the action quickly spills out to the floor at ringside, with Nick and Matt starting to pull ahead on offense. The announce team of J.R., Tony Schiavone and Excalibur remind us that if TH2 wins tonight in this non-title affair, they will earn a rematch against the Bucks for the titles.
Nick and Matt each take turns hitting wild dives to the floor, splashing onto Evans and Angelico. Back in the ring, the Bucks hit some unique double-team offense on Evans before he finally makes it to his corner to tag in Angelico. All four men end up in the ring and we see Jack Evans jump off of a pile of bodies onto Jackson on the floor.
While the action continues inside the ring, we see the challengers pull ahead on offense as the announce trio mention some of the action still to come on tonight's show, such as Tony Schiavone's interview with Sting, Shaquille O'Neal and new AEW World Champion Kenny Omega.
After TH2 enjoys a couple of minutes in the offensive driver's seat, Nick Jackson finally gets the hot tag and comes in like a man possessed, taking out any-and-everything that moves. Nick from the ring apron leapfrogs into the ring and hits a face-buster, spiking Angelico's grill into the mat. Evans grabs a handful of Nick's hair from the apron to provide a distraction, however it backfires as Matt Jackson ends up power-bombing him into the front row.
Meanwhile the action resumes in the ring with the Young Bucks pulling ahead as J.R. speculates that the end could be near. The Young Bucks hit their Risky Business double-team spot for a close near fall, however Angelico manages to hang in, kicking out at two-and-a-half. Evans ends up blind-tagging himself in and hitting Jackson with a neck-breaker and a splash off the ropes for a near fall of his own. Angelico tags back in and picks up Jackson for the BT-Bomb, running across the ring only to be hurricanrana'd into a super kick from the other Buck on the apron. Cool spot.
Now we see the Bucks hit the Doomsday Device on the entrance ramp on one member of TH2. In the ring, they hit stereo super-kicks on Angelico and cover him for the pin, however for the third time, Angelico somehow finds a way to avoid staying down for the three count. The Young Bucks go for the More Bang For Your Buck, however Angelico gets the knees up and Jackson lands awkward on his leg, clutching his knee immediately. We see a crazy 450 splash from Evans to Nick on the floor. In the ring, Angelico goes for the Death Roll on the hurt knee of Matt. Nick makes the save with a flying Senton.
Matt gets up but is walking softly on his injured leg. With The Bucks on the floor, Evans goes for a dive but is caught by Nick Jackson in the pile-driver position. He holds him while Matt runs in the ring and leaps out, helping Nick spike him face-first on the floor. Back in the ring, Angelico eats stereo super kicks and then the Bucks follow up with the BTE Trigger for the pinfall victory. Great opening match.
Winners: The Young Bucks
The Acclaim are about to attack the Bucks after the match but SCU run out and chase them off.
— In the back, MJF says that he is going to get a chance to upset all the "not so smart marks" when he bases Orange Cassidy's head in tonight.
— A vignette from Darby Allin shows him doing a Rorschack Test and referring to Team Taz as snakes in the grass. He says that he has dealt with "shit like this" all his life and he will deal with them. The doctor holds up a sheet that has Sting's face on it and asks him about it and Allin just laughs.
— We head back inside the Daily's Place amphitheater in Jacksonville, FL. where "The American Nightmare" Cody Rhodes' music hits and the AEW EVP makes his kick-ass ring entrance.
As he makes his way down to the ring, TNT Champion Darby Allin is shown sitting in the rafters watching on. As Cody settles into the squared circle with a suit on, Excalibur informs us that we will hear from "The American Nightmare" next. On that note, we head to a commercial break.
We're back from the break and Tony Schiavone has joined Cody and Arn Anderson in the ring. He brings up one week ago when "Team Taz" was having their way with him in the ring and out came "The Icon" Sting. He asks for his thoughts but before he can say anything, the lights in the amphitheater go out and "The Icon" Sting begins making his way out as the crowd goes nuts.
As Sting makes his way down to the ring, he enters the squared circle and we see Arn Anderson step in front of Cody as he approaches "The Icon." He says he just had to step a bit closer to see if this was real. He says he's going to excuse himself now and leave Cody and Sting to talk things out.
"The Enforcer" exits the ring on that note and as he does, Tony Schiavone asks, "Who am I to stick around, then?" but before he can leave, Sting stops him and grabs the mic. He asks Schiavone how he's been and brings up having not seen him on television since WCW on TNT. He brings up Schiavone's infamous "IT'S STING!" call from the past and asks him to do it here tonight for the fans. Schiavone obliges.
Cody gets on the mic and says, "Welcome back!" He starts off by thanking "The Icon" for the assist last week. He says he's going to get to the point. He says he's been waiting to share a ring with him for a long, long time. Sting tells Cody he's not here for him — at least not right now. Sting says there's something really, really familiar to him about this place. He says it again as he gestures up to TNT Champion Darby Allin with Sting's crow-style face-paint on half his face, sitting in the rafters like "The Icon" used to do in WCW. He talks about this show airing on TNT, something else that feels familiar to him. The fans chant "Welcome back! Welcome back!" Cody says again, "Like I said, sir … welcome back."
Sting says he knows Cody is aware of every single thing that goes on around this place. Sting paces around Cody and brings up his WWE Hall Of Fame quote, noting "The only thing's for sure is nothing's for sure." He adds, however, "Except for this … I'm signed with AEW." He tells the fans that he plans to spend a long time right here in All Elite Wrestling. The fans chant "Welcome home! Welcome home!"
"The Icon" informs Cody that the way he chooses to play is his business. He puts his arm around Cody and in big-brother fashion, squeezes and pulls him in tight and says, "See ya around, kid!" He exits the ring as his music plays again and Cody is left in the ring with a smirk on his face that turns serious. The camera also pans up to show Darby Allin one final time.
— We shoot backstage where we see Team Taz. Taz talks about how sweet that was to see Sting and Cody and Darby Allin all have a special moment together. He brings up Team Taz beating down Cody and Darby last week when Sting interfered in their business. Taz points out one of Cody's proteges standing with them and they talk about always being down to beat somebody up.
Varsity Blondes vs. FTR
The bell sounds and we're off-and-running. Early on, Wheeler takes it to Pillman Jr., helping FTR jump off to an early offensive lead. He establishes dominance over Pillman Jr. and then tags in Harwood. Harwood backs Pillman Jr. into a corner and chops the hell out of him. He hits a nice snap-suplex and then follows up with some european uppercuts before tagging Wheeler back in.
FTR goes for a double-team spot, however Pillman Jr. leaps onto the turnbuckle in the corner and turns and splashes onto both guys, taking out the former AEW Tag-Team Champions before tagging Garrison in. The Varsity Blondes hit a nice double-team spot and then Garrison tags Pillman Jr. right back in. The two hit another series of double-team moves, culminating with a nice leaping leg-drop to the throat.
Excalibur mentions an upcoming picture-in-picture break as FTR starts to pull back in the offensive lead. The two hit a double-team suplex, bouncing Pillman Jr. off the top-rope before slamming him down behind them. On that note, J.R. talks us into a mid-match, picture-in-picture commercial break while the action continues in the ring.
We're back from the break and we see FTR still very much in control of the action. We are shown some replays of the action that took place during the break, with FTR hitting some nice high spots during the commercials. Back live, the match spills outside the ring and we see Varsity Blondes start to pull back into the lead. Pillman Jr. hits a nice diving shoulder-block onto Wheeler in the ring. After that, he makes the tag to Garrison.
Garrison takes the hot tag and enters the ring, taking out everything that moves with rolling elbows and big splashes onto both members of FTR in the corner. He follows that up with a double-spear on Wheeler and Harwood for a close near fall. He goes for a vertical suplex on Harwood, but Harwood escapes and knocks Garrison into Pillman Jr., who tags in. Wheeler hits a big brainbuster on Pillman Jr. and then tags in Harwood. The two hit their double-team Goodnight Express finisher and score the pinfall victory.
After the match, Tully Blanchard enters the ring and joins Harwood and Wheeler in celebrating, as FTR keeps their one-loss record in AEW in tact. We see FTR jawing back-and-forth with Jungle Boy, Luchasaurus and Marko Stunt, as it looks like an FTR vs. Jurassic Express rivalry is in the works.
Winners: FTR
— We shoot to Alex Marvez who is standing by with "Hangman" Adam Page at the bar. He brings up "Hangman" needing two partners for a scheduled six-man tag-team match against Private Party & Matt Hardy on next week's Dynamite. As they continue to talk, we see John Silver and Alex Reynolds of The Dark Order standing behind Marvez and Page at the bar wearing cowboy hats. They offer to be the partners of "Hangman" for next week's bout. He initially turns them down but ultimately decides to accept their offer.
Dark Order's 10 vs. Dustin Rhodes
The bell sounds and we're off-and-running with our third match of the evening here on AEW Dynamite. Dustin jumps off to an early offensive lead, blasting 10 with some fistacuffs before taking him out to the floor and bouncing his head off the barricade. Back in the ring and we see 10 hit a spinebuster out of nowhere as Dustin follows him in.
We see some replays of that and then back live, 10 runs and blasts Dustin with a kick that knocks him from the ring apron to the floor. 10 stalks Dustin and heads out after him. He walks around the ring and changes direction after running across Lee Johnson.
10 ends up kicking someone in the face that was sitting in the front row. The announcers mentioned a name but it was hard to make out. Now Dustin fires up on offense, biting at the face of 10 before hitting a running bulldog and covering him for the 1-2-3.
Winner: Dustin Rhodes
Dark Order comes back out and Evil Uno says he isn't here to fight and he wants to help improve Dustin's future. He says that Dustin's legacy has gone through five generation but the Rhodes name comes with pressure. He says that Dustin is the third most important Rhodes in AEW but the Dark Order can help him. He asks Dustin to take his "rightful place as Seven" in the Dark Order. Remember, Seven was the goofy ass gimmick Vince Russo was going to saddle him with in WCW.
Rhodes slaps Uno and Uno tells them that he will beg the Dark Order when he finally 'sees the light.'
— Tony Schiavone sits down with Brandi Rhodes and Shaq and says that he has a history with Jade Cargill and he is a big fan of her but he didn't appreciate what she did to Brandi Rhodes. Brandi says she doesn't appreciate it either but she wants to settle this before anyone else gets hurt. Shaq says that he and Cody had a little spat on Twitter but that was just him having fun and he was a big fan of the Rhodes family. Shaq says he will be there if Brandi faces Jade, though. Shaq tells Brandi that while her arm is in a sling she should watch Jade and get some pointers. Brandi throws a drink in Shaq's face and calls him an "overgrown asshole."
Inner Circle Ultimatum
It's time for the Inner Circle ultimatum issued by "Le Champion" on last week's show.
The Inner Circle make their way to the ring and Chris Jericho says this could be the last time they are ever in a ring together as the Inner Circle. Jericho says that they will either continue to build Inner Circle as the biggest brand in wrestling or they will disband forever because he's tired of the shit that's been going on. He says the way they have been pushing each other and bickering has been embarrassing. Jericho says that Santana is so pissed off he didn't even show up this week. Apparently Santana had "personal issues" that caused him to stay home tonight.
MJF cuts Jericho off and says that he loves each member of the Inner Circle like brothers. He says that he himself might be the issue here and he sees what people say about him on social media accusing him of wanting to take over the group or destroy it. MJF says he chose to join the group because he wanted to be a part of the greatest faction in wrestling and he wanted to create a bond that can never be broken.
MJF says that he loves Sammy and says that he felt betrayed by Sammy trying to throw the towel in last night. Jericho says that they all watch the show, they all saw what happened so they know it was MJF that was going to do it. MJF says that he had sweat on his eyebrow and he was just trying to wipe it off.
Ortiz says that Santana made him understand that MJF and Wardlow are assets to the group but as humans that is debatable. He says Wardlow is great but MJF is growing on him like a fungus. Ortiz tells Sammy to shake his hand. Ortiz says that Jericho chose MJF and they didn't so he gets Sammy's issues but sometimes in life you don't get to choose the hand you are dealt. Ortiz tells Sammy to be the better man – because he is – and shake MJF's hand.
Sammy agrees to shake MJF's hand because he trusts Jericho with everything because he is the one that brought him in AEW. Sammy says that if one more thing happens he will quit the group. Sammy shakes MJF's hand and Jericho is happy and says everything is cool now. Hager stops him and asks why Wardlow has been staring at him.
Wardlow calls Hager a weirdo and says that he has been staring at him since he joined AEW. Jericho suggests that they both stop staring at each other and they agree. They all flip off the camera together.
— We shoot backstage where Alex Marvez is standing by with the former AEW World Tag-Team Champions, FTR, and their manager Tully Blanchard.
Marvez brings up FTR's loss to The Young Bucks in the tag-team title bout at the recent AEW Full Gear 2020 pay-per-view, and it being their lone defeat in their All Elite Wrestling careers. Cash Wheeler claims they lost because his emotions got the best of him and it cost them the titles.
Blanchard chimes in and says he wasn't at AEW Full Gear and because of that, the full team wasn't there. He claims when they are all together, they are the best team on the planet and nobody can stop them.
Dax Harwood closes the interview segment out talking last. Harwood agrees with Blanchard that as a united force, they are the most unstoppable team in the business. He makes it clear that their goal is to recapture the AEW World Tag-Team Championships. They close the segment by saying, "Fear The Revelation."
Eddie Kingston, The Butcher & The Blade vs. Lance Archer & The Lucha Bros
Archer hits a dive over the top onto Kingston's group to start things off! All six men brawl all over the place until Butcher slams Penta through a table. Archer chokes Kingston in the ring as trainers are checking on Penta who has injured his knee. Fenix tags in but the heels triple him in their corner almost immediately. They beat Fenix down for several minutes – with Allie getting involved as well – but Fenix is able to catch Kingston with a Back Handspring Cutter out of nowhere as Kingston through him into the ropes.
Fenix makes the hot tag to Kingston as Blade tags in at the same time. Archer hits a Full Nelson Slam on Blade and then he and Butcher run into each other. They punch and clothesline one another but Archer hits a series of elbows on both Butcher and Blade. Archer dives off the middle rope with a Flying Cross Body on both of them.
Roberts trips Blade up from the outside allowing Archer to German Suplex Blade. Archer injured his own knee during the break. Fenix tags in and hits a Springboard Frog Splash Cross Body on Blade followed by a series of kicks on Butcher. Fenix hits the double spring into a Lucha Armdrag/Headscissors on Kingston and Butcher. Fenix hits a Tope con Giro on Kingston on the floor! Fenix walks into a Powerbomb/Neckbreaker combo from Butcher/Blade for the pin, however.
Winners: Kingston, Butcher & Blade
Archer attacks Kingston's crew after the match and destroys all of them until they finally retreat.
— In the back, Nyla Rose and Jade are beating Red Velvet down until Serena Deeb and Big Swole stop them. Ivelisse and Diamante attack them from behind, though.
Abadon vs. Tesha Price
Abadon attacks Price as she gets in the ring with a clothesline and then lays into her with punches int eh corner before tossing her across the ring. Price tries to fight back but Abadon destroys her with a bunch of forearms. Abadon hits a Back Leg Sweep followed by a Gravedigger (Widow's Peak) for the pin.
Winner: Abadon
Abadon continues to assault Price after the match until Hikaru Shida runs out with a kendo stick and levels Abadon with it! Shida helps Price up but Abadon sits up and Shida freaks out and leaves.
— Backstage, Jericho says that they are going to be ringside for MJF tonight to ensure that he beats Orange Cassidy's ass.
AEW World Champion Kenny Omega Speaks
We shoot to the parking lot area outside the amphitheater where a helicopter is shown flying and landing at Daily's Place. The helicopter door opens and out walks Kenny Omega wearing a white suit and holding the AEW World Heavyweight Championship.
Finally, we head back inside the amphitheater where "The Dapper Yapper" Justin Roberts begins the lengthy, elaborate, over-the-top ring introduction of the new AEW World Heavyweight Champion Kenny Omega.
As Omega's theme music peaks, he emerges in the same white suit with the AEW Title over his shoulder and IMPACT Wrestling Co-Vice President Don Callis by his side. The two make their way down to the ring area, joining Tony Schiavone inside the squared circle.
Schiavone talks with a disapproving tone to his voice and brings up what transpired in the main event of AEW Dynamite: Winter Is Coming special last week, which saw Omega — via an assist from Callis — defeat Jon Moxley to capture the AEW World Title.
Callis talks about being confused by the surprised reactions from within the industry. He brings up Tony Khan being upset, questioning why and pointing out that he was the one who invited Callis to the show. Callis talks about he and Omega being fresh from an appearance on IMPACT Wrestling On AXS TV and then says, "Welcome to the wrestling biz, kid!" to Khan.
The IMPACT Co-V.P. continues, talking about how he and Omega didn't plan this for days, weeks or even months. Callis claims he and Omega had this in the works for over a year. Omega says nepotism is a great thing and thing brings up all the prizes he has achieved en route to the culmination of their well-crafted plan, winning the AEW World Heavyweight Championship.
Omega talks about not caring if Tony Khan or anyone else, including Jon Moxley, have any problems with what he and Callis pulled off. He takes off his sunglasses and shows his eye is nearly swollen shut from his physical match with Moxley last week.
Omega then claims if fans thought last week was a big surprise, and if we thought Tuesday on IMPACT Wrestling On AXS TV was a big surprise, we haven't seen anything yet.
Callis cuts Omega off and says they are going to make history. Callis asks Omega to say it for him. Omega says "Goodbye, muah, and goodnight, bang!" His music plays again as he puts his sunglasses back on and exits the ring with Callis. The two head up the aisle as the camera follows them literally all the way through the entrance tunnel.
Second Annual AEW Dynamite Diamond Ring Finals
MJF vs. Orange Cassidy
The bell sounds and we're off-and-running with the second annual finals of the Dynamite Diamond Ring showdown between MJF and Orange Cassidy. MJF hits Cassidy with a cheap shot straight out of the gate to start the match off with the offensive momentum on his side.
MJF goes to work on Cassidy, taking it to him for the first few minutes before Cassidy turns the tables by hitting MJF with a Stun Dog Millionaire. He puts his elbow pad back on and goes after MJF. MJF avoids his onslaught but Cassidy then loads up, looking for the Orange Punch, however he misses and ends up sailing out to the floor outside the ring.
Friedman goes out after Cassidy, putting his arm behind his back and then slamming him on the wedge of the ring apron. Ouch! MJF goes over and gets in The Best Friends' faces, daring them to hit him. He walks off and we see Chris Jericho holding Floyd the baseball bat and standing by with the Inner Circle making sure no one else gets involved.
MJF now focuses his attack on the right hand of Cassidy, smashing it into the ring post and stomping on it, as the announcers explain that it is the hand Cassidy uses to throw his Orange Punch finisher. MJF throws Cassidy back in the ring and starts bending his fingers backwards. He mocks Cassidy and then taunts the fans a bit before turning into a big shot from Cassidy. Cassidy goes to follow-up, however MJF ducks it and scoops Cassidy up, bringing him down with a vengeance.
As Cassidy stumbles back to his feet, MJF blatantly throws him through the ropes and out to the floor where the Inner Circle are standing. All of the members of the Inner Circle start gang-style beating down Cassidy, and when The Best Friends try to come around to even things up, "Le Champion" holds them off with Floyd the baseball bat. Sammy Guevara adds a couple extra shots to Cassidy for good measure and then he is thrown back into the ring, where MJF keeps the beatdown going as we head to a mid-match, picture-in-picture commercial break.
MJF mocks OC while he kicks him in the face as we see Best Friends went backstage and got a bunch of reinforcements making this a de facto Lumberjack Match. OC is able to hit a Tope Suicida on MJF on the outside followed by a Diving Cross Body back in the ring. OC hits the Satellite DDT on MJF followed by a Diving DDT off the top for a nearfall. OC misses the Orange Punch again and MJF stomps on his hand again only for OC to roll him up out of nowhere for a nearfall.
OC misses the Orange Punch again and MJF slams him into the turnbuckles and hits as Tiger Breaker followed by a Tiger Bomb for a nearfall. MJF hangs OC up in the ropes and goes for the Heat Seeker but OC backdrops him over the top. OC then this a Springboard Somersault Plancha onto all of the Inner Circle!
In the ring, MJF catches OC with the Heat Seeker as he tried to climb back in the ring but the referee catches MJF with his feet on the ropes for extra leverage. MJF goes to hit OC with Jericho's bat but he pulls an Eddie Guerrero and throws it to OC but the referee never turns around. MJF grabs the bat to hit OC with it and OC plays dead as the referee turns around. The referee takes the bat away and OC hits the Beach Break for a nearfall.
MJF comes back with a Salt of the Earth and starts punching OC's hand. OC fights it off and hits the Orange Punch! 1…2…NO MJF kicks out! OC hits a second Orange Punch but this time Wardlow is able to put MJF's foot on the bottom rope to break the pin. Best Friends and all the other babyfaces jump Inner Circle and a huge brawl erupts.
The referee is distracted as Miro kills OC in the ring. MJF covers OC and gets the pin.
Winner: MJF via pinfall
After the match, MJF's music plays but all attention turns to "The Best Man" Miro and Kip Sabian, as everyone charges after them. Miro becomes a one-man wrecking machine, as the man who has been all fun and video games since coming to AEW shows his true violent side.
Miro takes out everyone one-by-one and even manhandling some of the AEW production staff standing around, launching one off the entrance ramp down to the floor several feet below.
"The Best Man" yells out like an enraged monster on the loose as MJF is shown celebrating in the ring one final time.
The camera pans back over to the madman Miro shouting out in rage again as J.R. thanks us for tuning in and this week's AEW Dynamite broadcast goes off the air.