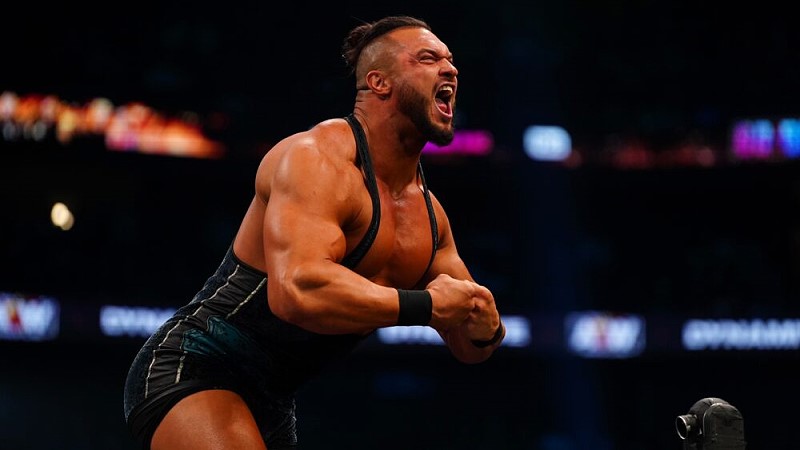 Wardlow Wins TNT Title On AEW Dynamite – Tonight's AEW Dynamite kicked off with Scorpio Sky vs. Wardlow in a Street Fight. Wardlow walked out to the ring alone and Sky had a big entourage that included Ethan Page, Dan Lambert and American Top Team fighters.
Late in the match, Wardlow had to fight off everyone from Sky's crew. He also took a belt shot but he kicked out of Sky's pin attempt. Warlow shoved Sky into Dan Lambert on the ring apron and then he finished Sky off with the powerbomb symphony to win the title.
To reflect his rise to the top, AEW changed up a bit of Wardlow's presentation this evening. "Mr. Mayhem" received a brand new entrance theme titled, "Symphony of War". The song was written, performed, and engineered by Colin Young with the added contributions from mixer Bryan Batiste and co-producer, guitarist, and vocalist, Jordan Olds.
You can see the lyrics below:
"Undefeated, unbroken.
Dominance remains unspoken.
Enemies deconstructed.
Symphony of pure destruction.
This is war.
Found my purpose through suffering.
Now I will smash through everything."
It was reported at the start of June that Wardlow was expected to have his new theme song debut imminently. The song was finished at the time, but it looks as though they waited until a big moment like tonight for to release the song.
This replaces the "This is War" theme he's entered the arena to in recent years, as well as his temporary entrance of coming into the arena in silence while escorted by security. After he defeated MJF and was set free from his control at Double or Nothing, he was freed of the handcuffs and returned to his dominant ways.