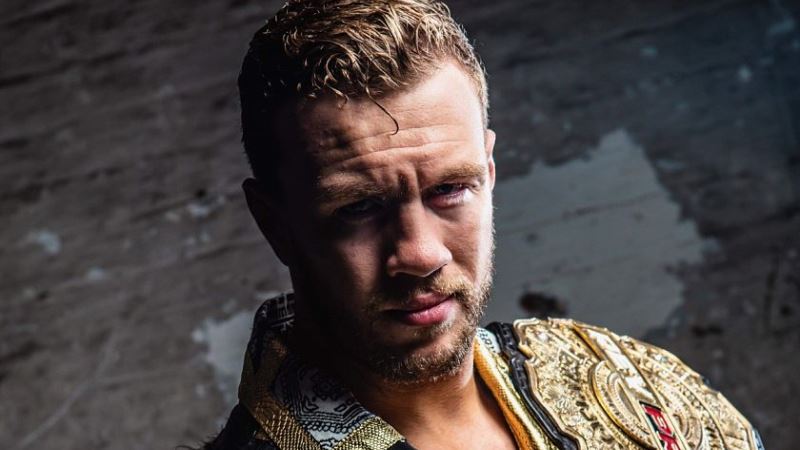 Will Ospreay Discusses Decision to Sign with AEW – Will Ospreay is the latest name to sign with All Elite Wrestling, putting pen to paper at AEW Full Gear 2023.
During the media scrum following the event, Ospreay addressed the factors that led to him deciding to sign with AEW including the trust he has built with Tony Khan through his recent stints in AEW, and also addressed the importance of making a decision that worked for his family as well.
"I've built up and trust and rapport with Tony. I feel I'm at my best over here. I've enjoyed every time I've come over here. Right now, this is the best decision for me and my family. I'm not interrupting my kid's school, my Mrs. can see her parents. I get to be one of the best pro wrestlers that have ever done it and I get to do it now on weekly TV and I get to really test myself in these waters," he said.
Asked about getting clearance from NJPW to sign with AEW before his tenure in New Japan ends in early 2024, Ospreay said that would be a question best directed to his representatives. Still, he's ultimately grateful for his time in New Japan and says that nobody would know his name without the backing that he received from the promotion.
"That's more of a question for the reps, I'm not going to lie to you. I have no idea what happens. I've spent eight years of my life in New Japan," he said. "I was a very immature young man and I came into the business, I don't think really prepared for what was the come. With everything with New Japan, I've grown up in front of them. I can't thank them enough. It was a true blessing, the fact that I just got to be a wrestler there. Coming out tonight, I messaged my Mrs, every mile was worth it. There was an expectation and I heard it when the music hit. I'm so grateful. I can't tell you the gratitude I feel right now. None of you would know my name without New Japan.
"That's a reality. When I did that match with Ricochet all those years ago, people just thought that was it and that's who I was. I've evolved, I've changed," he added. "The best thing is, I've matured. I understand the responsibility that I'm in and the responsibility that I'm in here. It's a heavy task because there is expectations, but I have been at my best when my back is against the wall and I'm uncomfortable. I'm really looking forward to testing myself and I'm thankful for New Japan and everything they've done for me. That doesn't mean I'm done. I can still, with Tony's blessing, I can still do some dates. It just has to be right."
Speaking about exploring the other options available to him, Ospreay put over his time in IMPACT Wrestling and said that while he wanted to hear everyone out, he feels drawn to AEW because it has all of the qualities that made him fall in love with wrestling.
"The TNA thing, TNA was wonderful and incredible, but it was a case of, I wanted to hear everybody out. I wanted to do what was best for my family," he said. "I can't tell you enough, my life has completely changed ever since that woman has walked into my life. Responsibility has placed itself in front of me. I'm one of the most irresponsible people sometimes. Something has changed within me. I get it now. I understand the responsibility. I see AEW and I see the talent here and I see everything that made me fall in love with pro wrestling. I followed everything. The good, the bad, I followed everything, and I believe in this place. There was a promo Moxley did ages ago, 'It's time to be a legend.' At that point, I was like, 'I want this. I want to go here,' and while I'm here I'm going to give everything I've got to this place. Not just for myself, because I want to see if I'm that good, I want to give back. I've had this mad anxiety coming to America, this huge anxiety coming over here, and I'm willing to face that now and I'm willing to try my best now. It's an amazing journey I've been on and I'm so grateful. I'm looking forward to it."
Will Ospreay Discusses Decision to Sign with AEW