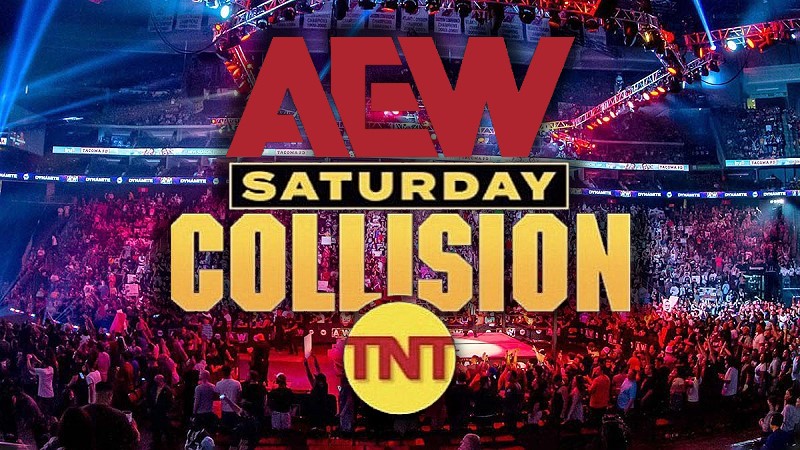 9/30 AEW Collision Results – Were you distracted by NXT No Mercy? Well, in case you forgot there was a Collision show too, but you didn't miss so much…
We open the show with Kevin Kelly and Nigel McGuiness as the announcers. The first match is Idolo vs. Robinson. There is no White with them and video airs of what happened to White on "Dynamite," where he was attacked by masked men and one man wearing a devil mask. 
Andrade El Idolo Vs. Juice Robinson
The bell rings, and both men start shoving each other. Idolo tries for the figure four, but Robinson runs out of the ring. Idolo follows him. Back in the ring, Idolo jumps off the top rope. Suplexes to Robinson. Idolo tries for the three-count, but Robinson kicks out. Three amigos.
Idolo crashes on Robinson and The Gunns. He pulls Robinson back in the ring, but the Gunns grab onto him and he falls near the announce table. Colten is stomping on Idolo. Robinson gets out of the ring and lands Idolo's head on the edge of the ring when the elbow.
Robinson goes for the pin, but Idolo kicks out at the two-count. Idolo is back in the match and nine right hands to Idolo. Robinson moves out of the way before it goes to ten. Idolo hits the ring ropes and Robinson does the cannonball.
Back from the break, Robinson hits the backbreaker. Thumb to the eyes. Dragon screw leg whips. Robinson is back in the match again after he puts his knees up. Robinson uses the referee as a shield. He powerbombs Idolo and gets a two-count.
Robinson. Idolo counters go for the figure four, but counters. Knees to the face of Robinson. The Gunns try to attack the ref. The ref tells The Gunns to leave ringside. Robinson tries to go for the rollup while everyone is distracted. He fails and Idolo hits the for the win.
Winner: Idolo
Backstage with Omega and Jericho. Jericho says it's a big deal that they are here and that AEW was built on the rivalry of both of them. Omega says that he will have Jericho's back, and Jericho says the same thing. They are putting their feud on hold because Don Callis is bigger than that.
Back from the break, RJ City is back to interviewing Toni Storm. She says that she misses the old days. She says that she needs to bleed and cry all the time, to be in the "trades." She says that she has to remind them. She thinks that City is hitting on her, he says no, and she gets upset.
Best Friends vs. The Kingdom
Before the bell rings, Best Friends go after The Kingdom. The Kingdom goes out of the ring. The bell finally rings and it's Taylor and Bennett who start off the match. They go back and forth until Taven tags himself in. Outside of the ring, Taylor hits Press kicks to both members of the Kingdom. Taylor goes for a move but misses, and hits into the guardrails. All four men are down.
Back from the break, Trent is tagged in and he lays out both men. Double dropkicks to Bennett and Taven. A big swing DDT, Trent gets a two-count. Taven hits him in the back and then tags in the Bennett. Taylor is outside. Death Valley Driver on the step to Bennett. Taylor has Bennett on his shoulders while Trent does a knee drop from the ropes. They hug. They both do piledrivers. Trent gets the two-count. Lowblow to both Trent and Taylor. Spiked pile driver and The Kingdom wins.
Winners: The Kingdom
Post-match, Taven says that they both have to go now, and he interrupts Bennett. Taven has a message for Adam Cole, he wants him to meet him at Roderick Strong's house. They had their luggage with them to the ring. Taven tells Strong that they are only six hours away and be "Neck Strong."
Julia Hart Vs. Vertvixen
Backstage, Don Callis was talking to Prince Nana. He leaves before Alex Marvez can talk to him. Prince Nana tells Marvez, "We're in the money."
Back from the break, a video promo of Hart before her match. Hart's opponent is already in the ring, it's indie wrestler Vertvixen.
The bell rings, Hart goes straight to her opponent. She uses her legs and ropes to choke her Vertvixen. Forearm to Vertvixen after Hart did a cartwheel. Hart gives out some kicks and throws Vertvixen in the turnbuckle. She moves and now has Hart in the corner. Hart though rolls out of the way. She goes on the top rope and hits a moonsault for a win.
Winner: Hart
Post-match, Hart has the mic, she says that she can't wait for tomorrow. She wants Statander to come out right now, music plays, and it's Statlander. Someone is behind her, it's Best Friends plus Rocky Romero. Brody King and Best Friends step out of the ring. Hart rolls out of the ring and smiles. She's playing mind games. Statlander grabs the mic, she says that you can run tonight, but won't be able to tomorrow. Tells her that her time is up.
Video package of Claudio Castaganoli and Josh Barnett. Up next is the tag match with Omega and Jericho.
Kenny Omega & Chris Jericho Vs. Gates of Agony
The bell rings, and Jericho and Liona start off the match. Jericho chops Liona tosses. Kaun is tagged in and he throws Liona into Jericho and then he hits an Irish Whip. They have Jericho in the corner and the ref tries to break it up. Jericho tags in Omega. After trying to knock Liona down, Omega flies and he drops. He tries to suplex him, but can't until Jericho comes and helps with a double suplex. They are now teaming against Liona.
Omega strikes Lioana. Jericho has his eyes on Nana. Nana tries to trip Omega, Jericho goes by Nana, but invertedly Omega flies into Jericho and falls off the ring apron. Kaun and Omega are in the ring now. Kaun hits Omega and goes for a pinfall, but only gets the two-count. He tags in Liona and it cuts to commercial.
Back from the break, Omega and Kaun are in the ring, but Omega hits the hurricanrana and tags in Jericho. Jericho hits a moonsault, the crowd is cheering for him hardcore. Jericho goes for the lion tamer, but Kaun moves. Liona gets in the ring and clothesline Jericho. Dropkick to Lioana from Jericho, another dropkick. Vtrigger and a springboard senton. Jericho gets Kaun in the lion tamer and Kaun taps. The winners are Omega and Jericho.
Winners: Jericho and Omega
Post-match, Jericho and Omega lift each other's hands up. Jericho has the mic and says that he and Omega proved that they can co-exist together. Omega has the mic, and says that this is bigger than them, but it's about Callis. He goes on a rant about being brainwashed by Callis. Jericho is back on the mic. He calls Sammy Guevara the worst of all of them. He calls him the ultimate Judas.
The Righteous Vs. Travis & Judas
The video of The Righteous ahead of their ROH Tag Team match against MJF. After that, it cuts to commercials.
Back from the break and it's an emotional promo with Darby Allin and Christian Cage. The Righteous are in a tag team match not just in a video package. Their opponents are already in the ring and are enhancement talent, Travis and Judas from the NJPW Dojo or something?
The bell rings and it's Vincent and Travis. Vincent controls the match. Dutch comes in and destroys both Judas and Travis. It goes back and forth of them both hitting their moves on Travis and Judas. Lots of spinning side slams. The Righteous get the pin and win. It was a quick match. Just was used to see how destructive the tag team can be.
Winners: Righteous
Post-match, Vincent is on the mic and calls out MJF. After his promo, Judas is still in the ring and they attack his foot. It's like what happened to James Caan in Misery but with a chair.
Backstage, Tony Schiavone and the TMDK members are talking about their match ahead of the AEW Trios Title match at WrestleDream Zero Hour. The Acclaimed and Daddy A** come, make fun of them. One of the TMDK members raps. It's strange. Time filler.
The announcers go over the card for tomorrow's WrestleDream.
Zack Sabre Jr. comes out of the ring and is going to be on commentary. He's also a member of TMDK, let that sink in after that promo with The Acclaimed. It's main event time.
FTR, Bryan Danielson, Wheeler Yuta Vs. Aussie Open, Ricky Starks, & Big Bill
Starks and Wheeler start off the match. They lock up. Wheeler is tagged in and Starks tags in Fletcher. Yuta has him in the armlock. Yuta gets a two-count, but Fletcher kicks out. Yuta chops him and knees to the chest to Fletcher. Yuta tags in Harwood. Davis tags himself in.
They lock up and chop each other. Harwood is out of the ring now and they all attack him until his team comes to save him. It cuts to a commercial break.
We're back and both men are down in the ring. Fletcher gets up first. Yuta tags in and he takes over the match after Fletcher had control of it with Harwood. Series of standing switches and a roll-up for two. A clothesline to Fletcher and Yuta is tagged in, but Fletcher doesn't know. Quick moves and an enzuigiri. Starks tags in and Bill helps him with a big boot. Fletcher tags in and then back to Starks.
Starks has Yuta's ankle and won't let him get near his partners to tag in. Bill tags in and knocks down everyone except Danielson. Fletcher tags in, a powerbomb. Yuta has lost control of the match.
Back from the break and both men are down, but Yuta gets the tag first and it's finally Bryan Danielson. Chops and kicks to Starks in the corner of the ring. Danielson does a sucidie drive to Starks.
Back in the ring, topside, the crowd is going wild. It's his hometown. Flying kicks, but Starks knocks him down. DDT to Danielson and Bill tags in. Chokeslam to Danielson but he has him in the LeBell Lock. All men in the ring, it's going to get chaotic. Danielson, Harwood, Wheeler, and Yuta all do the same kicks at the same time do their opponents. Bill was going for the chokeslam, but the men double-team against him.
Harwood and Bill I believe are the legal men. Bill goes for the chokeslam and tags in Starks. Starks gets the win after he hits a spear. Harwood tried to break up the pin, but the bell still rang. He was too late. The crowd is annoyed.
Post-match, Aussie Open was going to attack Harwood, but he is saved by his teammates. The bell keeps ringing while they are in battle. Yuta is in the ring and the psycho knee to Bill. Sabre Jr, gets up from the announcer's table. He is in the ring and he and Danielson stare down before Sabre Jr. pushes him. He slaps Danielson. Danielson slaps him back. Sabre Jr. was going to chokeslam, but he moved quickly and went for his submission hold, but Sabre Jr., is also quick. The show ends with both men staring down each other.
Stay tuned to WrestlingAttitude, WA.Com On Twitter and Google News for more.
9/30 AEW Collision Results