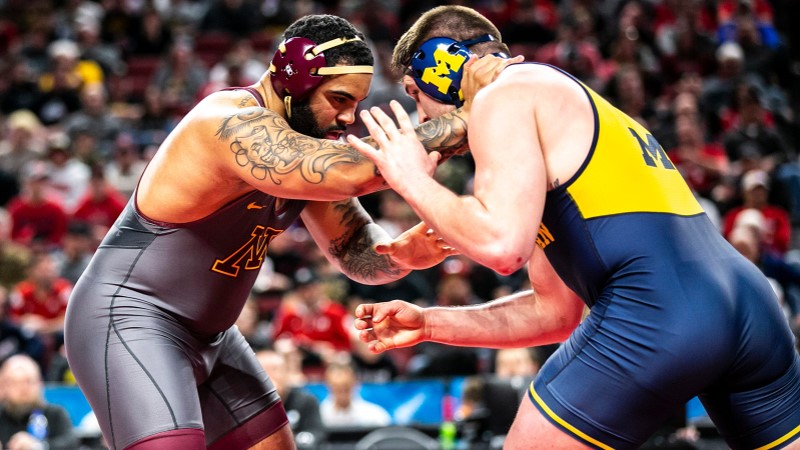 Why You Should Pick Up Wrestling – Wrestling has been practiced for decades, winning the hearts of countless individuals all around the world. It is a high-energy, physical sport that requires not only strength but also quick thinking, agility, mental toughness, and strategy. 
While it is not an especially popular sport, there are several reasons you should consider picking it up.
In this article, we'll explore these reasons, from building strength and endurance to developing a strong sense of discipline and camaraderie with your fellow wrestlers.
Let's begin!
1) It's a full-body workout
Wrestling is a great method to keep fit and enhance your overall health and fitness. This full-body workout works on every major muscle group, unlike some other sports and workouts that focus on just a part of your body.
It requires strength, flexibility, endurance, and agility. In addition, it trains your upper and lower body muscles and your core, which is vital for balance and stability. During this sport, you'll engage your upper body muscles as you work to grapple with your opponent.
In addition, you'll need to use your chest, shoulders, and arms to maneuver your opponent into position and execute moves. Your lower body muscles will also be engaged as you use your legs to stand, squat, and lunge. Moreover, it demands intense cardiovascular exercise, which is crucial for maintaining a healthy heart. You'll constantly be on the move, expending energy while executing powerful moves.
As you practice your moves, you'll build strength in your legs, arms, core, and back muscles. Because you'll have superior balance, coordination, and stamina, your performance on the mat and in everyday life will improve.
2) You can do it anywhere
One of the great things about this sport is that you can do it just about anywhere. Unlike other sports requiring specialized facilities, all you need is a little space to move around. You can practice in a gym, a park, or even in your backyard. 
And if you don't have a partner to practice with, you can always work on your technique by shadow wrestling. No matter where you are or your schedule, there's always a way to get some practice in.
3) It's great for self-defense
Learning to wrestle has several advantages, one of which is that it's an excellent method of self-defense. Learning to take down an opponent and defend yourself in close combat situations is an important life skill. 
In this sport, you learn to control an opponent's movements and use their weight to your advantage. If you get into a dangerous situation, these abilities may be useful. Additionally, being confident and feeling empowered can come from knowing that you can stand up for yourself.
In addition to getting a fantastic workout, you'll learn useful self-defense skills that could save your life.
4) It builds character
Wrestling is not just about physical strength, but also mental. It requires discipline, perseverance, and a willingness to push yourself to your limits.
It teaches you to deal with setbacks and overcome challenges on and off the mat. Through hard work and dedication, you'll learn to develop grit and resilience that will carry over into all areas of your life. Plus, there's something incredibly satisfying about setting a goal, putting in the work, and achieving it.
In addition, it will help you become stronger, more determined and confident.
5) It's a lot of fun
Wrestling can be a blast! There's something thrilling about the challenge of taking down your opponent and executing a perfect move. It's a high-energy sport that requires quick reflexes, strategic thinking, and plenty of endurance.
Plus, the camaraderie among wrestlers is hard to beat. You'll have a blast learning new skills and making friends for life.
This activity is unquestionably worthwhile to try if you're searching for a demanding and pleasant workout. Who knows, you might just find a brand-new hobby!
6) It relieves stress
In addition to being an excellent workout, wrestling can also be a fantastic stress reliever. All that physical exertion and mental focus can help you clear your mind and forget any worries or anxieties you might have.
Plus, there's something incredibly cathartic about physically grappling with another person; It's a safe and healthy way to release pent-up frustration or aggression.
And when you're done with your practice session, you'll likely feel both physically and mentally exhausted, which can be a very satisfying feeling when you've been stressed.
7) It teaches discipline
When you're on the mat, you need to pay attention to what you're doing and push yourself to be your best. You learn to set goals and work hard to achieve them. This discipline carries over into all aspects of your life, whether it's in your studies, job, or relationships.
Additionally, it teaches you how to persevere through hardship and never give up. You can build a strong feeling of self-confidence and a winning mentality by acquiring discipline via consistent training, which will help you excel in anything you do.
8) It's an amazing way to meet new people
Wrestling is not just about individual achievement; It's also about building camaraderie and friendships with other wrestlers. Whether you're joining a team or simply attending a class, you'll be surrounded by like-minded individuals who share your passion for the sport.
In actuality, it's a fantastic method to increase your social circle and make new friends. However, when meeting new people, thinking about your safety first is of crucial importance. That's where Nuwber comes in handy. It's a reliable people search site that is used by many to look up new acquaintances. 
Final thoughts
Overall, there are a ton of good reasons to take up wrestling. It has something to offer everyone and can have a good influence on all facets of your life, whether you're searching for a new way to get active, enhance your self-defense abilities, or just enjoy a fun and fascinating hobby.
Why not try it out? You might find a new hobby that will keep you strong, content, and happy for years to come.
Why You Should Pick Up Wrestling