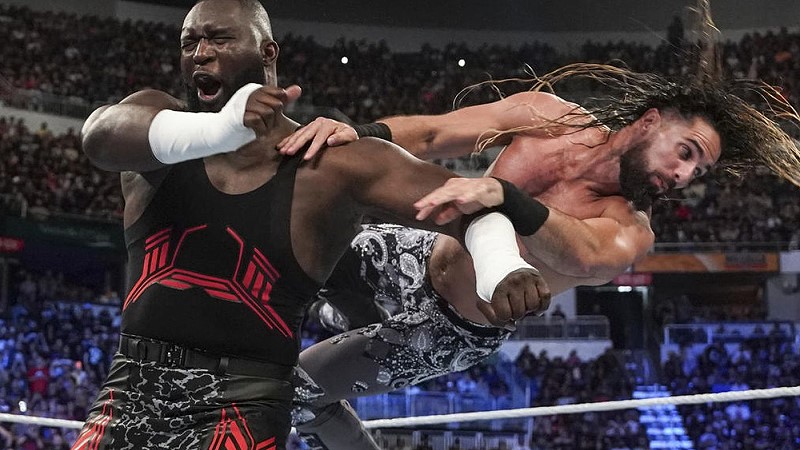 WWE Officials Very Happy With Omos' Performance At Backlash – Heading into WWE Backlash, there were a lot of fans on social media criticizing the decision to have Seth Rollins wrestle Omos. The match was announced without a long build-up and the belief among many was that Omos wasn't ready.
Coming out of Backlash, there was praise for Omos and while he has some more to work on to become a more complete performer, it was noticeable that he has improved his work.
PWInsider reported today that people in the company were very happy with Omos' match with Rollins and the feeling is that it was one of the best major matches he's had.
Road Dogg recently praised Omos as a giant who has more upside than Andre The Giant and Big Show:
"Road Dogg said, "I think no matter what you do with Omos, no matter what happened at WrestleMania, no matter what you do, Omos can walk into any arena in any city in the world and everybody in there will be in awe because I think he is that kind of an attraction."
"He has more upside, to me, in my mind, and I know times are different and things are different, than Andre, than Big Show, than all these guys. Big Show is a great athlete. To be as big as he was and drop kicking and, going to the top rope, Big Show is an incredible athlete. This guy is the same kind of athlete. He's a really good athlete at that size. It's really uncommon and it's really cool to see. He's really huge. I didn't look at Big Show like I look at this guy. He's just so tall and so high above me when you're standing there talking to him."
Stay tuned to WrestlingAttitude and WA.Com On Twitter for more.
WWE Officials Very Happy With Omos' Performance At Backlash