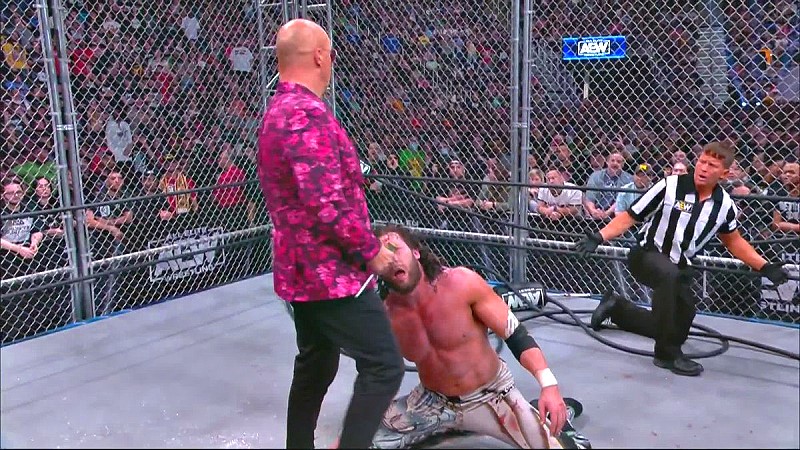 Don Callis Turns On Kenny Omega – Jon Moxley scored a major win on the May 10 episode of AEW Dynamite, but it took a stunning betrayal for him to clinch the win.
In the main event of the May 10 episode of AEW Dynamite, former AEW World Champions Jon Moxley and Kenny Omega battled it out in a Steel Cage match. The two rivals used plenty of weapons throughout the violent bout, including a barbed-wire-wrapped chair, shards of broken glass, and a dislodged turnbuckle. In one highlight, a V-trigger from Omega sent Moxley tumbling through the cage wall, and he landed hard on the floor.
In the closing moments, Omega's manager, Don Callis, stopped Moxley from hitting him with a screwdriver. Omega then hit Moxley with the One-Winged Angel, but Callis jabbed Omega with the screwdriver to prevent the pin. Moxley then covered Omega to steal the three count.
After the bell, Callis was about to stab Omega with the screwdriver again, but he changed his mind. He kissed the top of Omega's head and smiled, seemingly implying that he had a master plan, as the show came to a close.
More clips from the Steel Cage match:
Don Callis Turns On Kenny Omega