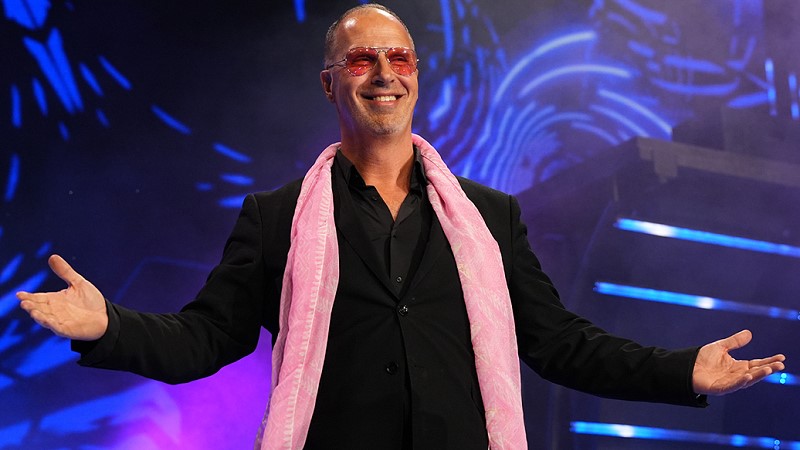 Don Callis Says Kenny Omega Has Been Corrupted By The Young Bucks – Don Callis recently spoke with Jim Ross ahead of AEW Double or Nothing to discuss why he betrayed Kenny Omega and joined forces with the Blackpool Combat Club. Highlights, including the full video interview, can be found below.
Why he betrayed Omega:
Kenny Omega chose his friends over his family. The Young Bucks, and apparently now Hangman Page. I never wanted the association with the Young Bucks. I have nothing against those kids. It's well known they are nice kids. The problem is, they drag Kenny down. You have one guy who is Albert Einstein and you have another couple of guys who just want to have fun. I brought them into The Elite when I came here because I thought, 'Kenny can't work all the time. He needs something that makes him happy other than me.' The problem is, the Bucks are like wood ticks. They attach themselves and it's like an infection and all of a sudden, Kenny wants to do trios matches. I had a vision for Kenny Omega that we'd be a modern day (Bobby) Heenan and (Nick) Bockwinkel. Kenny chose to be one of the three stooges with the Young Bucks.
Says aligning with the Blackpool Combat Club really taught Omega a lesson:
Sometimes, toxic relationships require extreme measures. If I had slapped Kenny in the face, he would have still come back to me and tried to leech off my intellect and trigger me with emotional words. I had to do something, for his own good, and for the good of our family. I had to do something that there was no coming back from.
Says Omega chooses to spend his time with the Young Bucks rather than him:
People don't know what's going on behind the scenes. Having Kenny Omega as, like my son, is like imagine you have a child and he has the intellect of Albert Einstein, but he chooses to work at a convenience store. That's what Kenny chooses to do with his talent every minute he spends with the Young Bucks. Every minute they are infecting his head with their blather, the stuff that doesn't matter. Kenny Omega was a God of professional wrestling. I named him that. What we're going to find out is that, that God is very fallible. If there was a God in our tandem, we're going to find out that it wasn't Kenny, maybe it was me all along.
How Omega's relationship with the Young Bucks makes him weak:
It's going to be proven, a few months from now, that I was responsible for everything that Kenny Omega ever accomplished and that without me, Kenny Omega will be exposed as just a clown who wants to hang out with his friends and have a good time. He'll always make money in wrestling, but they'll never be great without me. I have done the hardest thing that a parent, that a family member can do. My 'son' Kenny Omega was like a cancer eating away at me. What do you do with cancer? You cut it out. Kenny, I haven't even started cutting.
Don Callis Says Kenny Omega Has Been Corrupted By The Young Bucks