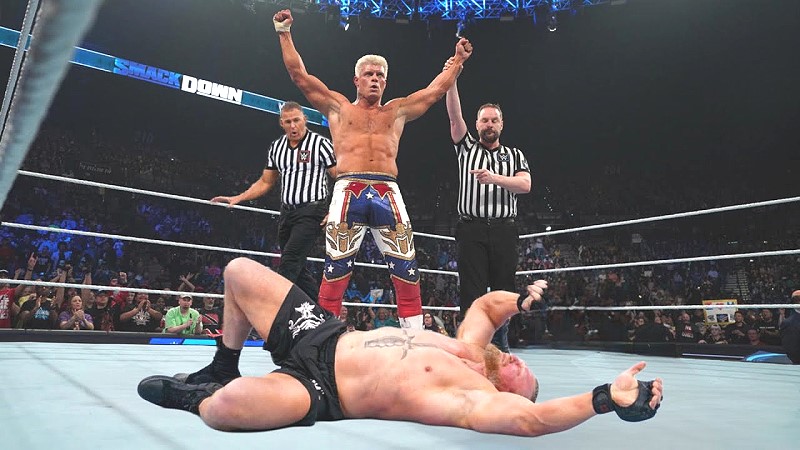 Collar Match Reportedly Rejected For Brock Lesnar Vs Cody Rhodes – The Brock Lesnar vs. Cody Rhodes feud is set to continue for at least one more bout, but now we know of one gimmick match they will not be working.
A new report from proven insider Better Wrestling Experience indicates that the idea of doing a Collar Match was rejected by one of the parties involved.
"No need to say who," BWE wrote. When one person commented that whoever rejected the idea is lame, BWE responded, "We dont want another 6 months hiatus."
It was also said that this is "absolutely" something Rhodes can re-visit down the road "with a different opponent that's not a monster like Brock."
There's no word yet on the stipulation for Lesnar vs. Rhodes II, but it was noted that just ideas are being discussed now as WWE Chief Content Officer Triple H "likes to work month by month with minimal solid plans."
Rhodes defeated Lesnar at WWE Backlash earlier this month, but then Lesnar got the win back at WWE Night of Champions this past Saturday. The rubber match is rumored for WWE SummerSlam on Saturday, August 5, but that has not been confirmed.
As noted, Impact Wrestling announced today that Killer Kelly will face Masha Slamovich in a Dog Collar Match on Friday, June 9 at the Against All Odds pay-per-view. It looks like WWE's last Dog Collar bout was Wild Boar's win over Eddie Dennis on the May 12, 2022 edition of WWE NXT UK.
Collar Match Reportedly Rejected For Brock Lesnar Vs Cody Rhodes