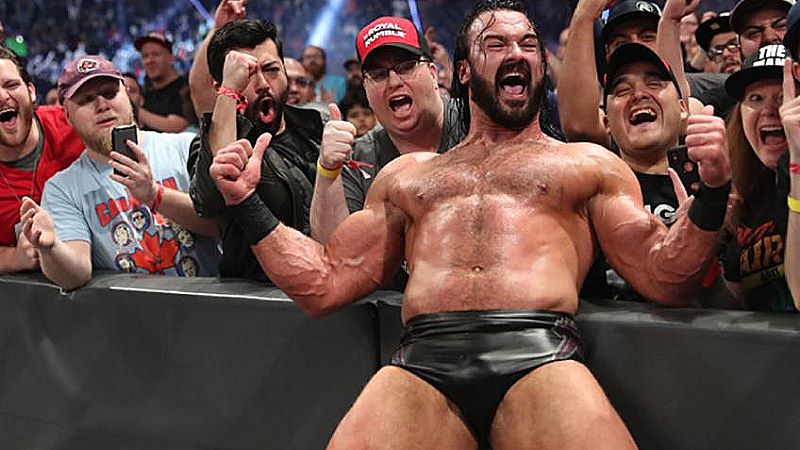 Big Backstage Update On Drew McIntyre's Status With WWE – As we've noted, it's been reported that McIntyre's WWE contract expires later this year and at last word the two sides had not agreed on a new deal, while McIntyre previously told people he isn't looking to make a decision until later this year, closer to the expiration date. It was also reported that McIntyre is unhappy with WWE for various reasons, but his current hiatus has nothing to do with his contract or reported unhappiness. McIntyre has been away since the WrestleMania 39 match with Sheamus and WWE Intercontinental Champion GUNTHER. He missed the post-WrestleMania SmackDown due to what was said to be a health issue, then it was reported that he worked WrestleMania while injured. There's still no word on the severity of the injury, or when the issue first occurred, but it was reported just this week that McIntyre still has a few weeks before he returns to work.
In an update, a new report from Fightful Select notes that McIntyre's WWE contract expires in early 2024, not later this year. The exact date was not provided, but it was noted that the deal will be up well before WrestleMania 40 in early April.
It was also said that McIntyre operated on the possibility that this could have been his final WrestleMania, which is in line with a new Wrestling Observer report that said McIntyre right now is working with the idea there's a good chance he's finishing up with the company. While it's been reported that McIntyre is leaning towards leaving WWE, word is that it's more accurate to say that he doesn't know.
If the two sides are unable to agree on a new deal, McIntyre is reportedly willing to explore options outside of WWE, while leaving the door open for a return in the future. The veteran pro wrestler would likely have interest from AEW, NJPW and Impact Wrestling.
The two sides were said to be "not close on money" but the contract expiration date is still months away. This new report adds that McIntyre has been frustrated, and there have been several situations of not being on the same page with WWE. McIntyre, who is usually told about WWE Draft plans ahead of time as most top stars are, was one of several talents left out of the loop until he was announced as a RAW Superstar during last Friday's SmackDown, as the 2nd pick of the 3rd round on Night 1. Furthermore, it was said that there have been several perceived miscommunications between McIntyre and WWE officials over the past few years.
Coming out of the WWE Draft, it was speculated that McIntyre may turn heel because WWE needs new main event heels for the red brand. Word now is that there have been internal pitches for The Scottish Warrior to eventually return as a heel, sources close to the situation expect McIntyre to at least push back and make sure that a heel turn would make sense creatively.
McIntyre has been adamant about not making dramatic creative changes unless they make sense. He is said to be very hands-on with his creative plans when appropriate.
Regarding his health, McIntyre was working banged up and injured, and he had a few injuries that he needed to take care of. McIntyre was adamant that he wanted to work through WrestleMania 39 to work with Sheamus, and to put over GUNTHER.
McIntyre is still a few weeks away from returning to WWE TV, according to recent reports. Multiple sources have reiterated that McIntyre's absence is health-related, and not contract-related.
Big Backstage Update On Drew McIntyre's Status With WWE