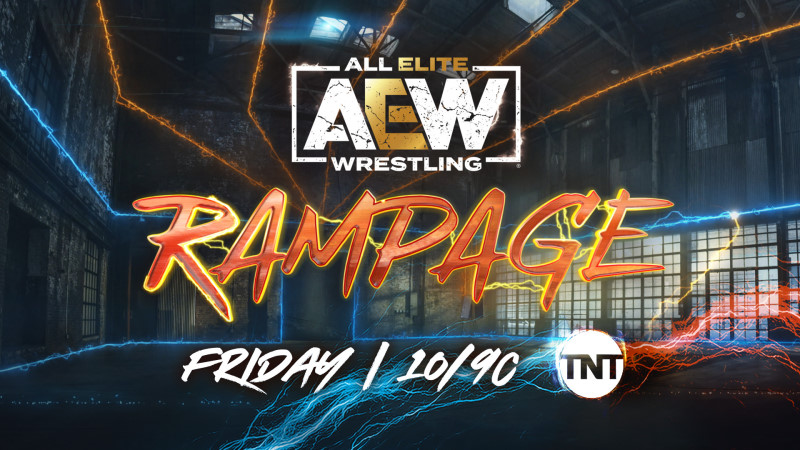 Jim Ross, Tony Schiavone, Chris Jericho, and Excalibur greet audiences at home as Blackpool Combat Club, Bandido, and Best Friends are waiting in the ring. Bryan Danielson is on the outside.
Blackpool Combat Club (w/ Bryan Danielson) vs. Bandido and Best Friends
Moxley and Bandido begin the action. The bell rings and Moxley delivers a kick to Bandido's midsection. He follows it up with a series of knees, but Bandido lands a dropkick and tags in Beretta. Yuta tags in and the pair go back and forth with forearms. Beretta sends Yuta crashing to the outside before Taylor tags in and beats down Yuta. Yuta delivers a chop block to Taylor after Castagnoli distracts him. He then tosses Taylor back in the ring and tags in Castagnoli. Castagnoli delivers a delayed vertical suplex and tags in Moxley. Moxley wears down Taylor, but Taylor tags in Beretta. Beretta delivers a pair of German suplexes, then follows it up with a Half and Half suplex.
The action spills to the outside, where Beretta and Best Friends level Blackpool Combat Club. Beretta gets Moxley back in the ring, then ascends to the top and looks to go flying. Castagnoli pushes Moxley out of the ring and catches Beretta with an uppercut, then tags himself in.
Back from the break, Castagnoli delivers an uppercut to Beretta. Moxley tags in and delivers a series of kicks to his midsection, then whips him into the corner and delivers a splash. Beretta executes a Tornado DDT, then tags in Bandido. Castagnoli tags in, and Bandido goes flying off the top. He follows it up with a hurricanrana and a diving hurricanrana, then delivers a chop. Castagnoli fires off one of his own, and the pair go back and forth. Bandido delivers a pump kick before Yuta tags himself in and ascends to the top. Bandido catches him, then tags in Taylor. He lands a vertical suplex on Yuta before Best Friends deliver the Sole Food-Half and Half Combination. Best Friends and Bandido then hug in the center of the ring.
Taylor lands a piledriver and sets up for Awful Waffle, but Moxley takes him down with a suplex as Yuta climbs onto Castagnoli's shoulders. Moxley hits Death Rider, and Yuta follows it up with a splash for the win.
Winners: Blackpool Combat Club
Back from the break, Jade Cargill, Leila Grey, and "Smart" Mark Sterling head to the ring. Danni Bee is already waiting inside.
Jade Cargill's Open Challenge For Her TBS Championship
The bell rings and Cargill delivers a forearm to Bee. She follows it up with a Fallaway Slam and a pump kick for the win.
Winner (and still): Jade Cargill
After the match, Sterling grabs a mic and asks Texas if it's the best she can offer. He says they lined up some more talent, and Genesis heads to the ring as the second challenger.
The bell sounds and Cargill sends Genesis into the corner. She then lands Jaded for the win.
Winner (and still): Jade Cargill
Sterling then grabs a mic and says why not go for 60-0 since the streak is at 59-0. The next opponent appears, but before she can get in the ring. Taya Valkyrie's music hits. She clocks Cargill's opponent on the ramp, then gets inside the ring. She takes down Grey, then levels Cargill with a clothesline before hitting Road to Valhalla. Valkyrie then grabs a mic and asks Cargill who that b**** is. She holds up the TBS Championship and tells Cargill she'll see her at Double or Nothing.
The Acclaimed and "Daddy Ass" then head down to the ring as The Varsity Athletes are already waiting inside.
The Acclaimed and Billy Gunn vs. Varsity Athletes
Caster and Woods begin the action. The bell rings and Caster targets Woods' arm. Gunn tags in and Woods shoves him. Gunn returns the favor, then delivers a shoulder tackle. Nese tags in and shows off his muscle. Gunn does the same, then plants Nese with a slam.
Back from the break, Woods sets up for a suplex on Caster. Caster escapes and tags in Bowens as Woods tags in Nese. Nese then delivers a boot to Bowens' midsection, then lands a Famouser and goes for a pin. Woods breaks the fall, and Gunn dumps him to the outside. Caster tags in before Bowens hits The Arrival. Caster then lands Mic Drop for the win.
Winners: The Acclaimed and "Daddy Ass" Billy Gunn
Back in the ring, Tony Schiavone introduces The Hardys and Brother Zay.
Tony Schiavone Interviews The Hardys and Brother Zay
Schiavone asks the trio about their upcoming match at Double or Nothing against Ethan Page and The Gunns with the catch being that if they emerge victorious, Matt Hardy gains control of Ethan Page's contract. Matt says that's poetic justice, and Jeff says music is the universal language everyone understands. He says the three of them are writing their song, but before he can continue, Ethan Page appears.
Page says he asked The Gunns for help, but not to create the match. He says himself and Matt have been at it for too long, then says he just met Jeff but didn't enjoy being hit with a Swanton Bomb and they're done. He asks Brother Zay to tell them that he's trustworthy, then reminds him of all the moments they shared together (albeit not all pleasant ones). Page says himself and Brother Zay will be a tag team, then forces him to shake his hand.
The Gunns appear out of nowhere and beat The Hardys down with chairs as Page holds Brother Zay in place. He tosses him over to Colten, who delivers a chair shot to his midsection. Page and Colten then get Brother Zay's head in the ring, and Page ascends to the top. He then lands a double stomp.
Chris Jericho Calls Out Adam Cole
Jericho sends a message to Cole from the commentary booth. He calls Cole a coward for appearing this past Wednesday during his Falls Count Anywhere Match against Roderick Strong and says he would kick his ass if he were here right now.
Cole appears on the Titan Tron and tells Jericho he'll make his life a living hell every week. Jericho holds up their legal agreement that says he's banned from the building is void, then challenges him to an Unsanctioned Match at Double or Nothing. Jericho then rips up the contract, and Cole says that's just what he wanted him to do. He enters the Moody Center and heads into the Moody Center.
Back from the break, Adam Cole's music hits and he heads down to ringside through the crowd. He runs up the ramp as Jericho charges him, and the two men exchange right hands before security appears and pulls them apart. Jericho breaks free and goes after Cole, but security separates the pair once again. Cole then breaks free, but security quickly holds him back.
Back at ringside, Bishop Kaun and Prince Nana head down. Dustin Rhodes follows.
Dustin Rhodes (w/ Keith Lee) vs. Bishop Kaun (w/ Prince Nana)
The bell rings and Kaun rains down right hands on Rhodes. Rhodes then clotheslines Kaun to the outside and heads out to join him. He lands a chop, then sends Kaun into the barricade. Kaun eventually gains the upper hand and tosses Rhodes back into the ring, then delivers a knee and sends Rhodes into the turnbuckles face first.
Back from the break, Rhodes delivers a right hand. Kaun fires back with a kick and an over-the-shoulder belly-to-back piledriver. Rhodes responds with an uppercut and a powerslam, then rains down right hands in the corner. He follows it up with a Code Red and a piledriver, then hits a back body drop. Kaun delivers a shotgun dropkick and sets up for a splash in the corner, but Rhodes moves out of the way and delivers a Bulldog. He follows it up with Final Reckoning for the win.
Winner: Dustin Rhodes
After the match, Brian Cage appears and delivers a powerbomb to Rhodes. Swerve Strickland then shows up as Nana and Cage fire off stomps on Rhodes, but Keith Lee's music hits and he makes his way to the ring.
Kaun and Cage go after Lee, but Lee levels both men. He gets in the ring, and both Cage and Kaun follow him in. They get the better of him before Kaun grabs a chair and levels Lee with it. Cage then lands an Airplane Spin on top of the chair and sits him on it as Strickland ascends to the top and delivers the Swerve Stomp.