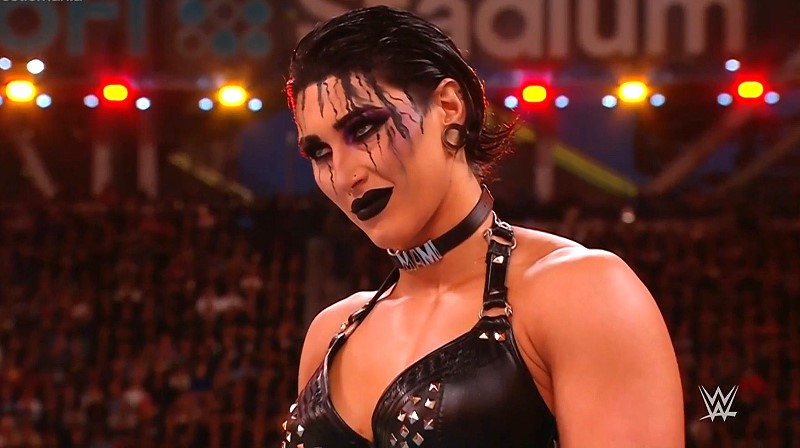 Rhea Ripley Says She's Here To Make History – Rhea Ripley squared off against Charlotte Flair for the SmackDown Women's Championship at WrestleMania 39 Night 1. The two women dished out extreme punishment on each other. In the end, the Nightmare took out The Queen with an avalanche riptide for the win.
Following her latest title win, Rhea is now the fifth Grand Slam Champion in WWE. For those wondering, Rhea has previously won the NXT UK Women's Championship, NXT Women's Championship, WWE Women's Tag Team Champion, and the RAW Women's Champion.
Rhea was asked to comment on her latest accomplishment at the media conference after WrestleMania 39. The new SmackDown Women's Champion said she's greatly satisfied to be the first-ever Ultimate Grand Slam Champion in the WWE women's division.
"I mean, like you said, 'History.' I'm here to make history. Growing up in South Australia I was told that my dream of making it to WWE wouldn't happen, so just making it here is an accomplishment.
"Being the first Grand Slam Champion, to have those championships is so satisfying. I'm so proud of my journey to WWE and journey in WWE. To have all of those moments. That's one thing I strive to so, I want to write my name in the history books, and I've gone and done that."
Elsewhere during the interview, Rhea said she'd celebrate her big win after Finn Balor defeats Edge in their Hell in a Cell match at WrestleMania 30 Night 2 tomorrow.
As seen below, she also sets the record straight about what went down at the WWE Hall Of Fame Induction Ceremony.
Rhea Ripley Says She's Here To Make History