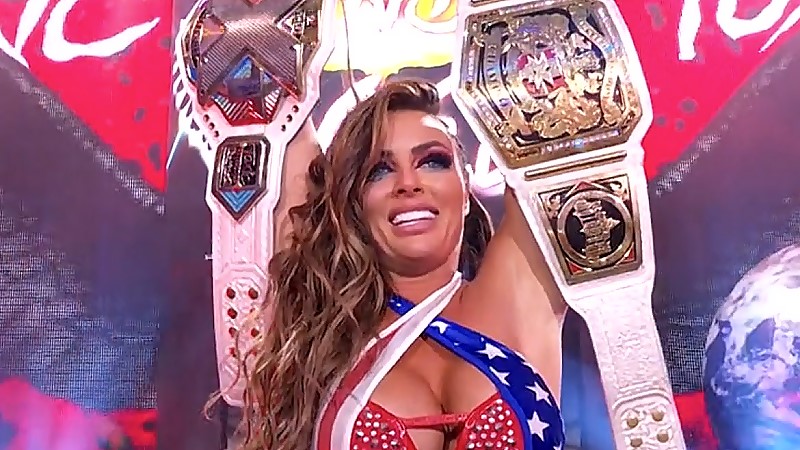 Former WWE Writer Reveals Mandy Rose Was Scheduled To Win Title At WM 35 – WrestleMania 35 ended up being a historic event as, for the first time in history, a women's bout headlined the show. The main event saw Becky Lynch, Charlotte Flair, and Ronda Rousey battle in a triple threat match with the Raw and SmackDown Women's Titles on the line.
According to former WWE writer Dave Schilling, that was not the original plan, revealing that a different triple threat match was scheduled to take place with Asuka defending the SmackDown Women's Title against Sonya Deville and Mandy Rose.
Schilling recalled the original plan to Jeremy Lambert & Joel Pearl on In The Weeds.
"On TV, the Mandy Rose, Sonya Deville storyline. That was supposed to culminate in a romance between Sonya and Mandy at WrestleMania 35 where it was a triple threat for the SmackDown Women's Championship and Mandy was going to win because Sonya would lay down for her and they would embrace and kiss in the middle of the ring. I said, 'Oh boy.' If you're going to do this, I understand why it could be great because it's a representation and it's necessary. To WWE's credit, they went to GLAAD. Stephanie McMahon was on the phone with them. 'Can we do this? Can we make this palatable and sensitive to the situation with queer people in America? Can we make this a good angle?' The thing that I said was, 'At WrestleMania, 60,000 people are going to be rooting for Asuka, and they're supposed to be the babyfaces? They're going to be booed out of the building and you're going to have two women kissing in the middle of the ring and people booing because they love Asuka so much.' People do love Asuka and every time WWE thinks they can beat her and 'who cares,' they forget people have a positive, intense relationship with her, even when they try to make her a heel, they root for her. Eventually, that storyline didn't get done because they decided to put the belt on Charlotte.
It could have turned out poorly even though the best intentions were there, and they did want to make a good storyline and Sonya and Mandy were involved and they were excited about doing it. At the end of the day, you have to do it right, and that would have been the wrong way to do it because you're beating a babyface who people love, at WrestleMania, when there is so much complaint around how Asuka is losing."
Asuka lost the SmackDown Women's Championship to Charlotte the week before WrestleMania 35.
Asuka, Mandy, and Sonya were involved in the Women's Battle Royal at WrestleMania 35. Carmella won the battle royal.
Don't miss Mandy Rose's recent bikini photos while in Bahamas.
Former WWE Writer Reveals Mandy Rose Was Scheduled To Win Title At WM 35