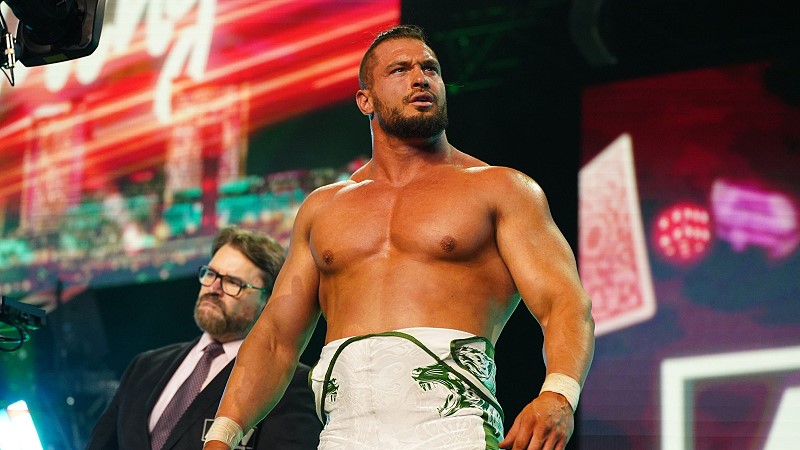 On tonight's AEW Dynamite, it was revealed what 'really' happened with Wardlow's car break-in during a new segment.
In what appeared to be a TMZ style parody segment, QT Marshall seemed to be at the helm of his own news agency and was reporting solely on the recent misfortunes of Wardlow.
Detailing 'what really happened' with the break-in that reportedly resulted in the TNT Championship belt being stolen, it remains unclear which pieces are fact and fiction however, certainly there were plenty of insults lobbed at the former champ.
With QT Marshall at the helm, Aaron Solo, Powerhouse Hobbs and Harley Cameron were all on hand as 'reporters' with RJ City sitting behind, seemingly in judgment of the shenanigans in the clip but present none the less!
Showing a clip of the 'break-in' it seemed that at least Solo and Harley from the QTV squad were behind the break-in all along (or so they claimed.)
It's worth mentioning from an official standpoint that it's still unclear whether the break-in situation was a storyline all along, or actually a legitimate incident that was turned into a storyline after the fact, so we'll keep you posted if there are any updates on that.
With Powerhouse Hobbs announcing an open challenge for the TNT Championship set to take place on this week's episode of AEW Rampage, we'll have to wait and see if Wardlow responds.
However, per the QTV segment it wasn't expected Wardlow would make a Canadian appearance as the burglars reported that he also left his passport in the car to be stolen!
What "Really" Happened With Wardlow's Car Break-In