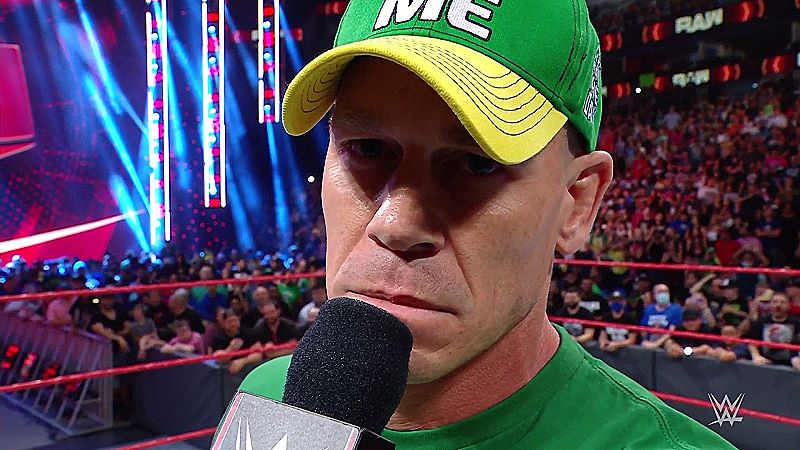 What Happened During John Cena Segment On WWE RAW – John Cena made his WWE return during tonight's episode of RAW from the TD Garden in Bosto, MA, and got a WrestleMania match in the process. As expected, his opponent will be current US Champion Austin Theory.
Here are notes written during the segment:
We are back and John Cena makes his way to the ring. Before Cena can speak, he is interrupted by Austin Theory.
Austin tells the people to keep it going as they cheer for Cena. Austin says just like them, he has all the respect in the world for Cena. Austin says he became a WWE Superstar because of John. He inspired him with the hustle, loyalty, and respect. Austin says he has a gift for John. A gift that is from the bottom of his heart. It is bigger than any movie role you are going to do. It is a gift of them . . . on the grandest stage of them all for the United States Championship.
Cena says NO. He says he took a second to think about it and he says no. He says he is not interested in Cena's gift because you haven't earned the right to give it. Cena says he has been watching Theory and he has been listening to him. He does not care, just like everyone in here. We don't care about you.
Why? We don't believe you. We don't believe you because you don't believe you. You are a generic kid wearing sneakers and sunglasses indoors. Cena says he has walked in Theory's shoes. Cena points out a sign that calls Theory a John Cena wannabe. John says he is Theory's ghost of Christmas Future. You are Ruthless Aggression era and that almost got me fired. You have been given opportunity after opportunity but that isn't enough. You don't have any heart or soul.
They are here because they believe in Cena, but they don't believe in Theory. You are a pair of trunks away from being a jabronie. Cena says he is going to say something good.
You have the best name in WWE history. Cena runs through all of the names and there is no name better than Austin Theory. That is exactly what you are. You are a theory. In theory, you should be great. In theory, you are everything a WWE executive looks for. In theory, everyone here should be here to see you. No one cares and you are wasting our times. On behalf of Boston, we would like to give you a gift.
Cena tells Theory to shut up, turn around, get out of the ring, and we will let you walk out of here in one piece.
Theory tells Cena he is not going anywhere just like that bald spot ain't going nowhere. Theory says you have to make everything feel good. He sees the shirts all over the place. They say 'never give up'. Is John Cena saying no? Is he saying that he is giving up? The hat says 'respect'. Where is the respect for all of them? You have a golden ticket against the greatest US Champion at Wrestlemania. Where is the hustle? Where is the loyalty? Don't you want to see John at Wrestlemania? Shut up because he said no.
Theory says he wants everyone to pay attention. They are right about this. You don't want to meet your hero because all they do when you meet them is disappoint.
Cena says he would rather be bald then have them pipe in fake crowd noise because nobody cares. You are a dumb son of a bitch. Cena says he didn't say no because he gave up. He said no to save Austin's ass because he isn't ready. If you and I have a match at Wrestlemania and I win, you have lost everything. If we have a match and you win, you lose everything. You may win the day, but then you gotta go out the Monday after, all by yourself and explain. You won't have him to lean on. It will be you and the most harsh crowd in WWE. They see what Cena sees and what these fans see. You are full of crap.
Cena says Theory left him no choice because you brought them into it. Cena thanks his family for being here. John wants to know what to do. Do you want to see Austin Theory versus John Cena at Wrestlemania?
John says his hearing is not that good so he asks again. John says he might not care about Theory but he cares about the fans. You might have made the biggest mistake of your life. It is going to be Austin Theory versus John Cena for the United States Title at Wrestlemania.
Cena wishes Theory luck because he doesn't have it in his head or his heart and then he says Cena doesn't have it there and he hits Theory in the ding ding. Cena tells Theory he needs to work on that last bit.
Cena tells Theory he is not ready for the Wrestlemania stage but he wants Boston to see someone who is ready. Cena introduces Cody Rhodes. They shake hands and hug.
Stay tuned to WrestlingAttitude and WA.Com On Twitter for more.
What Happened During John Cena Segment On WWE RAW