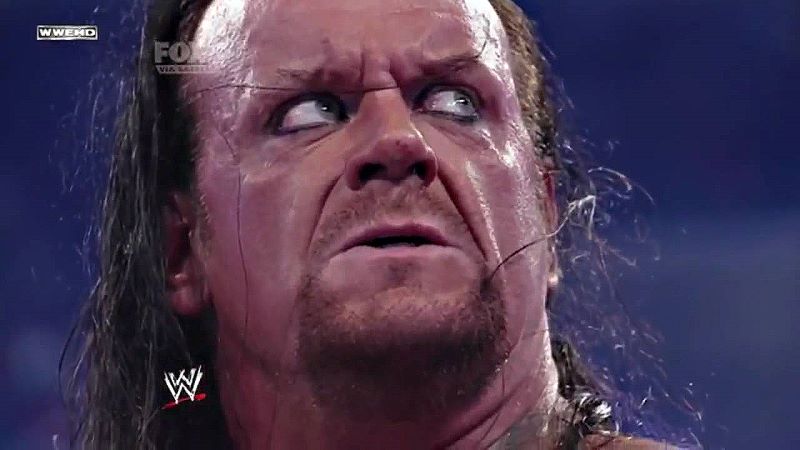 WWE Hall Of Famer The Undertaker was recently interviewed by Chris Van Vliet. Scroll down to watch the full interview. Here are some transcribed highlights:
On the biggest lesson he learned from Vince McMahon:
"There's several, and I mentioned it last year in my speech at the Hall of Fame, perception is reality. I think sometimes he may have forgotten that, but I never did, so that went a long way. Perception is reality and how I dealt with people through my career. I didn't want anybody to ever think that I swerved them or that I had to go behind their back or do anything. What they saw is what they got, and I think that was probably a large factor in people always considering me the locker room leader."
"Everybody knew my relationship with Vince and Bruce and all of those, Pat Patterson, everybody knew my relationship there. But those same guys that I was on the road with, that I was hanging out with and partying with, you know, they knew what happened there, they were safe, and there was never going to be any crossover. Don't let what we're doing at night get in the way of business. I mean, that was a really strong rule with me. I don't care what we do, but don't be late and work hard. That was the only thing. Don't get in trouble, don't make us late, don't embarrass us, don't be late to work, and work hard. I think that was why I garnered, I guess, the respect because people trust me. They knew that the two never cross. I was going to do what was best for business, and that's something that I learned from Vince."
"With Vince, regardless of what anybody thinks, deep in his heart he's one of the boys. He really is. He has that mentality. Things had to change, obviously, whatever, things changed, when the business, when the company went public. There were a lot of changes that had to happen, changes for the better. We've evolved. I think WWE is now regarded in the same way as other major sports franchises, you know, NBA or the NFL, we're on that, if we're not on that level, we're really close, and the company is run that way. It is not that circus, carny kind of thing anymore. It is a big, huge business, as everybody knows, and that's the way it's treated. The product has evolved, and it's evolved for the better."
On his loss to Roman Reigns at WrestleMania 33:
"I was extremely beat up and I had toyed with the idea of hanging it up. I knew that year when I got to the Rumble, I wasn't gonna be ready for Mania, but I'd already committed to the program. I didn't know what we were going to do yet. I just knew that I was going to work with Roman. We got there that day and I knew I was in bad shape. My right hip, which I had surgery on right after that in Birmingham. You know, it was just the right thing to do not knowing if I was going to be able to come back again and work anymore. So there I was, he was coming up, and he was going to be the face of the company, and it was the right thing to do. The streak had already been beaten, so it was the right thing to do business wise, because I didn't know that I was going to come back again. I mean, the hat on the coat, all that being placed in the ring was 100% legitimate. At the end of it, I was done, and that was my way of saying goodbye. It wasn't a plan or staged thing."
"Then I get my hip fixed, I get a call, and they want me to work with Cena. I'm like oh crap, man. So I trained. I know I've given you more than you asked for, but it was like, Okay, this is my chance for redemption because if you watched The Last Ride, you know how disappointed I was in my performance, and that I put myself in that situation because I just couldn't physically get to where I needed to be for Roman and how important that was. I mean, I trained like an animal, but I mean my hip just held me back and I'm not making excuses, but that's that's the extent of it. So now I've got a new hip, and I'm like oh man, and it's Cena, and I was like, oh crap. So Vince called me and said, 'What do you think?' 'I was like, 'I don't know, I've rehabbed my hip and I'm working out again, but I had no plans of getting back in the ring. Give me a few weeks.' So I get a ring shipped down here to Texas and I rent a place and I build this. I put the ring in this building, I start training, and lo and behold, I can move again. So, probably the hardest that I've ever trained, not ever I trained, but the hardest I've been able to train in probably 10 years. I was ready, man.
If he wished his Survivor Series 2020 retirement ceremony would have taken place in front of a live crowd:
"Even though I knew I was done, and it was over, like, I didn't want to cry. I didn't want to break down. I was still trying to protect that character. I was like, man if I'm out here in front of a live audience, like, I mean you saw how hard of a time I had at that at the Hall of Fame, and you know, that's another year or two later, I would have been a wreck because I didn't want to retire. In my mind, in my heart, there's nothing more that I want to do than get in the ring and perform. You know, it was my body that just said, 'No, you're done dude, We got everything out of this we can get, and it's time for you to move aside and let these guys come up.' So I would have been a wreck if there had been people there and, you know, all that kayfabing I did and protecting the character would have been destroyed in one promo. I would have been balling."
The Undertaker On Retiring In The Thunderdome, WM Loss To Roman Reigns, More