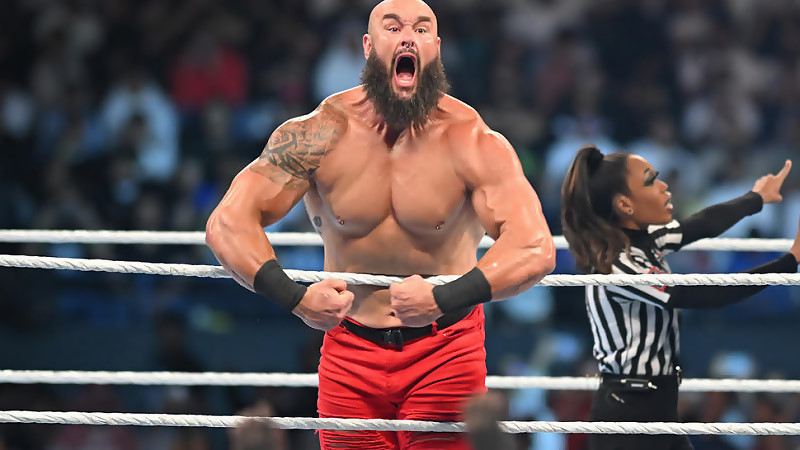 Braun Strowman Says Being A D*ckhead Leads To WrestleMania Match – Braun Strowman reflects on his "flippy flipper" tweet and notes that it had an important role in his road to WWE WrestleMania 39.
In a tweet after his match at WWE Crown Jewel 2022, Strowman wrote that he and Omos got 47 stars for their match and "reminded the people that no one cares about all these floppy floppers." He also claimed that "Giants and Monster > flippy flipper bag your grocery's at Kroger." This tweet sparked plenty of controversy, as the WWE roster features plenty of high-flying superstars, like Ricochet.
Not long after the tweet, Strowman formed an on-screen alliance with Ricochet. The duo won the SmackDown Tag Team Championship Contender's Tournament, and though they failed to win the gold, they continue find success together. Strowman and Ricochet qualified for the Men's WrestleMania Showcase match at WrestleMania 39, so they will compete together at the show.
Speaking with Rick Ucchino for Cageside Seats, Strowman and Ricochet discussed their unlikely pairing, as the former WWE Universal Champion noted that his controversial tweet helped lead to their WrestleMania match.
"I think it definitely helped throw fuel on the fire to get the rocket ship moving," Strowman said. "Honestly, man, that's the cool thing with WWE… You never know what's gonna happen on a day-to-day basis. And literally one thing like that can change the whole outlook of everything. Whether that tweet is what made it happen or not, who cares?
"We're at WrestleMania. If me being a d***head… Oh I shouldn't say that… me being a pecker head and stirring the pot on the internet leads to a WrestleMania match. Guess what? I'm gonna do it again in a couple weeks."
Ricochet shared his thoughts and noted that wrestlers in general "bust each other's balls", and Strowman's tweet was widely viewed as Braun being himself.
"That's kind of how Braun and I talk to each other normally," Ricochet said. "You know what I mean? Not just Braun and I, but you know, the guys. We like to give each other crap and bust each other's balls," Ricochet said. "I think all the fans were trying to pit us against each other more than anything. But I think at the end of the day, everyone was just trying to have some fun with it."
Like Strowman, Ricochet made it clear that the tweet may have been a factor in their road to WrestleMania. He also stated that they have been friends for a long time, and their partnership is a no-brainer, given their in-ring styles.
"Braun and I, we've been friends for so long and honestly, I don't know why we haven't thought about becoming a team together earlier because it's kind of a no-brainer to be honest with you. With our styles, that's kind of a no-brainer," he said. "But yeah, I mean, maybe, maybe not. Say he didn't make that tweet, who knows where we would've been?"
Braun Strowman Says Being A D*ckhead Leads To WrestleMania Match