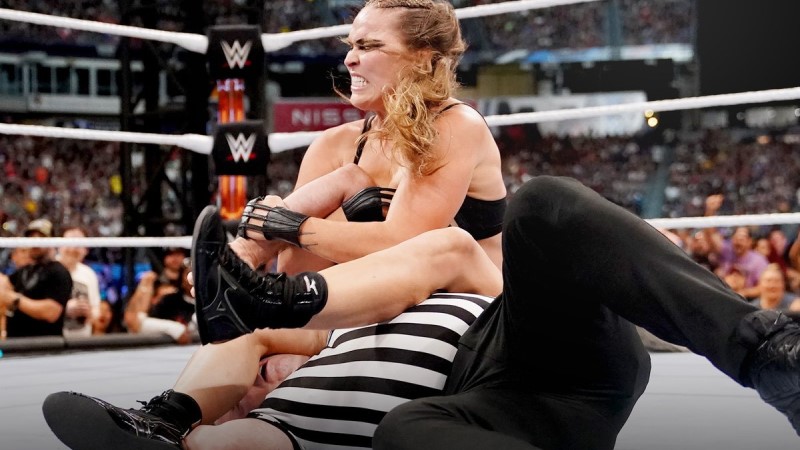 Ronda Rousey Confirms She's Injured – As noted earlier this month, Ronda Rousey is dealing with an aggravated injury, but despite the setback, she is still planning to go forward with wrestling at WWE WrestleMania Goes Hollywood.
Ronda Rousey confirmed on Instagram that she is injured. She posted the following:
How do you train with no ACL or cartilage in your right knee as well as a fractured radius?
Focus on what you CAN do – I have some of the most versatile training routines on earth, I need to do PT, build strength, retain flexibility, and train technique across multiple disciplines – sometimes all in a single session.
After over two and a half decades of combat sports training – the smallest misstep could result in surgery.
Thankfully @mizunousa just sent me their new TS-01 trainers specifically designed for stability (while still ultra light so not to aggravate what remains of my knees 🙌🏼 woohoo!) check link in bio to get yours 😉
Story time!
2 weeks after my ACL reconstruction (at 16 years old) My mom had me on the floor doing pushups to teach me a lesson: you can sit around and feel sorry for yourself, or get off your mopey ass and train with a vengeance.
It's thanks to that ACL injury I spent an entire year focusing solely on newaza (ground techniques in judo) and became the best in the world in armbars and transitions (anyone who doubts me is welcome to try me 😈)
***
Well, after thousands of dislocations (I thought not tapping out to armbars and tearing ligaments was cool in my teens) my elbow finally fractured simply by slapping the mat in Rockford, Illinois- right before Wrestlemania.
The only thing saving these chicks now are the doctors not letting me compete. Well ladies, they can't keep me away forever, I'm not moping, vengeance is coming.
Stay tuned to WrestlingAttitude and WA.Com On Twitter for more.
Ronda Rousey Confirms She's Injured