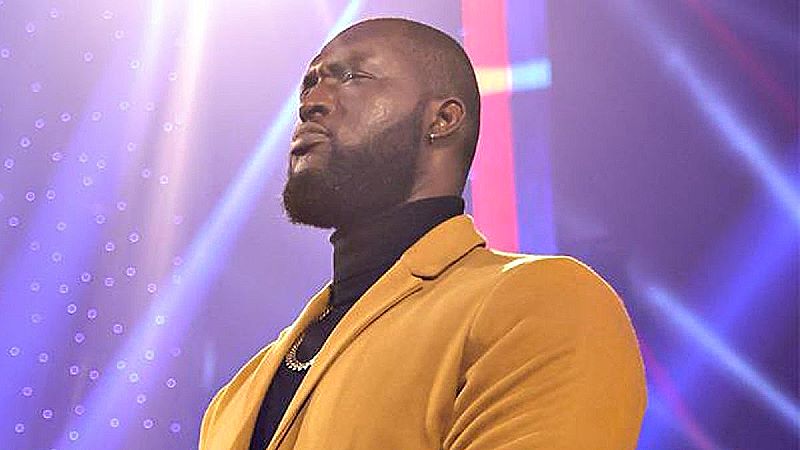 MVP Says Brock Lesnar Is Scared Of Omos – Brock Lesnar has defeated opponents twice his size during his illustrious career in WWE. That being said, The Beast will walk to the ring this weekend at WrestleMania to face perhaps his biggest test to date.
Brock Lesnar will square off against Omos in a showcase of the big men on the grandest stage of them all. The two men have confronted each other twice, with Lesnar falling short of bringing The Nigerian Giant down to his knees each time.
Their latest meeting transpired during a weigh-in segment on RAW this week. Brock went for Omos as soon as he entered the ring. The Beast even tried to hit The Nigerian Giant with the weight scale, but was caught off guard by a big boot.
Lesnar left the ring after Omos tried to hit him with his own weapon. He then backed off completely as the segment went to a close. Backstage after RAW, MVP claimed Brock Lesnar was scared of Omos ahead of their big match at Mania.
"Brock Lesnar is without question, the most dominant superstar to ever come through WWE. His record speaks for itself. We have never, in Brock Lesnar's entire career, seen him take a step backwards. He didn't do that with Big Show. He didn't do that with The Undertaker. He didn't do that with any of the greats that he's faced. However, twice… twice now, we've seen The Nigerian Giant dispose of Brock Lesnar. And instead of Brock Lesnar continuing forward, he stepped back.
"Today was supposed to be weigh-in. That's it. But Brock Lesnar was so humiliated last week that he wanted to make a statement this week. And instead of being on the weigh-in, he violently attacked The Nigerian Giant so much so, that he picked up a scale. Brock Lesnar grabbed a weapon to try to attack The Nigerian Giant. That tells me that Brock Lesnar was scared. Have you ever seen Brock Lesnar grab a weapon? Never! Brock Lesnar knows that he can't suplex The Nigerian Giant. He can't F5 The Nigerian Giant. He can't do anything do The Nigerian Giant that he's ever done before. The only thing Brock Lesnar can do to The Nigerian Giant is lose to him… at WrestleMania."
MVP Says Brock Lesnar Is Scared Of Omos