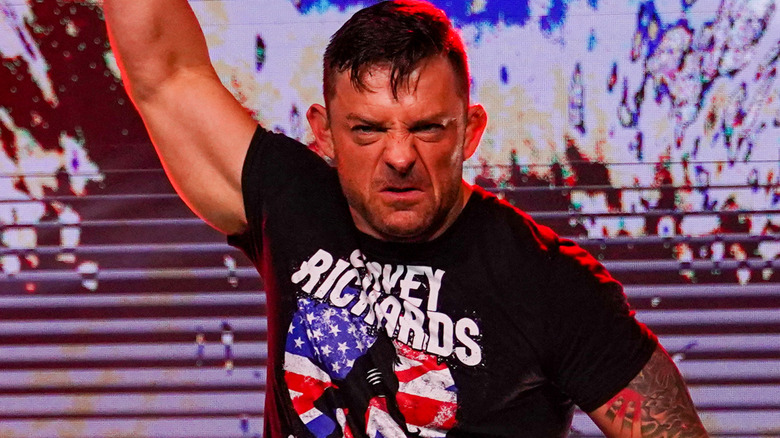 Several independent promotions announced today that they are no longer booking Davey Richards after news about domestic violence allegations.
According to Fightful's Sean Ross Sapp, the companies are cutting ties with Richards due to allegations of domestic abuse. He wrote, "Many companies have terminated their association with Davey Richards due to violating their policies and code of conducts, due to allegations of domestic abuse."
He would later write, "Richards had privately denied any allegations to several who he'd been in contact with"
Richards has deleted his Twitter account but he issued a statement to PWInsider.
"Hello everyone –
Wow, what a couple of days.
There are allegations of Domestic Violence against me.
The allegations I adamantly deny and if you look on casenet in MO under my name Wesley David Richards you'll see there are no charges filed against me.
However, I do understand the industry's stance on this matter.
Everyone should feel safe at shows and I do not want to be the person whom damages that.
The pic being posted of my wife's eye is from training and we regulatory train in martial arts as many of the students have have got black eyes and such.
Again, no charges were filed and I deny these allegations but I must do what is right and not what I want.
So I am canceling myself.
This great sport is far too wonderful for anyone, including myself to tarnish it.
I will wrap up my shows this weekend and I will be retiring from professional wrestling.
Please continue to support Team Ambition and this sport.
Davey"
Richards was announced as Eddie Kingston's replacement for the OTT ScrapperMania 7 show in Dublin on Saturday. The promotion stated earlier today that as a result of Kingston testing positive for COVID-19, Richards will substitute for him in a match against Big Damo on the show.