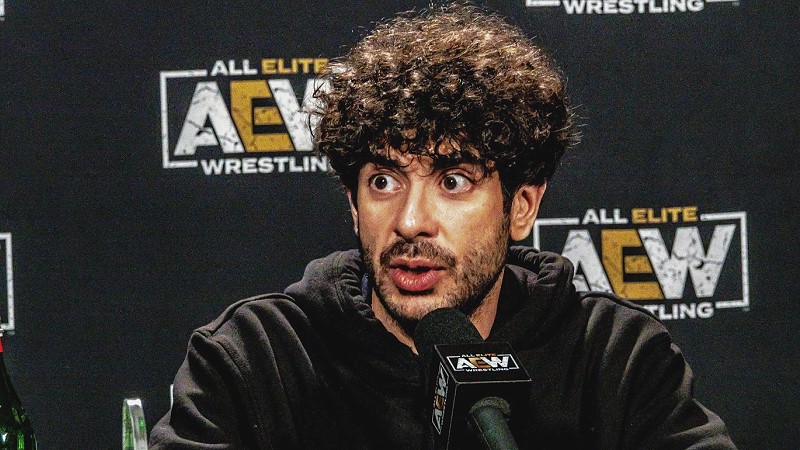 MJF And Tony Khan Address Fan Incident At AEW Revolution – At AEW Revolution, MJF defended the AEW World Championship against Bryan Danielson in a 60-Minute Iron Man Match.
At one point in the bout, the champion sparked some controversy when he grabbed some water and threw it at a young kid in the crowd.
Sean Ross Sapp reported that the kid was not a plant, as he was very upset after the incident. Will Washington got the fan an Acclaimed foam finger, and some from AEW talked to him to smooth over the situation. Amanda Huber was said to be sitting with the child in the aftermath of the water-throwing spot.
It seems like the kid MJF threw the drink on wasn't a plant. He was very upset. @WilliamRBR went and got him an Acclaimed foam finger. Some others from AEW talked to the child to help smooth things over. Amanda Huber is sitting with him now
During at the AEW Revolution post-show media scrum, MJF and AEW CEO Tony Khan were both asked about the incident and whether there would be consequences. MJF noted that the kid looked thirsty. Khan stated that he and MJF had a serious conversation, and the champion did not act like one. He made it clear that the fan, who was named as Titus, was a real pro about it, and Khan noted that he believed Titus would be at AEW Dynamite on March 8.
MJF: Kid looked thirsty.
TK: We had a conversation before we came up here. We had a serious conversation, and I mean that, it's not to be taken lightly. The young man, TItus, was a real pro about it. We'll see Titus again in AEW. I believe he's coming to Sacramento. I was just with him and he was a real champ about it. The champion didn't act like a champion there. Titus was great
MJF: Salt of the earth, that Titus. Real worried about him.
After the incident, MJF went on to defeat Danielson to retain the title. The match went to Sudden Death, and MJF scored the submission victory with the LeBell Lock after he hit Danielson with an oxygen tank.
MJF And Tony Khan Address Fan Incident At AEW Revolution