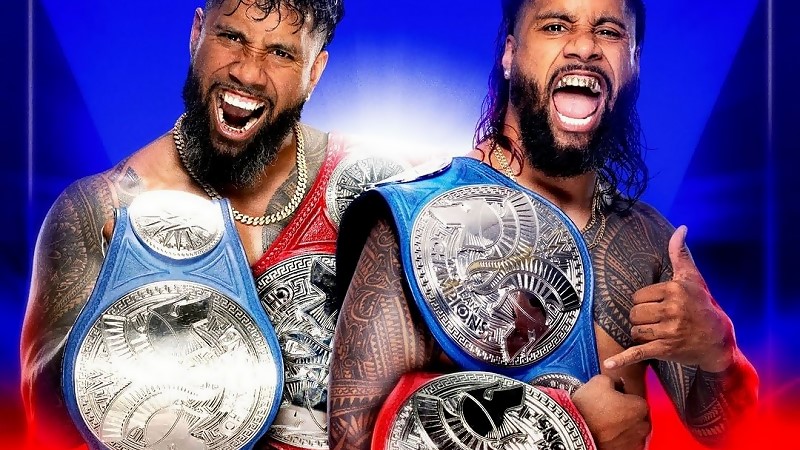 Jey Uso Explains Why He Turned On Sami Zayn – In the main event segment of tonight's WWE SmackDown, Jey Uso spoke out about why he chose the Bloodline over Sami Zayn.
The Usos came to the ring and Jey addressed his betrayal of Sami Zayn on this week's WWE Raw. After initially appearing to ally with Zayn, Uso would go on to lead an assault on him and rejoin the Bloodline.
Addressing the emotional situation, Jey said that he really didn't have a choice; he couldn't throw his twin brother Jimmy to the wolves, which is in effect what Zayn was asking him to do.
While he still doesn't seem thrilled with the Bloodline (and no mention was made of Roman Reigns) Jey clearly has allegiance to Jimmy and sought to protect him above Sami.
After Jey Uso came out to explain his rationale for choosing the Bloodline over Sami Zayn at the end of this week's WWE Raw, Jimmy Uso turned his attention to Cody Rhodes.
However as if summoning him, Rhodes' signature entrance kicked off as Cody was in the building!
Telling the Usos that they don't need to talk about him behind his back, he's right there, their attention was focused on the American Nightmare until Jey was attacked from behind.
A wild Sami Zayn had appeared to attack!
While the two dyads brawled throughout the crowd, there appeared to be a spot where Cody Rhodes snatched someone's drink and tossed it at the Usos but the camera quickly cut away.
In the end, Rhodes and Zayn chased off the WWE Tag Team Champions with show ending as the pair stood tall, Rhodes raising Zayn's arm in victory as the final visual.
Jey Uso Explains Why He Turned On Sami Zayn