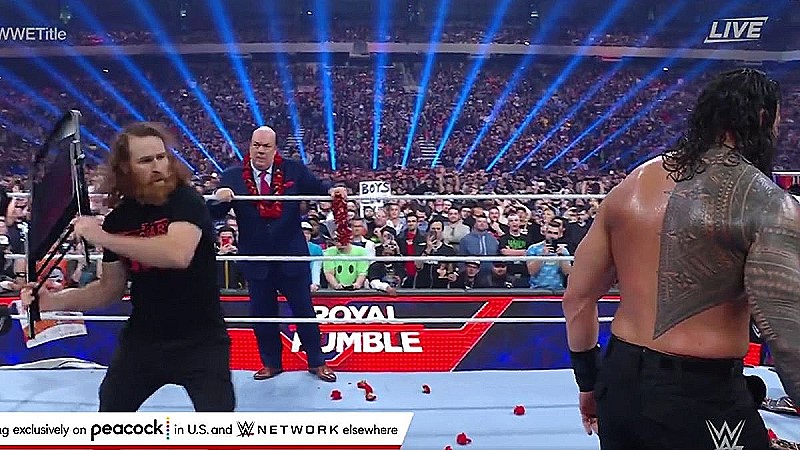 On a recent episode of his "Story Time" podcast, the legendary Dutch Mantell discussed the ongoing narrative that Sami Zayn should have defeated Undisputed WWE Universal Champion Roman Reigns at WWE Elimination Chamber. The response here was more directed to Dave Meltzer and Bryan Alvarez.
Mantell had the following to say:
"Well, you've heard the saying, tell me you're a mark without telling me you're a mark, that's exactly what these two morons did. I'm reading it and I'm saying, you know, probably six months of planning went into this and you would probably think that somewhere along the line, the WWE creative team would have said, hey, we should put Sami over and let him win the titles. See, they're shooting for WrestleMania right now. They cannot change on a dime and turn and go the other way. Why would you do this? Meltzer said, Sami proved that he can draw ratings by himself as SmackDown ratings really stayed good, I don't know what they were, but did they tell the people that Roman Reigns wasn't going to be there?
No, so they had no way of knowing Roman Reigns wasn't going to be there, they knew that something was going to happen with this angle and that's why it stayed up because it's a fantastic piece of storytelling and they have done it masterfully because it's a story you can follow and if you're doing ratings with it, why would they all of a sudden put Sami over? It makes sense in a way, yeah, the people would left happy, they would have been ecstatic and they would have remembered it for years and years, I imagine. But in the scheme of things, the WWE is more than one guy, it takes two guys to do an angle and Sami isn't drawing all this by himself. He's embroiled in a storyline that includes not only himself, but Roman, the two Usos, that's three, Sikoa, that's four and Paul Heyman is five, so Sami is not doing it all by himself.
Now, if you want to see how he does, just put him on with nothing. Oh, Sami Zayn is going to be here, okay. Put him out there and nothing happens, you've got to have an opponent. And I don't know why these two guys, they made the point that they could have put Sami over, but at the expense of screwing up Roman Reigns? Now, listen, you've had an investment in Roman Reigns for how long they've been pushing him? They've been pushing him with the titles for three years, they've got him to the point now where he made Sami Zayn, he made him and Sami Zayn is trying to get into The Bloodline made Sami Zayn. So when you get guys like Roman and The Usos, they can make other stars, they are very viable. So, if they're that viable, why would you take the first guy that comes along and all of a sudden destroy what you've made, tamper with what you've made for the past three years? It doesn't make sense. Which goes to show you why Dave Meltzer and Bryan Alvarez, nothing against them, but they just sound like marks. I just disagree with them. The money is always in the chase and that's what I've complained about WWE for so long.
Patience, they had no patience and sometimes their patience actually wore thin on me because everybody with half a brain that watches wrestling knew that something was going to happen between The Bloodline and Sami, you just didn't know when. Which is the reason that the viewership stayed up, because not only you knew they were going to do something, but it was entertaining. And Sami would get his heart broken and they would yell at him and he'd jump back, but he just wanted to be in the bloodline so badly that he would do anything to get there, even turning against his old friend, Kevin Owens. I called the finish for the match. Roman would beat him and then they would go after him and start beating the crap out of him, which is what they did and then Kevin Owens would suddenly appear and he would kind of save Sami's but. And now he came on Raw and said he didn't save him because he hated him, which is another piece of the storytelling that they did. So, now, we still have and they talked about what a great house it drew, what a great rating it drew, guess what, we still have that formula, we haven't destroyed the formula."