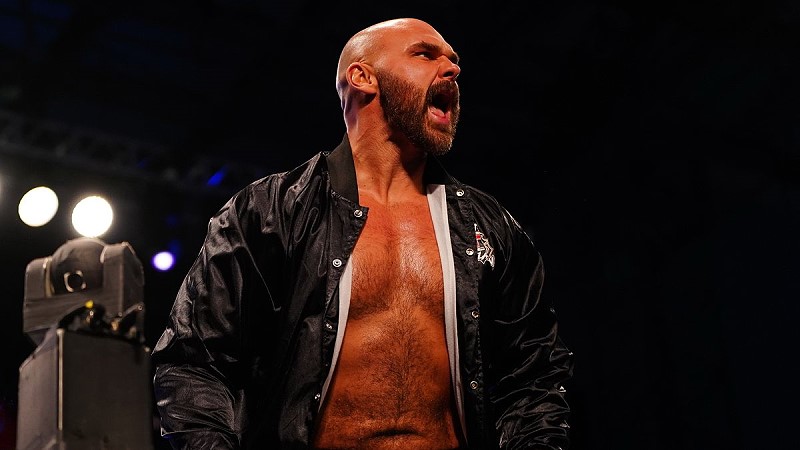 Dax Harwood Reveals Scrapped Plans For Hardcore Legend – AEW Double or Nothing in 2021 featured the Stadium Stampede match which saw The Inner Circle (Chris Jericho, Jake Hager, Sammy Guevara, Santana & Ortiz) taking on The Pinnacle (Cash Wheeler, Dax Harwood, MJF, Shawn Spears & Wardlow).
With FTR breaking off from the main bout into a brawl with Santana & Ortiz in a bar, Dax Harwood has now revealed a plan that would have seen an appearance from a hardcore legend.
Speaking on the FTR with Dax podcast, Harwood revealed:
"We were supposed to film a scene where Cash and I were walking in the bar with Tully (Blanchard), we had just ran away from Ortiz and Santana, we were walking in the bar.
"Sitting at the bar was someone by himself, with his back to us, and we got the 'okay' from Tony (Khan) to do this, we just had to get up with him. We walk up to the bar, we sit down at the bar, and the guy at the bar was going to be Terry Funk.
"He was supposed to say a line from 'Roadhouse,' I can't remember what it was. He was supposed to say a line and we were going to take a drink with him, then in comes Santana and Ortiz, then we go into the brawl and we see Konnan.
"We see Konnan, we flip the table over to start the brawl, and when we flip the table over, it was supposed to hit the first few seconds of DMX 'Party Up' and that starts the big brawl. That got ixnayed, I don't know why."
The use of the DMX track was, reportedly, abandoned as DMX's family wouldn't sign off on its use according to a report from Fightful in June 2021.
Harwood would go into further details on Funk's involvement, adding:
"We called Terry, Cash did, and we couldn't get a hold of him. Called him again, left him a message, couldn't get a hold of him.
"Maybe a week later, if that, Cash gets a phone call and it says, 'Terry Funk.' Cash answered and explained everything to him.
"Terry said, 'I would love to do that.' 'We've already filmed it.' Terry was very apologetic. He was down to do it, he just called back a bit too late."
Terry Funk had a wrestling career that spanned more than fifty years and took in major wrestling companies around the world, including multiple runs in WWE across three decades.
He would be inducted into the WWE Hall of Fame in the Class of 2009.
Stay tuned to WrestlingAttitude and WA.Com On Twitter for more.
Dax Harwood Reveals Scrapped Plans For Hardcore Legend