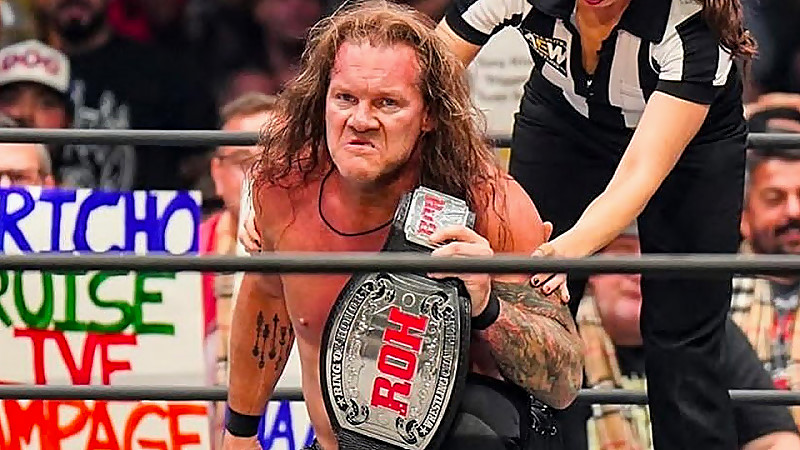 Chris Jericho appeared on Renee Paquette's "The Sessions" podcast, where he explained his other roles behind the scenes with AEW:
"Well I think just being Chris Jericho backstage, like I have the most experience out of anybody in the company with the exception of Dustin Rhodes, but also because I came in as kind of the flagship guy. When AEW first started, it was on my back for the first few months and we knew this. How many stars can we make? Let's bring in Mox. Cody wasn't as big as he was. No one really knew who Kenny and The Bucks were. Hangman Man Page, Darby Allin, Jungle Boy. Those were some of the guys that I can recall working with right out of the gate, like we have to get more plates spinning here."
"So backstage, there's a lot of advice given out, a lot of listening, a lot of bartender listening, you know, 'I've got a problem with this. I got a problem with that.' There's a lot of working closely with Tony Khan. A lot of locker room leading, you know, especially over the last six months or so when we kind of had to take the reins back when there was a lot of bad publicity and a lot of uncertainty in the dressing room. Your man, Danielson, and myself were kind of like, we have to really take charge here because we're going to lose the dressing room, and if you lose the dressing room, you're fu**ed. So there's a lot of that sort of thing going on. Basically everything, you know, I think it's kind of almost like a real general. Tony Khan's probably got a lot of right-hand men, but I think I'm probably one of them, and also too, kind of just helping out the locker room. I produce probably half the backstage promos that you see. Just trying to help as much as I can.
If he's seen a change in AEW over the last six months:
"You know, that's a big question. To start giving that answer, one thing I always point out to a lot of people in the business, in the company, and outside, is we're only three years old. I knew it was going to be like this from the moment we started, like the whole concept of EVPs, I knew that it wouldn't really mean anything because it's one boss, it's one vision, and we have to follow that vision. I worked for Vince for 20 years and one of the reasons why I was able to get as far as I did and become as big as I did is because I understood that you have to do what your boss wants. It doesn't matter if you like it or not. It doesn't matter if you think your stuff is better."
"In our company, there was a lot of that kind of resistance because there were a lot of guys that didn't work in the big corporate system. It doesn't matter what you think. Our boss is the boss, and we have to do our best to help him with that vision. So I think there's a lot more cohesiveness from that side of things. I think the infrastructure is getting bigger, you know, bringing in pros, yourself included, as far as like, okay, let's bring in somebody who knows more about PR. Let's bring in someone who's more about directing the show, someone who knows more about backstage interviews, someone who knows more about producing backstage interviews, about writing storylines that the boss will like."
"I just had a meeting this morning about a couple storylines that I'm working on with a few guys. They're not even for me. They are for other people. I need to pitch them to Tony because I know how he thinks and I know what he wants. So it doesn't matter what this guy, this guy, and this guy wants. It's like, let's take all these ideas and write it to pitch it to where he will either say yes or no. You understand this, because you've been around a long time. You got to speak the language of the people that are in charge."
Stay tuned to WrestlingAttitude and WA.Com On Twitter for more.
Chris Jericho On His AEW Roles Behind The Scenes