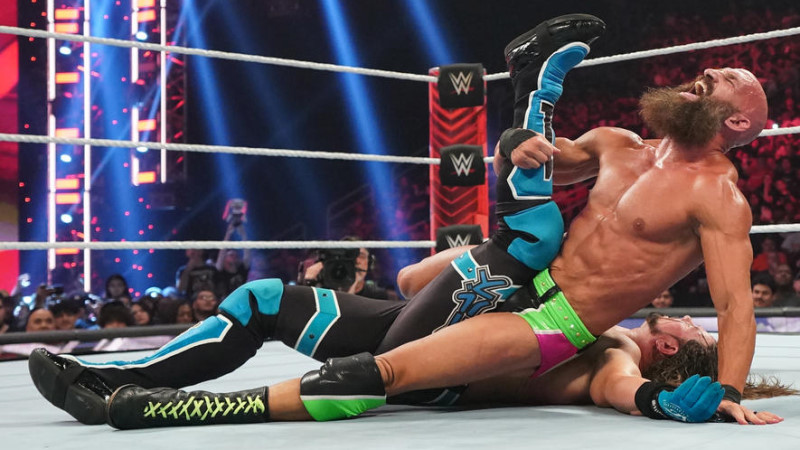 Big Update On Tommaso Ciampa Recovery – Top WWE Superstar Tommaso Ciampa has been out of action since September, and was put on the shelf with multiple nagging injures from a lengthy in-ring career.
He took to Instagram one week ago and revealed that he was in Medellin, Colombia to prepare for the stem cell treatments with BioXcellerator, a world leader in customized cell therapy and research with a focus on alternative methods of healing for people who face chronic disorders.
Ciampa noted then that he underwent 7 MRI's over a period of a few days, which translates to around 4 hours in the MRI machine. He then went through orientation with BioXcellerator, to prepare his body for hundreds of millions of stem cells.
Ciampa then noted later in the week that he received the following: 130 million cells via IV; 190 million cells into his ankles, knees, hips and shoulders; 40 million cells in his lumbar spine, facets and SI joints; for a total of 360 million stem cells.
"Today was my final stem cell treatment. They have this awesome tradition at @bioxcellerator where you write what you are hoping to achieve on your stem cell bag. I wrote 'dance with buddies' which is Willow's term for wrestling, and 'play tag' because it breaks my heart that I can't run and play with my 4 year old. 130 million cells via IV, 190 million cells via intraarticular (ankles, knees, hips, shoulders), 40 million cells via intradiscal (lumbar spine, facets, SI joints), 360 million stem cells in total. Let's heal! [heart emoji] Mommy, Daddy, Willow Forever [heart emoji]," he wrote with the photos seen below.
As seen in the various Instagram posts below, just from the past month, Ciampa has been documenting his recovery and journey back to the ring. He noted that he has "invested a small fortune" of time and money into the rehab.
Ciampa also wrote about putting on 16 pounds of weight as of 9 weeks post-op. In mid-February he noted that his goal during rehab wasn't to necessarily gain weight, but he was beginning to like the new look much more as he felt full, energized and strong, and was hoping the extra padding would give him a bit more protection in the ring when the time finally comes to get back into action.
Ciampa has not wrestled since losing to then-United States Champion Bobby Lashley at the September 17 WWE live event from Bakersfield, CA. He defeated Cedric Alexander on August 27 and August 28 at non-televised live events in the Northeast. Ciampa last worked a WWE TV match on the August 22 RAW, where he and The Miz defeated Lashley and AJ Styles via DQ. He did appear on the September 19 RAW, but did not wrestle that night.
Ciampa announced on October 26 that he underwent surgery to repair his hip labrum, going under the knife of Dr. Emblom at Andrews Sports Medicine & Orthopaedic Center in Birmingham, Alabama. The RAW Superstar said he'd been dealaing with back pain, and the hip labrum tear was the culprit.
There is still no timeframe for Ciampa's return to the ring, at least one that has been made public, but he continues to make progress in his recovery.
You can see some of Ciampa's recent posts below:
Stay tuned to WrestlingAttitude and WA.Com On Twitter for more.
Big Update On Tommaso Ciampa Recovery