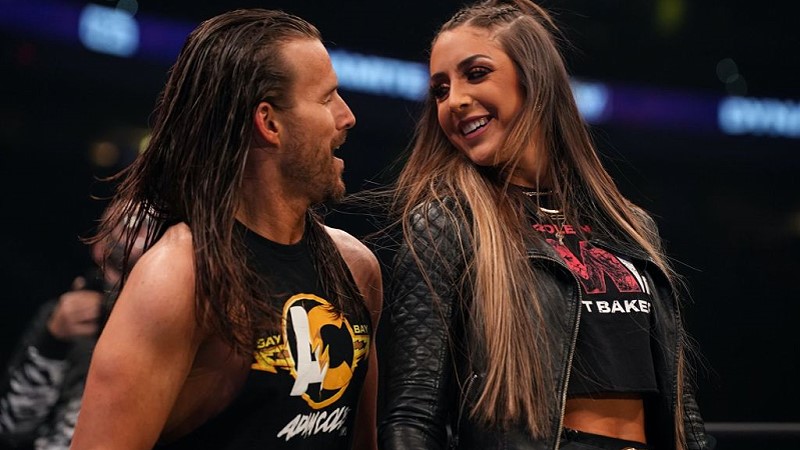 Adam Cole Talks AEW All Access And His In-Ring Return – Adam Cole and Britt Baker are still preparing for the emotional roller coaster that will occur this Wednesday night.
All Elite Wrestling power couple Adam Cole and Britt Baker recently sat down with Kimmy Sokol of The Pop Break to discuss a wide variety of subjects. When asked how Cole's in-ring return this week coincides with the debut of AEW: All Access, Cole admitted it's going to be a very emotional day for him.
"The whole idea of March 29th, not only being the debut of All Access and exposing some of the most private and intimate times of my career, but the fact that I am going to be able to get back into the ring, it is going to be an emotional day," Adam Cole admitted. "Again there was a long period that Britt will tell you this when there was a real scare and a real fear that I was done and that I wasn't going to be able to wrestle again. I hate even thinking about being an option, but it was and it was very real and some of that is covered in the show."
Britt Baker chimed in to speak about the fact that, at one point, they weren't sure if Adam Cole could ever return to the squared circle and how private they had to keep that situation from others.
"It was kept so private like nobody knew anything," Britt Baker said. "Even at work some of his closest friends would ask me, how's he doing and how is he feeling it wasn't my story to tell, so I had to navigate those waters of letting him tell his own story, but also communicating with people how he was doing it was hard."
Both Adam Cole and Britt Baker admitted they will be nervous wrecks on March 29 between his in-ring return and AEW: All Access, as Cole believes he hasn't even hit his prime yet as a professional wrestler.
"As far as March 29th goes, I could not be more elated and excited to get back into the ring," Adam Cole said. "It's my dream, this is all I have ever wanted to do since I was nine and I am very proud of the career that I have had, but in a lot of ways I haven't even hit my prime yet in my opinion. I feel as if I have 10-15 more years in the ring. I am very thankful that I have been given this second chance in a lot of different ways. March 29th I am going to be a wreck."
Adam Cole Talks AEW All Access And His In-Ring Return