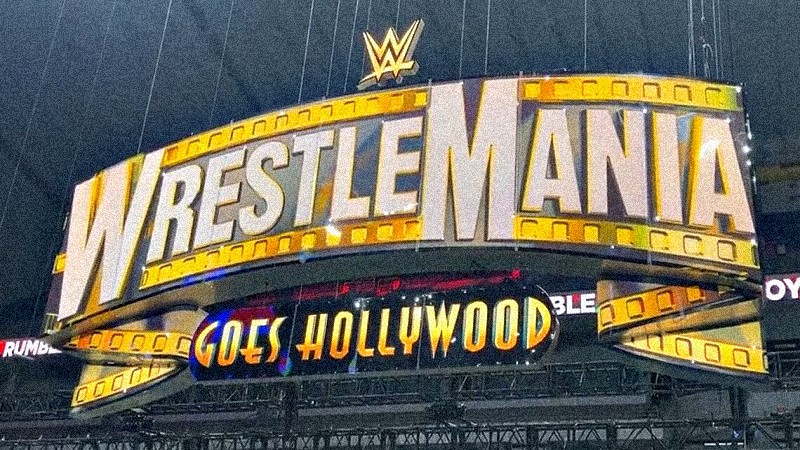 A special branded match is set to take place at WrestleMania 39 this year.
WWE Senior Vice President and Head of Global Sales & Partnerships Craig Stimmel recently spoke with The Hollywood Reporter and talked about how WWE is hoping to make WrestleMania 39 programming ubiquitous.
Last Saturday's Royal Rumble event featured the Mountain Dew Pitch Black Match with Bray Wyatt and LA Knight, while Mountain Dew also sponsored the post-show press conference. WWE is planning similar promotions with WrestleMania 39, and that goes for their social media initiatives as well.
"When you think about putting WrestleMania on, we're going to be showing across millions of households on Peacock, we're also going to have a social presence. We're also going to have a post-match press conference that's going to be sponsored this year — you saw that with Mountain Dew and Royal Rumble — but we're going to have that again at WrestleMania," Stimmel said. "It's on YouTube and on TikTok and on Facebook, so we're gonna have a myriad of opportunities to tell a brand story across different spectrums with different voices. So I think when we approach brands, we want to make sure that that holistic picture is in place… we're looking for that audience overlap."
Stimmel suggested there will be "surprises" at WrestleMania 39, and it was indicated that that the Cinnamon Toast Crunch cereal brand will sponsor a match.
"I don't want to give away too much, but it'll be around a match, and the sponsorship of that match, and what they'll be able to bring to that match," Stimmel said. "So we're going to do things that fit inside of our storyline as well."
WWE to Feature Brand-Sponsored Match at WrestleMania 39