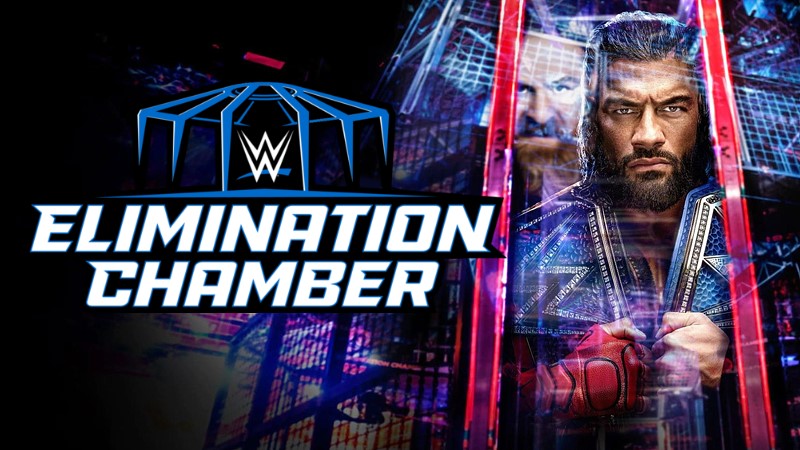 Watch the WWE Elimination Chamber Post-Show Press Conference in the embedded video below:
The WWE Elimination Chamber post-show press conference was hosted by Byron Saxton from backstage at the Bell Centre in Montreal. Full video can be seen below, along with highlights.
* WWE United States Champion Austin Theory opened the presser and bragged about going to WrestleMania 39. He also issued the Open Challenge for RAW, which we covered here
* WWE Hall of Famers Edge and Beth Phoenix were out next. Edge was asked about previously saying he wanted to soon retire in Canada, and if tonight made him reconsider those comments. Edge says he's not trying to make any firm decisions. He went on about being retired for 9 years, and now being able to team with the woman he married and had kids with while he was retired. He said they are having a blast. He also mentioned how they never tried the Shatter Machine before hitting it on Balor. He gave praise to his wife for how she did in her first match in 1 year and 1 month. Edge said he's just ecstatic about everything and not thinking about retiring
Beth was asked about working these big matches now instead of competing while being a regular on the road. She talked about how the division is so much diverse these days, and the way she prepares reflects the current women's division. Beth knew she had to put the work in and train hard to stand up to the competition. She's grateful for living with another pro wrestler who she can train in the ring with. Beth praised Ripley and knew she was special when she met her during the Mae Young Classic. She was happy to get to wrestle Ripley. Edge joked that he's going to have a black eye from a Ripley punch
Edge was asked about WWE life after in-ring retirement. He'd want to lend his brain to WWE but he's also looking to do more acting. He talked about working with different generations of wrestlers, from WWE Hall of Famer Terry Funk to Seth Rollins, and he's just taking it one step at a time these days. Edge then accepted Theory's Open Challenge
* WWE Chief Content Officer Triple H was out next. He said tonight felt like WrestleMania. He thanked the fans for getting them to this place, and thanked the talent for their breakout performances. He said very rarely is he not impressed but this was the night he felt like everyone came with their A-game on, everyone came to deliver with a statement to make, and that's what makes these events more special.
He thanked the Bell Centre plus the city and people of Montreal. He said there was a moment at the Gorilla Position where the crowd was deafening and that makes things special. He talked about the success of the event and records set. Triple H said Montreal proved it's one of the premier WWE cities in the world. He then got emotional when talking about how he felt WWE Hall of Famer Pat Patterson in the building tonight. He imagined Pat watching the show and said he would've sat there with tears in his eyes, showing excitement for the show. He said this was something special Patterson would've enjoyed in his hometown
Triple H said every match delivered tonight. He thought the Women's Elimination Chamber match was one of the best Women's Chamber bouts he's ever seen. The Men's Chamber had a lot of breakout stars. He named Bronson Reed, Johnny Gargano, Theory, Damian Priest, and Seth Rollins, but apparently forgot about Montez Ford. He gave praise to all of The Bloodline, Undisputed WWE Universal Champion Roman Reigns, Sami Zayn and Kevin Owens, saying they were the icing on the cake, and something special. He can't say enough about them. He praised Zayn as someone really special, a performer that in some ways, and some not, reminds him of WWE Hall of Famer Mick Foley for the way he connects with the crowd through different emotions. He said it's hard to put into words but Zayn is really special, an amazing performer and he can't say enough about him
Triple H said we're headed into the biggest WrestleMania and it's hard to believe it's here. He said this was a special night but he can't wait to get to WrestleMania 39 because it's going to be incredible. He was asked how his transition from the ring to the office was so seamless and has kept him on an excellent level. He talked about the importance of passion and said if there was anything he had, it was passion. He sees some people lose that passion but it's never diminished for him. He still loves this the way he did when he used to watch Chief Jay Strongbow, thinking it was the greatest thing he'd ever seen. When done well, there is nothing greater than what WWE and pro wrestling is. He went on and said there is no way someone watched tonight's show and left the arena not thinking this was something really special and something they'd want to come back to
Triple H was asked about the WWE sale and if he supports it. He said it depends on who's buying it, what the offer is, what the outcome is. He said he stays out of it, and that's not a cop-out answer, but he has the greatest gig in the world, he helped in some way to create tonight's magic and to him that's the best gig on the planet. He said as long as they get to do this, create it the way they do, and do their jobs, go out and put their passion on display, then he's good. He said it is what it is
Triple H was asked about Zayn's reaction goes on one night and how that changes the way you book him the next night in the same arena. He acknowledged Zayn's big pops and said sometimes you just have to go with your gut and feel it. He knew on Friday night that tonight's reaction would blow the first out of the water
* Sami Zayn came out next. Triple H hugged him on his way out. Zayn only had time for a few questions due to his lengthy answers being all over the place, something he apologized for. When he first sat down, he said he feels strange and said that might be a recurring theme for his answers. He said this was kind of an unhappy ending to the show, but he'd be lying if he said it didn't affect him. Sami said this was a dream come true, it was surreal, it was everything you could want, and the storybook ending has a certain ending to it, but that's not what happened tonight. He said he can't sit here and act like there isn't a small part of him that wishes he could have given everyone the storybook ending. He said to the people, to himself, to his family, to Montreal and to that story… he knows that this is, we all know what this is, but some of it is real
Zayn said he thought, "this is not fun," when looking out at the crowd at the end of the match as he could feel the pain on people's faces, and not in a storyline way. He mentioned hometown star and UFC Hall of Famer Georges St-Pierre, who was in attendance, and said GSP was the benchmark star who belonged to the city and was treated like no other by the city, and while there was real buzz in the arena, this felt like GSP came back to Montreal to lose and that's a downer, this was a great fight but still a downer
Zayn was asked about WrestleMania returning to Canada. He said it comes down to a lot of business stuff that is above his pay grade, but the secret is out and everyone knows about Montreal. He said every wrestler, every fan, they all know Montreal is one of the best wrestling cities because of the crowds. Zayn admitted he's biased but said Montreal is world class. He was asked about The Bloodline storyline coming together and said he really felt like it could happen tonight in Montreal. He mentioned how he first met Undisputed WWE Universal Champion Roman Reigns last year, in Montreal, and how they had immediate chemistry on-screen, and being in this city amplified it. He said the storyline needed that specific moment and it was one that turned the page for the storyline. Zayn said this is the content era and just being good isn't going to cut it these days. He thinks this storyline with The Bloodline has created moments that people will remember five or ten years from now
WWE Elimination Chamber Post-Show Press Conference