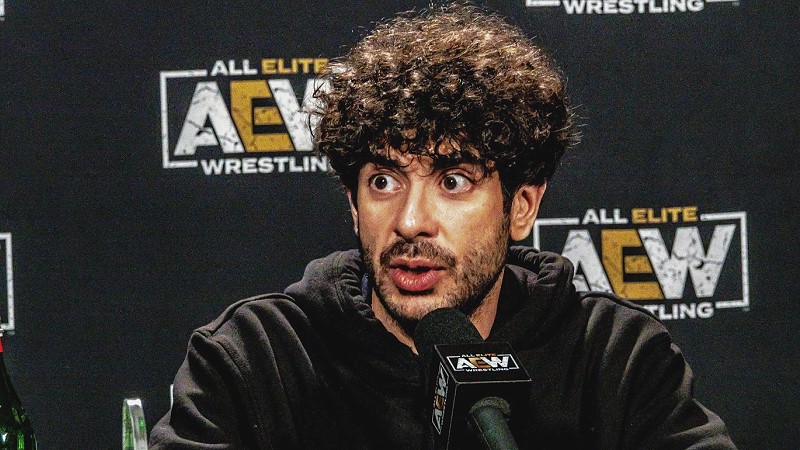 Tony Khan Lashes Out at Ariel Helwani – AEW President Tony Khan took to Twitter tonight to lash out at journalist Ariel Helwani.
Tonight's WWE SmackDown featured two crowd segments where Helwani stood with the hometown crowd to hype up the show-closing appearance by another Montrealer – Sami Zayn. Michael Cole introduced Helwani as a "combat sports journalist."
Khan apparently did not approve of Helwani's appearance on WWE TV.
"You're a fraud @arielhelwani. You're as legitimate of a reporter as @tonyschiavone24. #AEWRampage," Khan wrote, plugging AEW Rampage, which had already went off the air at that point due to the early start time this week.
Helwani responded to Khan's original tweet and thanked him for watching SmackDown. Helwani also called Khan a "snowman," which may be a reference to unconfirmed rumors on extracurricular activities Khan may be involved in.
"Thanks for watching, old friend! Can't wait for our next chat. (Also, don't listen to the snowman, Schiavone. You're a legend in my books.)," Helwani wrote.
Khan then fired back and wrote, "Good luck with the unbiased journalism."
Helwani also narrated a WWE Elimination Chamber video package for Zayn vs. Undisputed WWE Universal Champion Roman Reigns this week.
You may remember how Helwani interviewed Khan on The MMA Hour last year. After the interview, Helwani commented on why the interview was "one of the most frustrating, and to a degree, not-so-fun interviews of his career."
"He didn't want to answer anything," Helwani said on October 22. "You're going to come on and promote X, Y, and Z, great. And I'll play that dance with you. I did, at the beginning. But you got to give us something, to not even tell me how you were feeling. I'm not asking for specifics, alright fine I am, but is Punk going to wrestle for you, is he coming back, you don't want to get into it, fine. But tell me how you were feeling. Give me something."
Helwani also covers WWE for BT Sport. He is a longtime pro wrestling fan, and is friends with WWE CEO Nick Khan.
Tony Khan Lashes Out at Ariel Helwani, Helwani Responds