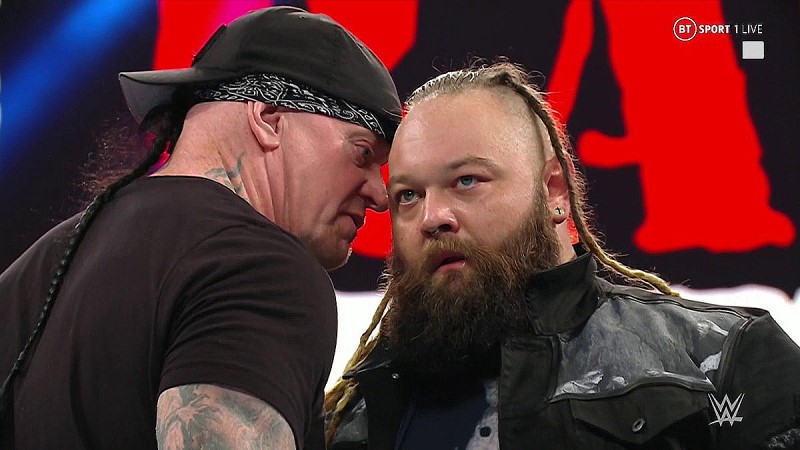 The Undertaker Talks Comparison With Bray Wyatt – The Undertaker and Bray Wyatt shared a special moment during WWE RAW 30 as Taker made his return as The American Badass while interrupting LA Knight.
This led to Knight cutting a promo on Taker, only for the WWE Hall Of Famer to grab him by the throat and hand him off to Wyatt, who laid out Knight with Sister Abigail. This was just days before Wyatt beat Knight in the Pitch Black Match at the Royal Rumble.
Taker whispered something to Wyatt before exiting the ring. It was a special moment for Wyatt, who previously talked about it on Out of Character with Ryan Satin.
Taker has been a big fan of Wyatt and is still watching the WWE product to see what he does. While appearing on Sportsnet's Tim & Friends, Taker was asked about the comparisons to Wyatt.
"I'm always interested in what Bray Wyatt is doing. They (the fans) were very interested, and I knew they would when I did it. There's a huge amount of comparisons between his character and mine. I think he's his own guy. He's his own character. I don't think it's fair to him to compare what he does to what I did. In the big scheme of things, it's in the same supernatural genre, but it's 2023, and he's doing his own thing, but I can appreciate [it]. I can see what he's trying to do. I let him know, too, that my phone's always on, and if he needs to talk to me about things or run things by me, that's cool. I would be more than glad to share my experiences with him and hopefully shine some light on questions that he has moving forward. It was a cool moment, and it did exactly what I thought it would do."
The Undertaker Talks Comparison With Bray Wyatt