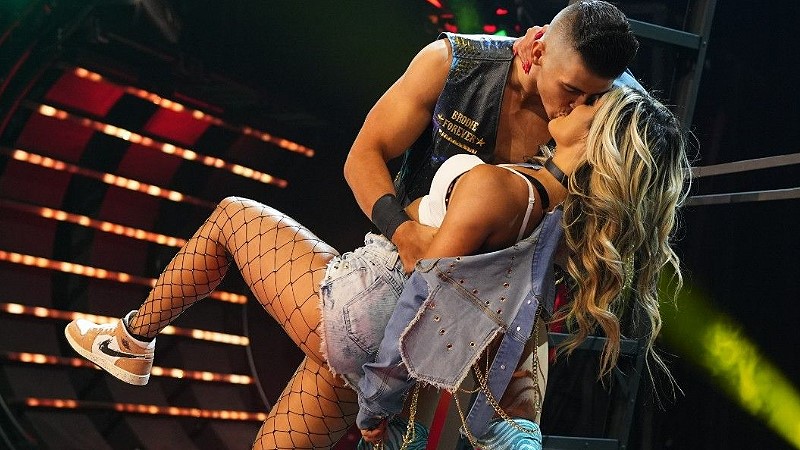 Tay Melo Reveals She's Not Cleared To Compete – Another AEW star has revealed they were injured in the street fight that took place on the January 13 edition of Rampage that featured Tay Melo and Anna Jay AS face Ruby Soho and Willow Nightingale. The violet match saw Ruby and Nightingale go over, but Anna suffered dislocated ribs in the process.
While speaking on Elite POV, Melo revealed that she has been dealing with a protrusion on her back for several years, and it started acting up before the street fight.
"Yes, I have a protrusion on my back, so it's something that I've been dealing with for more than ten years by now. I know how to go about it. So, before the match, I started feeling it a little bit, and the doctors in AEW, they're super good. I told them, and they helped me see if it was okay to do it. They asked me, and I was like, 'I'm gonna do it. Let's go.' I'll never say no, let me tell you unless I'm really dying. I was like, I'm in pain. I knew I was in pain. The day before, let me tell you, I couldn't walk," Melo described. "I couldn't walk at the airport. The walk was so long we had to get a wheelchair for me because I was not able to walk for too long. It was really bad.
Melo recalled getting treatment the morning of the match, and the women in the match were worried about her, but she pushed through.
"Then, after the match, I checked everything," Melo continued. "I went to the doctor…I went to a couple different doctors and our doctor in AEW. So I'm not cleared for now, but I will be really soon. I'm good, don't worry. I want to be cleared, but the doctor is trying to hold me back a little bit to make sure I'm 100%. They told me I will be cleared in the next couple weeks. So I'll be fine."
Tay Melo Reveals She's Not Cleared To Compete