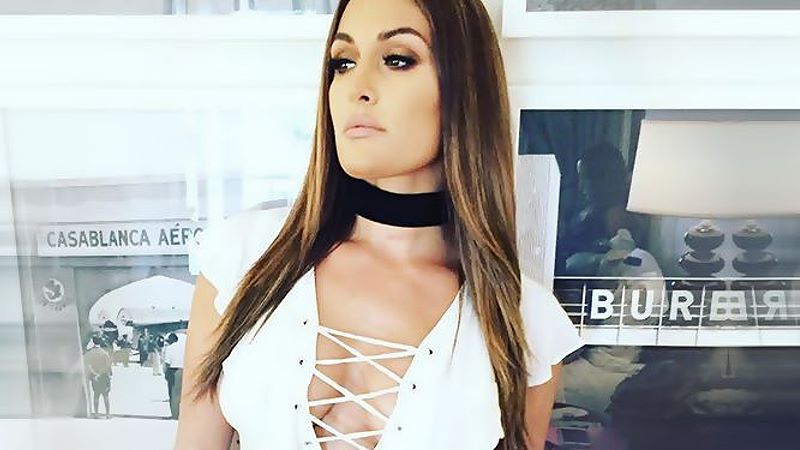 Nikki Bella On Total Divas Not Being Praised Enough – Nikki and Brie Bella helped push the women's evolution forward, not only through their improvements as in-ring performers, but by bringing more eyes to the product via reality show "Total Divas."
Over the year, The Bella Twins have continued to receive online flack from fans who don't view them as the best wrestlers in the world and for not being afraid to speak their mind. Nikki recently called herself the most hated person in the industry.
Speaking to Renee Paquette on The Sessions, Nikki addressed the perception of the Bella Twins and how it was pushed on WWE television.
"I remember one time, Triple H saying, 'perception is reality in this reality,' so we can perceive people however we want. I think that's what has happened to Brie and I. At that time, they made people believe so much that Brie and I only care about reality TV, we were only there because of our men. They were super cool and doing amazing things as well. I know AJ (Lee) spoke about it in her book, and I think she's regretted a lot, because that could have been a time when we could have empowered women even more and created more change. That was still a fight and that locker room was really difficult. A lot women can speak about that. That was a time when I saw so many women with their heads down, and I was like, 'I'm going to fight real hard for this.' I didn't have to come back with reality cameras, I already had them with E!. I chose to come back to make sure we showcased women's wrestling because I thought what women were doing was so badass and they weren't being appreciated for it. Honestly, Total Divas should have been praised even more, I felt, because what we were doing was, we were literally almost at the point of beating the Kardashians in ratings. We were shaking the world up. What a great time. We could have had the industry behind us. Instead, they used it to turn it against us. That was really shocking to me. I was like, 'we're making great change for women's wresting, why are you hating on it?'" she wondered.
AJ Lee cut her version of the "pipebomb" on The Bella Twins on the August 26, 2013 episode of WWE Raw where she called out the Bellas for their role on reality TV and credited their men (John Cena and Bryan Danielson) for getting them their spots.
When asked why she thinks there was that perception around the Bellas and why it was portrayed that was on television, Nikki replied, "I felt like, as far as the boss, it was the first time he lost control of what he could make and not make. When Brie and I won Diva of the Year (in 2013), we got in trouble and we got yelled at. I remember, we came back so happy, and it was, 'Oh, because you brought in all these new viewers and the women are now voting for you and all these new women are here.' [Jaw] on the floor. Everyone around was on the floor like, 'The Bella Twins are getting yelled at for being successful.' It wasn't what they wanted. They were the storytellers. They push who they want the crowd to be behind, just perception is reality. That is WWE to a T. Even though the fans think they own it, no, they laugh in the back, 'we own you' at the end of the day. I truly believe Total Divas was the first thing they couldn't control. They couldn't control the success. They couldn't control mainstream. There was no control. That was hard on one side, because they lost that. Then, I think, everyone backstage thought we were going to fail. I don't like to use the word envy or jealousy, but I think there was a bit. We all kind of get that."
Nikki continued, discussing the success of "Total Divas" and the Bellas by saying, "That brought in a lot of hate within people in the back. Some people were super supportive, then there were some that were hating and some got the mic, and they just really expressed it. It gave me great fire and it made for great story, but I wish people wouldn't have believed it beyond that. It was also sad for me because to slut shame or tear women down, I was not for that. I remember when I had to cut a promo on (Awesome) Kong before Brie and I left for eleven months. I went with what they said on paper. It was so wrong. I talked to Kia (Stevens aka Awesome King) before, and we even talked after, it just didn't feel good and I didn't like it. I don't want cheap pops from the crowd anymore, especially if it's not approved by the woman. I could have said a lot more stuff on the mic to get these greater reactions. It was never worth it to me. At the end of the day, we're still telling stories. That's kind of how I left the rest of my career. Some of the stuff that was said to me, on a hot mic, with not even realizing. I remember being disappointed like, 'we just took five steps back' from tearing these barriers down and breaking them. We still shattered them, but it took even more work, and I have to live with this hate in this industry, and it's hard on me because I love wrestling, but I have to carry this cloud of hate with me."
Stay tuned to WrestlingAttitude for more.
Nikki Bella On Total Divas Not Being Praised Enough