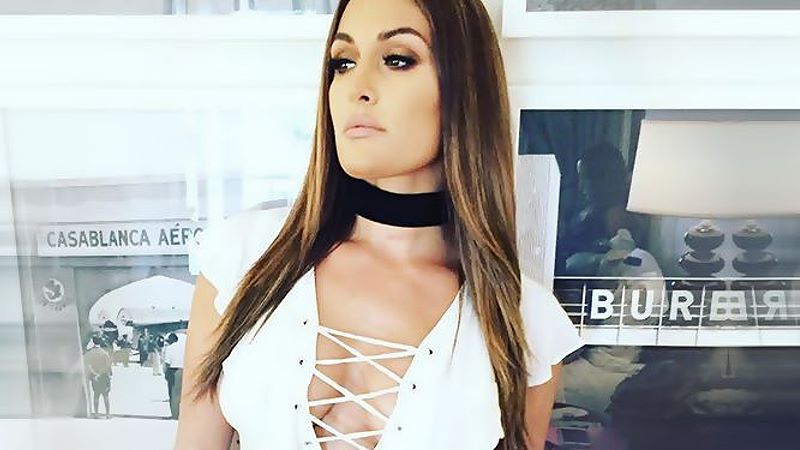 Nikki Bella Discusses The Origin Of 'Fearless Nikki' – Nikki Bella went from the Diva Search to Divas Champion in her career, improving in the ring and find her on-screen persona.
Nikki's success transcended wrestling as she was one of the stars of "Total Divas," which helped bring a new audience to WWE. Nikki's success and the success of "Total Divas" didn't rub everyone the right way as Nikki has admitted to there being jealousy behind the scenes.
Speaking to Renee Paquette on The Sessions, Nikki discussed her decision to push forward past the jealousy and finding herself.
"In the beginning, it was hard. Then, I was like, 'you can woman up and you can make this something.' I remember one day looking at my ex and going, 'I'm going to war. I'm gonna pack up, I'm gonna suit up, and I'm gonna go in there and win this thing.' I just got this fire and I think that's what helped create Fearless Nikki. Whether it was filming a scene or just walking in to go to catering, I was like, 'I'm going to own the place, not be affected, and if I give myself this energy and this feeling, I'll be unbothered. I'll live rent free in everyone's head and I'm going to do my thing.' It helped me and it helped me conquer a lot. I took that fire and rose up like a phoenix," she said.
Nikki continued, "Not that I was, 'no more Mrs. nice girl' because I was still kind to people. I was like, 'I'm done being passive in that way.' When we were at FCW and no cameras around, we were doing kick-ass matches. When I came up on the road, it was, 'can't do this, can't do that, go out there, let them throw you around, make sure to pull hair and slap.' I listened. I listened all the time, and I should have fought for myself. I should have fought on everything that I learned as an athlete and professional wrestler, and I should have showcased, and I didn't. When that fire came about, I was like, 'no one is telling me no anymore. They don't want to do my move that I just learned or this sequence that I think looks badass, they don't want to treat me like I'm a powerful woman? Well then, get in line, I'll fight someone else tonight. We're going to go out there and do it.' I feel like with that fire and just going out there, it created a whole different person that I wish I was, but I had to learn, and now I take that into what I do now. The whole 'apologize later' is such a good thing to go into because it lets you be you and what you have in here. It took me to get all that fire to finally go out there and be that person."
Bella is the longest-reigning Divas Champion of all-time, holding the title for 301 days.
Nikki Bella Discusses The Origin Of 'Fearless Nikki'