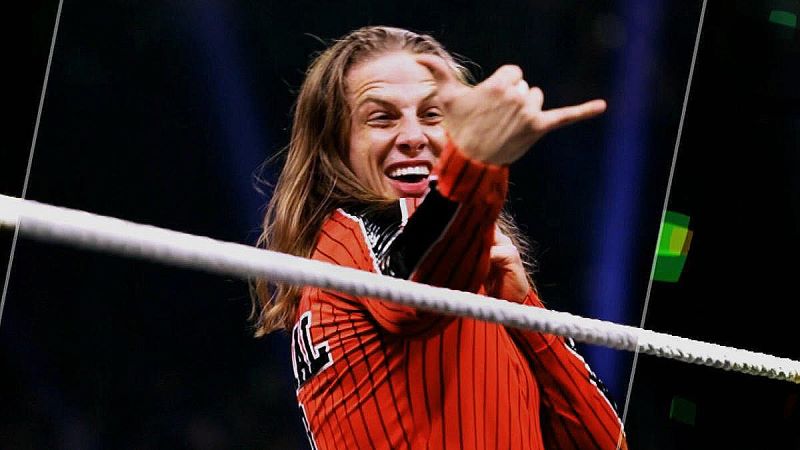 Matt Riddle Shows Off New Mustache And Grill – Matt Riddle has been away from WWE since the December 5 RAW, where he was temporarily written out of the storylines with an attack from Solo Sikoa.
It was reported that Riddle was suspended for failing a second WWE Wellness Policy drug test, and it was later reported that he entered rehab. You can click here for Riddle's late-December statement following his WWE hiatus and abuse allegations by another woman.
In an update, Riddle tweeted a photo of his new grill this weekend, and thanked Alligator Jesus CEO David Tamargo. Alligator Jesus is a Los Angeles-based company that offers custom grills for your mouth.
"Thank you @alligator_jesus for the amazing grill #stallion #grill #dude #rudedude #bro #alligatorjesus," Riddle wrote with the photo seen below.
Riddle later posted selfies with his girlfriend, adult film star Misha Montana. He thanked Montana for supporting him during his recovery, and posted one photo to show off the new grill.
"Thank you for supporting me during my recovery babe and loving me for me #happy #stallion #grillz #mustache #bro," Riddle wrote with the photos and Instagram video seen below.
One fan responded and wrote about how they hoped to see Riddle in a more stable environment, writing, "Honestly I was hoping to just see you in more stable environment kinda pictures, maybe with your kids while you had this time off. Not so much hanging with porn stars and grill pics. But yeah good luck on sobriety bro"
Montana responded to that fan and wrote, "your approval or benefit. Seek a hobby that's more spiritually and emotionally gratifying than preying on the lives of strangers that you know nothing about"
Montana later responded to Riddle in his Instagram comments, writing, "I love you babe I'm here to support you always and I'm so proud of the man you are and that you're the healthiest, happiest, best version of yourself you could be."
While away from WWE, Riddle received his Brazilian jiu-jitsu black belt while training under Daniel Gracie at Gracie's facility inside the Downtown Orlando Boxing Club in Orlando, FL.
"Finally got my bjj black belt and I couldn't be happier, thank you to everyone who has helped and supported me along the way [shaka emoji] #bro #danielgracie #wwe #mma #bjj #stallion," Riddle wrote as the caption to a recent photo with Gracie, Rolles Gracie, and David Floridia.
It was reported that Riddle was suspended for 60 days, but there's been no word on his return. He's been advertised for some WWE events all along, including the February 13 RAW from Brooklyn, but it remains to be seen if those were dated listings or if he's actually returning in the next few weeks.
Thank you @alligator_jesus for the amazing grill #stallion #grill #dude #rudedude #bro #alligatorjesus pic.twitter.com/BFalCV2JTt

— matthew riddle (@SuperKingofBros) February 4, 2023
Thank you for supporting me during my recovery babe and loving me for me #happy #stallion #grillz #mustache #bro pic.twitter.com/TSQm1TluEC

— matthew riddle (@SuperKingofBros) February 5, 2023
your approval or benefit. Seek a hobby that's more spiritually and emotionally gratifying than preying on the lives of strangers that you know nothing about

— Misha Montana (@themishamontana) February 5, 2023
Matt Riddle Shows Off New Mustache And Grill