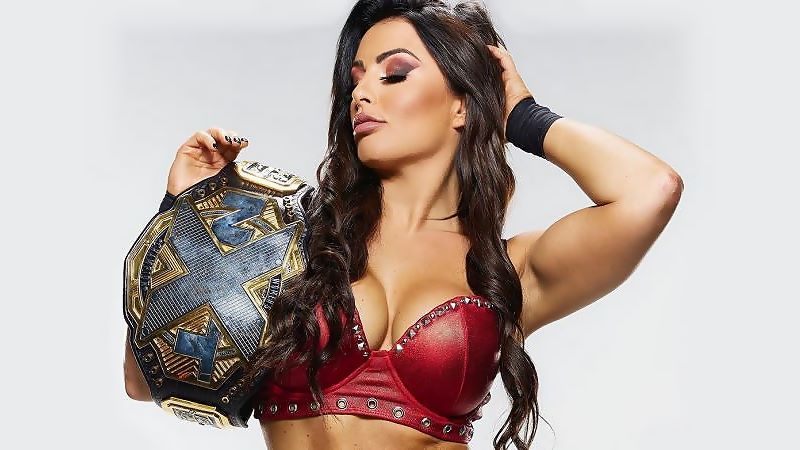 Mandy Rose Says She Hasn't Ruled Out Wrestling Return – Mandy Rose joined Renée Paquette on The Sessions podcast to discuss her WWE departure and wrestling future among other topics.
In December, WWE released Rose one day after her NXT Women's Championship reign ended at the hands of Roxanne Perez due to the content she had been posting on her FanTime website.
Rose was at Indi Hartwell's house when she got the call from WWE.
"The next day, which I was anticipating with how everything went down (with me losing the NXT Women's Title in the manner I did). I was making jokes about it actually the night before (being released from WWE)… It's the only way (to get through it). I was literally making jokes about it and the girls were even like, 'Oh my God, stop. You're crazy.' I'm like, 'No. It's not crazy.' But, yeah, I got a call around, I don't know, like 11 or something and you know that 203 number? (Rose laughed) When it comes in, it's gonna be either really good or really bad. But it's funny because obviously, I grew up in New York, I had some family in Connecticut. Like our cousin who's down here right now who's doing a lot of work at our house has a 203 number so every time I do get that, I'm like, ugh, whatever… I got that call and they said what they said. They had to release me because of the situation but I didn't really get much info so that was kind of it and yeah, I was actually staying at Indi Hartwell's house, Sam, because I stay there sometimes because we became really close and she was upstairs getting ready for TV because — I haven't told anyone this story actually. But she was upstairs getting ready because we had to do a double taping that day and that's why I stayed and I was like, 'Indi!' I was like, 'I just got fired' and she's all the way upstairs, she's like, 'What!?' She's like, 'Shut the f*ck up. No way,' blah, blah, blah and I'm like, 'No, I'm serious' and you know, at first you're just like, you kind of laugh a little bit because you don't know if you wanna laugh or you wanna cry and it was like a gut punch but then I was like, well now I need to really think about this and handle this, whatever."
Rose also noted that she is leaving the door open to make a return to wrestling.
"Oh, that would be nice (to reunite with Saraya in AEW)… Oh yeah, oh my God (I could reunite with Dustin Rhodes too). I have a few little old schools that we could reunite.
I haven't ruled it out for sure (coming back to wrestling). It's not like the boots are hung up and stuff. It's not like that but right now, it's not my main focus but just right now, it's not my main focus but definitely for the future maybe. We'll see. "
Stay tuned to WrestlingAttitude for more.