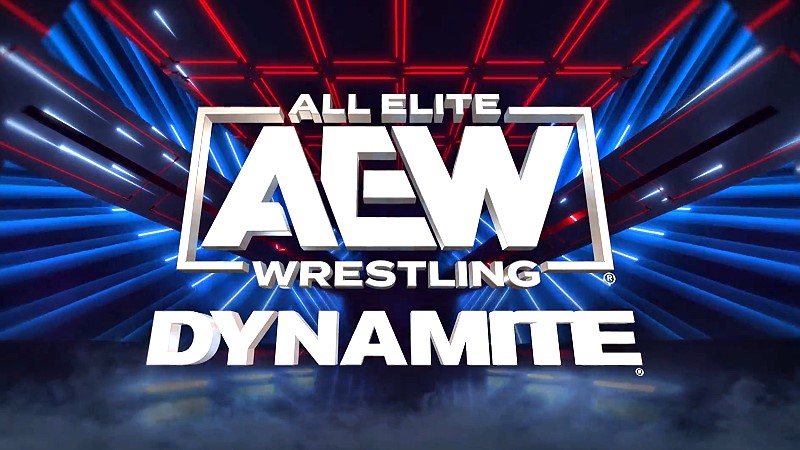 AEW Dynamite Results (2/22) – We are live inside the Footprint Center in Phoenix, AZ. where Excalibur and company welcome us to this week's show.
AEW All-Atlantic Championship
Orange Cassidy (C) vs. Wheeler Yuta
Orange Cassidy starts out offering a handshake, but Wheeler Yuta takes a swipe at him instead. Cassidy avoids it and takes Yuta down and the two men then exchange pinfall attempts. Cassidy then hits an arm drag and uses Yuta's seatbelt pinfall attempt, but Yuta can escape and that leads to Claudio Castagnoli making his way down to the ring. He slaps Yuta in the face to fire him up and he gets into the ring and slams Cassidy down and bites him, following up with a lariat.
Yuta keeps up the attack by diving out of the ring into Cassidy before sending him into the barricade and then over the timekeeper's table which he then kicks onto him for added damage. Castagnoli heads to the back, while Yuta launches Cassidy into the ring post. Back inside the ring, Yuta hits several chops and then Cassidy stops him so he can put his hands in his pockets, and with the champion not defending himself Yuta acts even more aggressively with slaps to the face.
Cassidy responds with his usual slow kicks and then a dropkick which drops the challenger as he then slams Yuta's head repeatedly into the top turnbuckle. Yuta regains control with an elbow strike from the top, and he then slides and kicks Cassidy to the floor. Yuta apples the bow and arrow submission and transitions into another pinfall attempt, but the champion kicks out.
However, Yuta misses with a diving splash as Cassidy slowly rolls away, but Yuta counters a DDT attempt with a brainbuster, but he isn't able to get the victory. Cassidy blocks the next move with a huge, but Yuta gets out of it with a headbutt and then connects with a German suplex, but Cassidy responds with one of his own. Yuta then pulls out the mouse trap pinfall attempt, but Cassidy manages to kick out just in time. Yuta spits gum at Cassidy and he fires back with spit of his own as they then trade forearm strikes as both men go down.
The two end up on the ring apron, but Cassidy counters with a back body drop and then connects with a diving DDT, and back inside the ring he hits another. The champion aims for Beach Break, but Yuta reverses with a piledriver, and then the elbow strikes. He tries a seatbelt pinfall but Cassidy responds with elbow strikes of his own. Yuta then reverses into the seatbelt pinfall, but after the kick out Cassidy hits the Orange Punch only for Yuta to kick out! Cassidy follows it with Beach Break but Yuta kicks out again! Yuta screams for more and the champion delivers another Orange Punch to retain. 
Winner and STILL AEW All-Atlantic Champion: Orange Cassidy
Wheeler Yuta Obeys Claudio Castagnoli, Disses Orange Cassidy
Once the match wraps up, we see Orange Cassidy extend his arms for a big hug to give the people what they want. It looks like Wheeler Yuta is considering it but then Claudio Castagnoli comes out and demands he join him on the entrance ramp. Yuta obliges and the two head to the back together as the fans boo and Cassidy looks dejected.
Evil Uno Demands "Hangman" Page Steer Clear Of His Match
Now we shoot backstage where Renee Paquette is standing by with The Dark Order's Evil Uno ahead of his main event tonight against Jon Moxley. Standing beside Uno is "Hangman" Adam Page. He demands Page not get involved in their match later tonight. He wants to prove he's on Hangman's level.
"Absolute" Ricky Starks Speaks Next …
We then head back inside the Footprint Center in Phoenix, AZ. where the familiar sounds of the entrance theme song for "Absolute" Ricky Starks plays. Starks makes his way down to the ring as Excalibur informs us we will hear from him next.
When we return from a break, Starks mentions how he's realizing Chris Jericho doesn't want anything to do with a rematch against him. He says he's fine with that and ready to move on.
He pulls a contract out of his coat pocket and says he's got an open contract for a hungry talent who wants to get on the card at AEW Revolution 2023. He calls to the back for someone to come out and accept it.
The familiar sounds of "Judas in my Mind" by Fozzy plays as the Jericho Appreciation Society leader and the real-life "Wizard" of pro wrestling himself, Chris Jericho emerges to fireworks and a crowd full of Phoenix fans singing along with his theme.
Jericho comes out and says he's not going to do what he says he knows Starks is trying to do, which is to bait him into accepting another match with him. He tells Starks good luck with his little open challenge. Before he leaves, Peter Avalon comes out seemingly to accept the challenge but is blasted by Chris Jericho, who hits him with a Judas Effect.
Now "The Ocho" heads down to the ring and gets in Starks' face and says maybe he should have a rematch with him and embarrass his stupid ass. Starks said he can go ahead and sign it and he knows what's gonna happen. He's gonna have J.A.S. beat him down and jump him again.
He then brings up Jericho beating two legends in "Stone Cold" Steve Austin and Dwayne "The Rock" Johnson in the same night and says he doesn't think he can beat him one-on-one. Jericho asks if he thinks Starks really believes that.
Starks then calmly says no, actually he does believe Jericho can beat him one-on-one. Jericho gets confident now and takes the contract and says he'll not only sign it, but he'll add an addendum to ensure J.A.S. is banned from ringside during the match.
He says he can't though because he doesn't have a pen. Starks says, "Damn." Then after a second follows up with, "I do." He pulls the pen out and hands it to Jericho. Jericho raises it up dramatically and then clicks it and signs it.
He tells Starks it's official because the match is on at AEW Revolution. He tells Starks be careful what you wish for because no one out-smarts "The Ocho." Starks smiles big and looks into the camera as Jericho heads to the back.
Big Bill & Lee Moriarty vs. The Acclaimed
Lee Moriarty gets dropped by Max Caster via a shoulder tackle, and that is followed by an arm drag from Caster, however, Big Bill takes a cheap shot and that allows his team to briefly gain control. Anthony Bowens makes a blind tag and he slams Moriarty down onto Caster's knees as Caster returns to action. However, as they attempt to hit Scissor Me Timbers, Bill comes around and shoves Bowens to the floor.
Moriarty nails a forearm to Caster and then brings in the big man as Bill attacks Caster while The Gunns then appear on the entrance ramp. Caster avoids a big splash in the corner and both teams tag out. Bowens brings the attack to Moriarty with a big kick to the face before leaping over the top of his opponent and planting him down. He then nails Bill with a thrust kick, but Bill then blows through Bowens' rolling elbow strike and hits Dddy Ass with a big boot before hitting Bowens with one as well.
The Gunns then head down and begin attacking their father which leads to The Acclaimed chasing them around, but on the outside Caster manages to send Bill head-first to the ring poster. However, inside the ring, Moriarty plants Bowens down to the mat and gets a near fall. He then hits the Arrival and Caster gets in with the Mic Drop. 
Winners: The Acclaimed
Jungle Boy Tries To Get Revenge, Still Gets Brutalized By Christian Cage
After the tag bout we see Tony Schiavone making his way over to the top of the entrance stage. He then introduces his guest at this time — Christian Cage. The familiar sounds of Christian's theme plays and out he comes.
Before he can say a word to Schiavone, however, he is attacked from behind by "Jungle Boy" Jack Perry. He beats him down and then heads to the back, only to come back out with two steel chairs.
He thinks about giving Christian the con-chair-to, but after setting it up, he hesitates and Christian ends up getting one of the chairs and hitting Jungle Boy low with it. Christian gets on top and grabs Jungle Boy by the hair and then repeatedly bashes him face-first into the chair as the fans boo.
Christian lifts Jungle Boy's head up and we see he is bleeding. Christian heads to the back as a bunch of officials come out to help Jungle Boy.
Samoa Joe Responds To Wardlow
After a video airs showing Samoa Joe responding to the comments from Wardlow last week about cutting his hair and how that meant more than people think after explaining his connection to his father and how the pony tail represented that.
He says he did it to send him a message that he is not to be messed with. He vows to prove that when they meet at AEW Revolution.
Saraya vs. Skye Blue
The bell sounds and we're officially off-and-running with this one-on-one women's showdown here on Dynamite. Saraya immediately starts taking it to Blue, stomping her down in the corner of the ring.
Saraya tosses Blue out to the floor where Toni Storm adds insult to injury by further punishing Blue. Saraya comes out and rams her into the barricade and then brings her back into the ring to deliver some more punishment.
Blue gets in one good counter move and tightens up a standing submission on Saraya that pops the crowd, however, Saraya ends up taking over again after that. Blue avoids a super-plex from Saraya and then goes on a little offensive spree.
It looked at one point that Skye Blue had Saraya beat, but when she goes for the cover we see Toni Storm hop on the apron to provide the distraction. After this, Saraya takes back over and locks Blue in a submission for the victory.
Winner: Saraya
We see Saraya and Toni Storm go to spray paint an "L" on Skye Blue, only for Dr. Britt Baker, D.M.D. and the reigning AEW Women's World Champion Jamie Hayter to come out and stop them, running them off.
As Saraya and Toni Storm head to the back, we hear Ruby Soho's theme playing. Soho comes out and looks at Hayter at ringside and gestures that she wants the belt. After that, we head to another commercial break.
Bryan Danielson & MJF Get Extremely Personal And Then Brawl
Bryan Danielson makes his way out and heads to the ring to a rock star reception. He settles in the ring and begins to address his opponent in the 60-Minute Iron Man match for the AEW World Heavyweight Championship. He is confused how MJF hates him after he was the one who put a bounty on his head and tried to have him injured.
The theme for MJF hits to bring out "The Devil." He tells a story about not believing in anything or anyone until he met a woman he loved. He mentions telling her he wants to start a family with her, build a home with her, etc., only for her to ultimately leave him.
He goes on to explain that the only thing stopping him from taking a fist-ful of pills and ending everything is the AEW title. He then mentions how everyone loves "The American Dragon" even though he is selfish. He says that Danielson has had more head trauma and brain damage than anyone and still is selfishly in his sport.
He says he has a wife and two kids and he takes them for granted and makes it obvious that he considers wrestling more important than his family. He then mentions wanting to send a message to Danielson's wife and kids.
Danielson says if he brings his kids into this he's going to beat the sh*t out of him. MJF goes on to reference Birdie and the two kiddos anyways. He calls himself their Uncle and mentions how he's going to beat up their daddy at AEW Revolution.
He enters the ring and begins to mention giving him worse CTE, but Danielson blasts him before he can finish. A big brawl breaks out between the two that brings out a ton of officials and security who try and fail a few times to separate them. After this, we head to another commercial break.
Jamie Hayter's Idea For Title Match At AEW Revolution
When we return from the break, we see Tony Schiavone backstage with AEW Women's World Champion Jamie Hayter and Dr. Britt Baker, D.M.D. She talks about how Saraya and Ruby Soho both deserve a title shot. She proposes they have some fun at AEW Revolution and have a triple-threat match for her title.
AEW Revolution Tag-Team Battle Royale
The bell sounds and all of the guys enter the ring at the same time and begni brawling. Both members of a respective team must be thrown out for the team as a whole to be out of the running.
Involved in this match are Top Flight (Dante Martin, Darius Martin), Best Friends (Chuck Taylor, Trent Beretta), Aussie Open (Kyle Fletcher, Mark Davis, Jeff Jarrett and Jay Lethal, Matt Menard and Angelo Parker, The Dark Order (Alex Reynolds, John Silver), The Lucha Brothers (Rey Fenix, Penta El Zero M), The Butcher and The Blade, as well as The Varsity Athletes (Tony Nese, Ari Daivari).
Mark Briscoe ends up running down at one point and he begins brawling with Josh Woods, much to the dismay of "Smart" Mark Sterling. Penta El Zero Miedo hits Tony Nese with his finisher on the hard part of the ring apron to eliminate him in a cool spot. Ariya Daivari is thrown out seconds later.
After that, we head to a mid-match, picture-in-picture as this match continues.
When we return from the break we see a ton of people eliminated until we're down to our final handful of tag-teams. A couple more are eliminated and we're down to the last few guys as we head to another mid-match commercial break.
When we return from the break we see an elimination spree, which leads to Jeff Jarrett and Jay Lethal being left alone in the ring with Trent from The Best Friends. Trent is being beaten down by a double-team attack as the fans boo.
Satnam Singh prevents Jarrett and Lethal from being eliminated by Trent. When Trent seems to be thrown out, his feet don't touch and Orange Cassidy gets under him and walks him around on his shoulders. We see Jarrett and Lethal both doing Jarrett's strut thinking they won. Trent comes back in and eliminates Lethal.
This leaves Jarrett and Trent as the last two. Satnam Singh provides another assist for Double J which helps him remain in the match, and he then throws Trent out to get the win. With the win Jeff Jarrett and Jay Lethal are added to the tag title match at AEW Revolution.
Winners and ADDED to AEW Revolution tag-team title match: Jeff Jarrett & Jay Lethal
The House Of Black Send A Message To The Elite
We shoot to a message from The House of Black after the tag-team battle royale wraps up. They send a message to The Elite and then a match is announced for AEW Rampage. After that, we head to another commercial break.
AEW All Access Coming Every Wednesday After Dynamite
Now we return from the break to see Renee Paquette standing by with Tony Khan. She mentions his "important announcement." Tony Khan says he'd rather hear a big star tell it.
Adam Cole comes in and announces AEW All Access — a new weekly one-hour show where wrestlers from the company will share stories. Cole says to trust when he says it's something you won't want to miss.
The show will air every Wednesday night after AEW Dynamite and will last one hour. Adam Cole announces the debut episode will also be the same date as his return in the ring on that night's Dynamite. He says it's coming soon. He says it will be in the month of March, which he vows will be big.
Jon Moxley vs. Evil Uno
As Mox settles inside the squared circle, we see Evil Uno and "Hangman" Adam Page watching his entrance on a monitor backstage. We then head to a pre-match commercial break.
When we return from the break, Evil Uno is finishing up his ring entrance, in progress. The bell immediately sounds and Evil Uno quickly charges across the ring and starts tearing into Mox with a strike-heavy offense early on.
Mox starts to get in some offense for the first time and he begins biting at the face and tearing at the mask of The Dark Order member as the fans boo. Uno fights back and knocks Mox out to the floor. He follows out with a wicked senton.
The fans pop huge for that but Uno can't hang onto the offensive lead, as Mox starts to take over from there once again. The fans start to warm up to Mox and begin chanting his name as Uno is laid out at ringside.
Evil Uno stumbles up and his mask is still torn and we see blood pouring through it after Mox smashes his head into the steel ring steps. When Uno re-enters the ring we see Mox stomping and then forearm-smashing the hell out of a now very bloody Evil Uno.
The ref goes and checks on him and then Mox starts to pick him up. Uno grabs Mox and hits him with a piledriver. He turns him upside down again and hits a second one. The camera shoots in close and we see Evil Uno is a bloody mess even with his mask on.
Mox starts to fight back into the offensive lead. He slaps a choke on him and then lets go temporarily to elbow the piss out of him. He slaps it back on and then transitions to his Bulldog choke. He cranks back on it and a very, very, very bloody Evil Uno hangs on as blood squirts profusely out of the eye holes of his mask.
Mox squeezes back tighter on the submission and Uno finally taps out. Mox picks up his 100th victory with the win.
Winner: Jon Moxley
"Hangman" Adam Page With Vicious Assault On Jon Moxley
He won't let go of the hold after the match. Other members of The Dark Order hit the ring to break things up. This brings out Claudio Castagnoli and the Blackpool Combat Club.
Now the theme for "Hangman" Adam Page hits and the man who does "Cowboy Sh*t" runs to the ring and wraps barbed wire around his hand and then drills Mox with it. Mox is now quickly becoming a bloody mess as Page continues punching away at him with his barbed wire wrapped hand.
That is how this week's show wraps up as we fade off the air. Thanks for joining us!
AEW Dynamite Results (2/22)