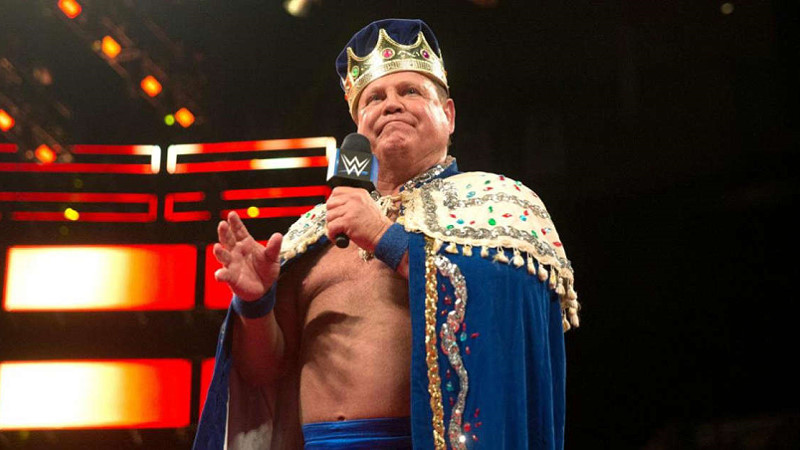 Jerry Lawler Out Of ICU, Set To Return Home – WWE Hall of Famer Jerry Lawler is set to be released from the hospital tomorrow.
Lawler's longtime partner Lauryn took to social media today to announce that Lawler was out of the ICU, and set to return to his home in Fort Myers, FL on Friday for outpatient rehab on his limited speech and cognitive skills.
Lauryn noted that Lawler's doctors are hopeful that he will make a full recovery from the massive stroke that he suffered on Monday.
"Jerry is out of ICU & will return to his Florida home for outpatient rehab for his limited speech & cognitive skills. Doctors hopeful for full recovery & Jerry is looking forward to returning to his fans very soon. #LongLiveTheKing," Lauryn wrote with a new photo of Lawler looking pretty good in the hospital.
As we've noted, Lawler had lunch with friends on Monday afternoon and later became ill, and was rushed to the hospital after being found face-down outside of his condo in Fort Myers, FL. It was later reported that Lawler suffered a massive stroke, which he underwent surgery for, and then immediately began recovery. Lawler lost some feeling and experienced some paralysis on his right side, and had some paralysis on his left side, but he was already regaining feeling by Tuesday night, along with the use of his right arm. Lawler reportedly woke up from surgery and tried to speak but was unable to, and while his speech was still affected as of Wednesday evening, doctors expected that to return as well.
The 73-year-old Lawler just worked the WWE Royal Rumble Kickoff pre-show, and made a public signing in Florida over the weekend. Lawler previously suffered a stroke in late March 2018, and he also suffered a massive heart attack while doing RAW commentary in September 2012. He made a full recovery.
Below is the latest tweet from Lawler's official account:
Jerry Lawler Out Of ICU, Set To Return Home