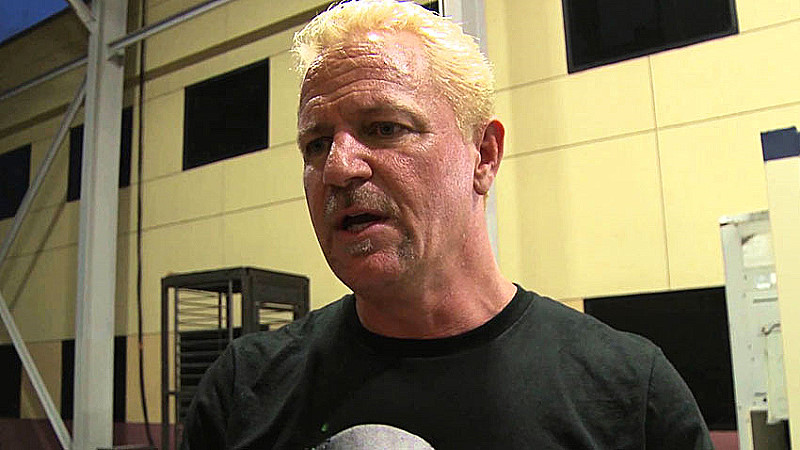 Jeff Jarrett Pays Tribute To His Father – Jeff Jarrett still plans to wrestle on tonight's AEW Dynamite, just one day after his father Jerry Jarrett passed away at the age of 80 on Tuesday.
AEW President Tony Khan appeared on Busted Open Radio today and confirmed that Jarrett is in Laredo, TX for tonight's show. AEW previously announced Jarrett, Jay Lethal, Sonjay Dutt and Satnam Singh vs. The Acclaimed, Billy Gunn and AEW All-Atlantic Champion Orange Cassidy, and that match will still happen tonight.
Khan noted that Jarrett "wants to wrestle tonight and push forward," despite his father passing away following a battle with cancer of the esophagus yesterday.
Khan said Jarrett's decision is a "brave and courageous" one, and that the company would have respected whatever decision Jarrett made about tonight's match.
Khan added that he could talk for hours about how much of an influence Memphis Wrestling had on him, and how so much of what he's learned about pro wrestling, he learned from The Jarrett Family.
As seen below, Jarrett shared a tribute to his father with the poem 'Don't Quit':
When Things go wrong, as they sometimes will, when the road you're trudging seems all uphill, When the funds are low and debts are high,
And you want to Smile but have to sigh. When care is pressing you down a bit, Rest, if you must, but don't you quit.
Life is queer with its twists and turns, as everyone of us sometimes learns,
And many a failure turns about, when he might have won if he'd stuck it out,
Don't give up though the pace seems slow, you might succeed with another blow.
Often the struggler has given up, when he might captured the victor's cup.
And he learned too late, when the night slipped down, how close he was to the golden crown.
Success is failure turned inside out, the silver tint of clouds of doubt, And you never can tell how close you are, It may be near when it seems afar,
So stick to the fight when you're hardest hit, It's when things seem worst that you mustn't quit! ~ #Dad
Jeff Jarrett Pays Tribute To His Father