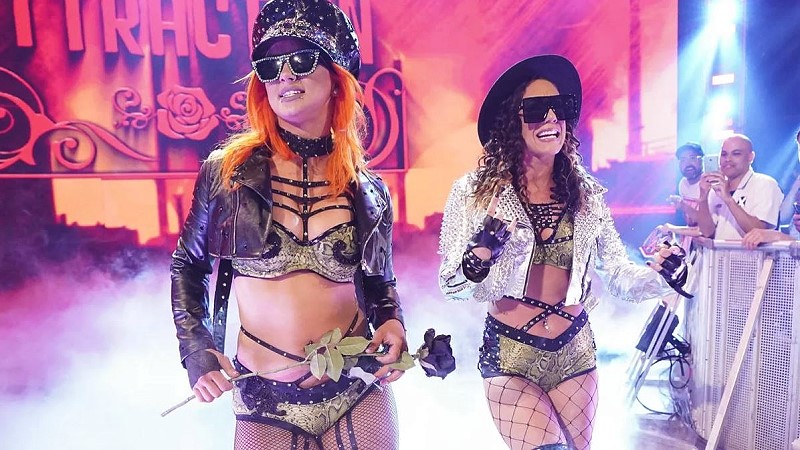 Jacy Jayne Turns On Gigi Dolin, Toxic Attraction Is No More – Ahead of NXT Vengeance Day, Toxic Attraction (Gigi Dolin & Jacy Jayne) teased that there were deep-rooted issues between the duo, but the conflict was a ruse, as they wanted to swerve NXT Women's Champion Roxanne Perez. Dolin and Jayne came up short in a three-way match against Perez at NXT Vengeance Day.
On tonight's NXT episode, WWE RAW star Bayley hosted her talk show "Ding Dong, Hello". Dolin and Jayne were the guests, and Bayley dove right in by asking them what happened at NXT Vengeance Day. The duo pointed the finger at each other for their loss, and tensions continued to rise. Bayley wondered whether the duo had thought about focusing on singles action. Both Dolin and Jayne noted that they thought they could succeed if they went solo.
Bayley responded by emphasizing that it's important to have someone who has your back. Dolin and Jayne seemingly agreed, and it looked like they had put their differences aside. They hugged, but Jayne betrayed her partner and left her lying with a vicious attack. Jayne then stood tall to close the show.
Jayne and Dolin started teaming up in NXT in 2021. They joined forces with Mandy Rose and formed Toxic Attraction. The trio was a dominant force on NXT, particularly after Rose won the NXT Women's Championship on NXT Halloween Havoc 2021. Dolin and Jayne won the NXT Women's Tag Team Championship at the show. After they lost the gold, the duo regained the titles at NXT Stand & Deliver 2022. Roxanne Perez and Cora Jade dethroned them on NXT Great American Bash 2022.
Rose lost the title on the December 13 episode of NXT, and she was released the next day. Dolin and Jayne remained a team until Jacy's betrayal on Tuesday night.
Jacy Jayne Turns On Gigi Dolin