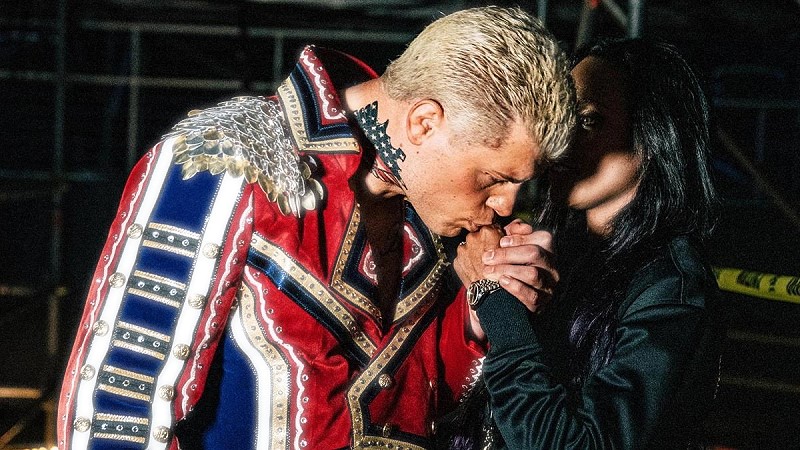 Cody Rhodes has addressed the possibility of his wife Brandi Rhodes potentially getting involved in his storyline with Roman Reigns.
Brandi was a major part of Cody's presentation in AEW, but that hasn't been the case in WWE as she has yet to appear live on TV with him.
She has, however, been acknowledged as far as being featured in video packages shown on TV as well as backstage photos released by WWE online.
She even wrestled a behind-closed-doors match at the WWE Performance Center a few months ago, but nothing has come of that.
Speaking on Peter Rosenberg's show, when was asked if his own bloodline would get involved – after several mentions/references to his brother, current AEW wrestler and coach Dustin on WWE TV the past couple of weeks – Cody replied:
"As far as Brandi is concerned. I never know. Like my dad, when Brandi got in, I went, 'You have to do your own thing and be your own self'. I'm so proud.
"When I talk about what we built (with AEW), there is a reason why I name everybody in it. Without Matt (Jackson), Nick (Jackson), Kenny (Omega), Tony (Khan), Bernie, Brandi, Dana (Massie – Matt Jackson's wife), it would have never happened.
"All of those names have to be included because it was so fragile. I'm so proud of what she did and her contributions to it.
"If I'm Roman Reigns, I'm not necessarily scared of Brandi Rhodes. If I'm Mr Heyman, I would be scared of what could happen.
"She's really enjoying watching this. My whole family, not that they've come out of the woodwork, they've always been big supporters, but for Mania, because I've never been in this situation before, I've gotten everything really organized in advance."
If there's one thing that can beat that Cody/Heyman segment, it's one with Heyman and Brandi. "Who the hell told you it was open mic night…" you know how it goes.
Before the scheduled Cody vs Roman match at WrestleMania, Roman defends his championships against Sami Zayn at Elimination Chamber this Saturday.
Fans are still questioning whether WWE will hold firm on the Roman Reigns vs Cody Rhodes plans, or if they'll find a way for Zayn to be involved in that match at WrestleMania too.