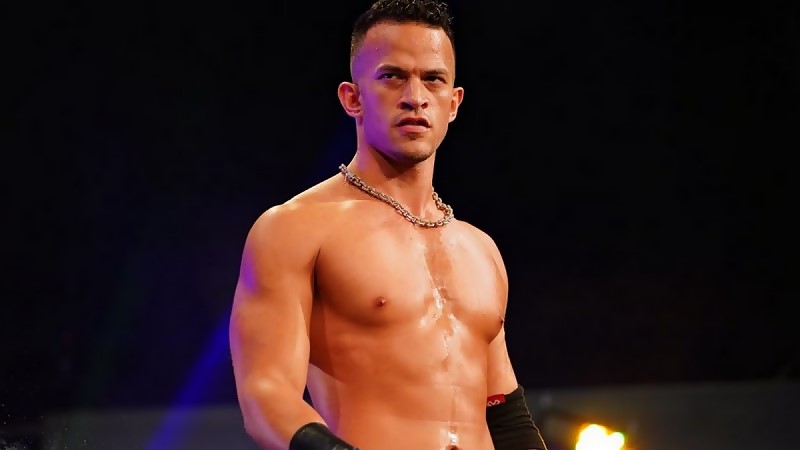 Chris Jericho Praises Ricky Starks For Dynamite Segment – On this week's AEW Dynamite, Ricky Starks goaded Chris Jericho into signing his open contract for a match at AEW Revolution on March 5. He also convinced Jericho to add in a stipulation for his Jericho Appreciation Society stable to be banned from ringside for the bout.
Speaking on Busted Open Radio, Jericho appeared and discussed the program with Ricky Starks. Complimenting Starks' performance on Dynamite, he said:
"Well I mean, when you first stand in the ring with The Rock, you're talking about a generational talent. That seems to be the term de jure but that's a different level."
"But the thing about Ricky (Starks) is I've seen glimpses of that which is great but he's still harnessing and the idea for this program was for him to still build and he did a great promo in San Antonio when we started. It really blew my mind, I thought it was awesome."
"Then there were some moments that weren't quite as good, just because that's how it goes. I thought (2/22 Dynamite) was the best Starks has been in our program so far."
"Nuances. You know, a lot of the younger guys, they'll talk when they do promos like this and Bully, I just wanna say — deep breathing because they're afraid of, hey, I just wanna say this. Pause, don't say anything, let the crowd react."
Praising Starks for getting the little things that other younger stars don't get, Jericho said:
"He really had some great nuances of that and that's what Sammy Guevara's learning and Dani Garcia's learning and the guys gotta learn when you haven't had a lot of promos, really (how) to hone in what you are and have the crowd in the palm of your hands without saying a word; at the click of a pen shall we say if you wanna use an example from (the 2/22 Dynamite) and I think Ricky's really starting to hone in on that and figure it out which has been great."
The Chris Jericho vs. Ricky Starks bout joins the AEW Revolution lineup that also includes MJF vs. Bryan Danielson in a 60 minute Iron Man match for the AEW World Championship and Jon Moxley vs. Hangman Adam Page in a Texas Deathmatch.
Chris Jericho Praises Ricky Starks For Dynamite Segment