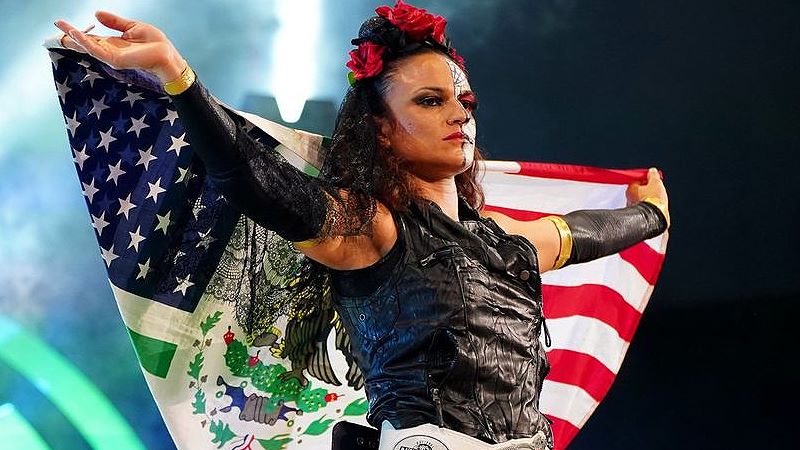 News On AEW Backstage Meeting With Thunder Rosa – A backstage meeting was held at last week's AEW Dynamite in El Paso, TX to try and do away with any lingering heat in the AEW women's division now that Thunder Rosa has returned to the road as a member of the AEW Spanish announce team.
It was note that the backstage meeting was held in an attempt to "clear the air" and move forward from past heat between Rosa and other members of the AEW women's roster. The meeting included Rosa and other members of the AEW women's division, along with AEW executives, including AEW President Tony Khan. The idea behind the meeting was to get everyone on the same page moving forward now that Rosa is back on the road, and to resolve any of the past issues between the talents.
It was noted that the meeting was productive, but no other details were provided as far as how the meeting went.
A new report from Fightful Select notes that Rosa did a lot of "making amends" at the meeting, for several issues that came up along the way during the first part of her run with the company. Their source described the meeting as an effort to ease the tension between Rosa and the women's locker room after several relationships had frayed.
It was also said that Rosa is happy to be working the Spanish announce team. Those close to her also claim she is getting closer to being ring ready.
Rosa has been out of action with a back injury since early August 2022, and while she returned full-time to the road last week, she is still not medically cleared to wrestle. Word is that Rosa's back injury has really hampered her, and there is no timeframe for her return to the ring. Rosa began lifting weights again an doing some walking/running back in December, but as of then she had not returned to in-ring training.
News On AEW Backstage Meeting With Thunder Rosa