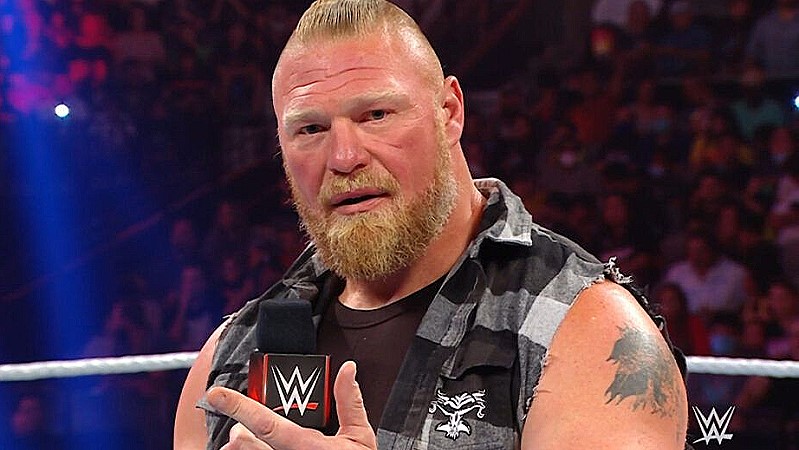 Backstage Heat On Brock Lesnar After Unplanned Royal Rumble Spot – There was some heat backstage with Brock Lesnar after his appearance at Saturday's WWE Royal Rumble PLE.
According to Fightful Select, Lesnar was scripted to show frustration at being eliminated by Bobby Lashley, but all aspects of his subsequent tornado were not known in advance.
Firstly, the spot of throwing the steel steps onto the commentary desk shocked some as there were several in the ring and at ringside who didn't know the spot was coming.
Next tossing a piece of the commentary desk into the ring was also said to be impromptu.
However it didn't seem that these tantrum events were particularly shocking, with one source saying:
"We knew a freak out was planned, and it's Brock, so expect anything and everything."
However the spot that drew heat to Lesnar was actually when referee Eddie Orengo was thrown over a barricade.
With some concern for Orengo that he may have hurt his foot, it also altered the end of the match as he was intended to be the one that raised the hand of eventual winner Cody Rhodes but instead had to sell the altercation and go to the back.
Although the report clarifies that the term 'heat' as it applies to Brock Lesnar is entirely relative.
While there were some people backstage who were mad, sources expected that Brock Lesnar would be unlikely to face any consequence for the situation.
Backstage Heat On Brock Lesnar After Unplanned Royal Rumble Spot