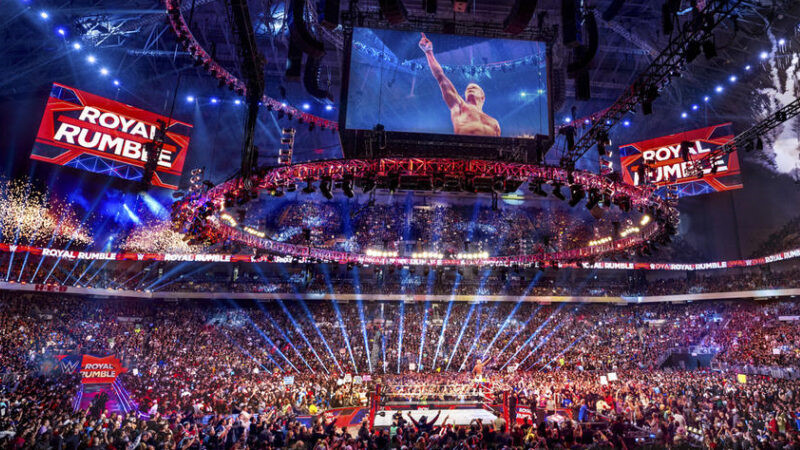 WWE has announced record success for the 2023 Royal Rumble Premium Live Event
We noted before how during Saturday's post-show press conference, WWE Chief Content Officer Triple H touted the largest gate in Rumble history, with the announced attendance of 51,338 fans at The Alamodome in San Antonio, and the most sponsorship revenue in Rumble history. He also mentioned strong merchandise sales.
In an update, WWE announced today that Saturday's Royal Rumble PLE was the highest-grossing and most-viewed Royal Rumble in company history.
The 2023 Rumble set a new all-time gate record at more than $7.7 million, far surpassing the previous Rumble high set in 2017 by more than 50%. Viewership saw a 52% increase vs. the previous record set in 2022.
Furthermore, the 2023 Rumble broke all-time venue merchandise and sponsorship records. Merchandise sales were up 135% vs. the record set in 2022. Rumble sponsorship revenue was up nearly 200% vs. 2022, featuring the Applebee's countdown clock and the Mountain Dew Pitch Black match.
The 2023 Rumble also had success on social media. The videos of the post-main event angle with Sami Zayn and Undisputed WWE Universal Champion Roman Reigns generated 20 million-plus views across all WWE platforms, and became the most-viewed WWE clip of 2023. Additional highlights include Logan Paul and Ricochet's high-flying Rumble Match collision which drew 26.5 million views across WWE and Paul's platforms, and the launch of Reigns' TikTok account which drew 100K followers in the first 24 hours.
WWE Announces Major Royal Rumble Success