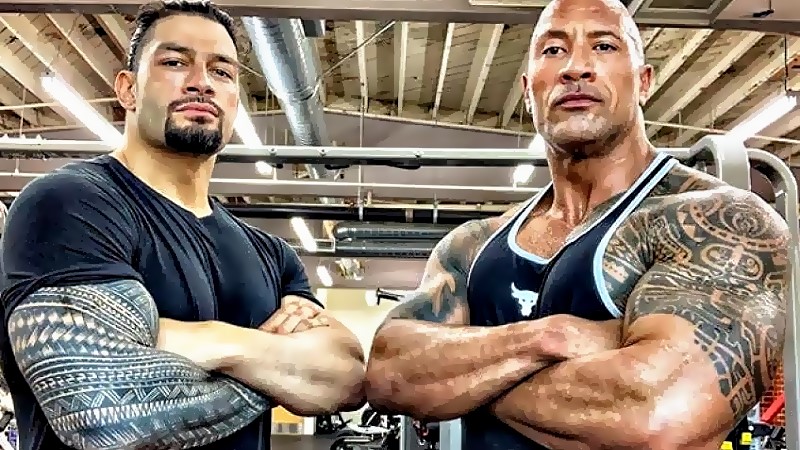 Roman Reigns Addresses The Rock WrestleMania Rumors – Roman Reigns made an appearance on The Tonight Show with Jimmy Fallon last night, to promote the WWE Royal Rumble and his match with Kevin Owens.
Reigns was asked about the rumors on he and Dwayne "The Rock" Johnson possibly facing off at WrestleMania 39 in April.
"There's been a huge buzz on that for a long time now," Reigns said. "But it's really picked up in the last couple of years. I believe he just came out with a statement saying he's not going to be ready in time, which that's the kind of face everyone's making, like, hold on, this guy trains every single day. He's huge!"
Reigns added that there's a big difference between looking physically in shape, and conditioning your body to take bumps ahead of a high profile main event match like this would be.
"That's number one, Dwayne," Reigns said. "When you're going up against Roman Reigns, you better get ready to fall down."
It was recently reported that The Rock indicated to WWE officials that he will not be able to get his body in the shape needed for a match with Reigns. However, Rock is rumored to appear at the Royal Rumble this weekend.
Reigns also discussed Owens and their match at The Rumble tonight. The Tribal Chief said he won't change anything when it comes to strategy. He went on and said he's defeated Owens so many times, it's almost like it's in his DNA.
Reigns also played Password with Claire Danes on The Tonight Show. You can see both clips below:
Roman Reigns Addresses The Rock WrestleMania Rumors