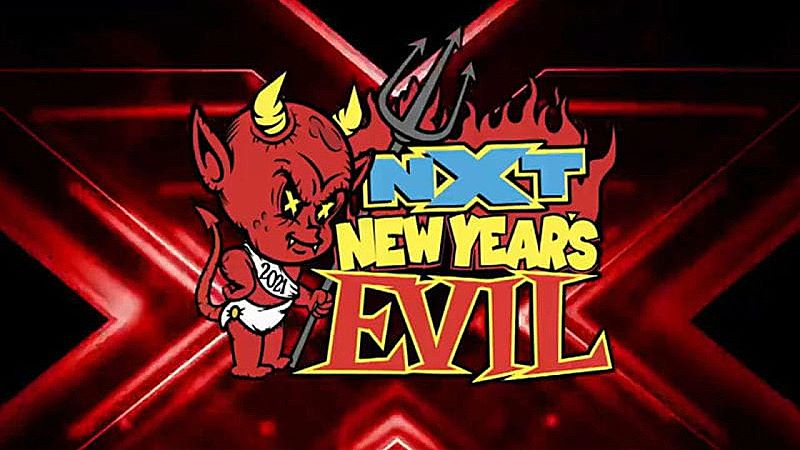 NXT 2023 New Year's Evil Results – NXT New Year's Evil special opens up with a Chase University segment. Andre Chase welcomes his students to a new semester, where everyone gets a second chance. Chase says tonight's homework is to watch New Year's Evil. Chase goes over tonight's matches. Chase dismisses a student for bringing negative energy around Thea Hail, who has the biggest match of her career tonight in the 20-Woman Battle Royal. Hail doubts herself but Chase believes in her and says she has the heart, Chase U believes she can do it. Hail gets hyped up as a "Thea!" chant breaks out.
– We're now live on the USA Network as Vic Joseph welcomes us to NXT New Year's Evil from the WWE Performance Center in Orlando, Florida. Vic is joined at ringside by WWE Hall of Famer Booker T.
Donovan Dijak vs. Tony D'Angelo
We go right to the ring for tonight's opener and out first comes Tony D'Angelo with Channing "Stacks" Lorenzo. Dijak is out next as Alicia Taylor does the ring introductions. It was previously announced that the winner of this bout will earn a shot at NXT North American Champion Wes Lee. Vic introduces Lee, who is already sitting at the announce table.
The bell rings and they go at it trading big stiff strikes. Tony knocks Dijak to the floor and follows, beating him against the apron and sending him into the steel ring steps. Dijak stops Tony from re-entering, then clotheslines him against the apron. Dijak rolls Tony back in but Tony drops him with a right hand as he tries to re-enter.
Tony unloads on Dijak to keep him down. Vic asks Lee if the winner should be the new #1 contender, and he does. Dijak goes for a Sleeper from behind but Tony rams him back into the turnbuckles. Dijak comes out of the corner but Tony clotheslines him for a 2 count. Dijak fights back and levels Tony D for a close 2 count of his own. They trade more shots now. Dijak with an elbow to the head against the ropes. Tony charges and they collide with Tony knocking them both over the top rope to the floor as Stacks looks on.
D'Angelo pounds on Dijak at ringside but Dijak knees him. Dijak sends Tony into the barrier but Stacks sacrifices himself. Stacks goes down but Tony comes back and levels Dijak with a lariat at ringside. Fans pop and Tony yells at Dijak as we go to a picture-in-picture commercial break.
Dijak turned it around at ringside and used the announce table but Tony fought back and slammed his face into the table. Dijak caught Tony coming back through the ropes and dropped him with a DDT for a 2 count. Back from the break and we also see how Dijak tried to handcuff Tony to the ropes but Stacks ended up cuffed instead. Tony mounts offense in the ring now to a pop. Tony with a belly-to-belly suplex, then a Spinebuster for a close 2 count.
Dijak fights Tony off and nails several kicks. Dijak catches a kick and rocks Tony, then superkicks him in the face. Dijak with the High Justice in the middle of the ring but Tony kicks out just in time. Dijak is shocked. Fans chant "this is awesome!" as Stacks cheers Tony on, while still cuffed.
Stacks ends up in the ring, wanting to finish Dijak off. Stacks stands in front of Tony and looks to charge Dijak, but Tony grabs him and says something about how Stacks isn't the boss of The Family, Tony is. Tony then apparently kisses Stacks on the back of the head and shoves him to the mat to save him as Dijak charges and levels Tony for the pin to win.
Winner: Dijak
After the match, Stacks is still cuffed under the bottom rope while Tony is laid out. The music hits as Dijak stands tall. We go to replays. Dijak stands tall in the ring now while Lee raises his title in the air as he poses on top of the announce table.
– Toxic Attraction is backstage with McKenzie Mitchell. They go on about making Roxanne Perez pay for what she did to them. They go on about winning tonight's Battle Royal and say it will be like two caged beasts, unshackled and let into the wild. McKenzie asks what happens if the match comes down to both of them. They say then they will be announced as the winners.
The Creed Brothers vs. Indus Sher
We go back to the ring and out first are The Creed Brothers – Julius Creed and Brutus Creed. Out next comes Sanga of Indus Sher. Sanga takes the mic and has something to say but The Creeds aren't interested. Sanga says Veer Mahaan isn't here, but he plans on honoring the match anyway. Julius takes the mic and says Sanga has talked about fighting for respect, but… Jinder Mahal suddenly attacks The Creed Brothers from behind.
Jinder and Sanga destroy The Creed Brothers now as a "Jinder!" chant breaks out. Sanga and Jinder double team Brutus at ringside, chokeslamming him on top of the steel ring steps. they return tot he ring and Jinder hits The Khallas on Julius in the middle of the ring. Jinder and Sanga pose over Julius now. Jinder takes the mic and says Veer and Sanga fight for respect, but he doesn't. Jinder drops the mic to end the segment.
– Pretty Deadly are backstage talking about how close they are to a title win when NXT Tag Team Champions The New Day interrupt. They say the previous match didn't happen, so Pretty Deadly is up now for their Gauntlet match. Kofi Kingston and Xavier Woods taunt them over how their hair isn't ready, but Kit Wilson and Elton Prince are happy to head out as we go back to commercial.
– Back from the break and we see Sanga and Jinder Mahal walking backstage. Valentina Feroz interrupts and asks Sanga if this is the real him. Jinder leaves. Sanga tells Feroz yes, this is the real him, and it's all about Sanga and his brothers now. Sanga walks off. Elektra Lopez walks up and tells Feroz yes, Sanga is all for himself, and maybe it's time for you to be all about yourself. Lopez says a great time to start is tonight's Battle Royal when it's every woman for herself.
Gauntlet Match: Pretty Deadly vs. "The Rockers" Jimmy Jackson and Brian Williams, Edris Enofe and Malik Blade, TBA
We go back to the ring and out comes Pretty Deadly – Kit Wilson and Elton Prince. They say NXT Tag Team Champions The New Day think they're not tough enough for the titles, so they've hand-picked three of the top tag teams for tonight's Gauntlet. The music of The Rockers hits and out come two enhancement talents – Jimmy Jackson and Brian Williams, billed as The New Rockers.
The bell rings and Prince attacks. Wilson joins him and they dominate, then hit Spilt Milk for the pin to win and eliminate the first team. The second team is about to come out but the music interrupts and instead we get Kofi Kingston and Xavier Woods. They knew this would happen but they're not letting Pretty Deadly slide by this easy. The New Day has two actual top tag teams picked for the Gauntlet. The music hits and out comes Edris Enofe and Malik Blade.
Enofe and Blade hit the ring and unload on Wilson and Prince. The stereo offense continues until they clear the ring. Blade and Enofe run the ring next, then leap out with dives onto Wilson and Prince. Fans chant "NXT!" as they return to the ring and we go to a commercial break.
Back from the break and Prince stops Blade from tagging. Enofe kicks him away and in comes Enofe. Enofe runs wild on Wilson as he also comes in. Enofe with a big slam in the middle of the ring. Prince runs in but Enofe nails a Spinebuster. Enofe with a big knee strike to Wilson for a close 2 count.
More back and forth between the two teams. Prince goes to work on Enofe now. Blade tags in but Prince doesn't see it as he takes Enofe to the top for a big superplex, and he hits it. Blade follows up with a Frogsplash to Prince but he kicks out just in time. Blade can't believe it. Enofe is legal now as he gets a close 2 count on Prince. Wilson tackles Blade to the floor. Prince and Enofe tangle some more and this ends with Prince getting the pin after a brief assist from Wilson. Enofe and Blade have been eliminated.
The New Day congratulates Pretty Deadly, but then they introduce Josh Briggs and Brooks Jensen. The camera cuts backstage and we see referees tending to Briggs and Jensen, who have been attacked with steel chairs. Pretty Deadly are laughing in the ring. The music hits and out comes Wolfgang and Mark Coffey of Gallus instead. Fans pop as Gallus hits the ring and brawls with Pretty Deadly. Vic says their suspension has been lifted.
Gallus takes Pretty Deadly to the floor and they dominate. Coffey brings Prince into the ring and spikes him to the mat. Prince rocks Coffey and tags in Wilson, who grabs Coffey but gets beat down. Coffey beats both opponents up, then tags in Wolfgang for a big double team, kicking Wilson into a powerslam by Wolfgang for the pin to win.
Winners: Gallus
After the match, Gallus stands tall as the music hits. We go to replays. Gallus meets The New Day at ringside now and the two teams have words as Pretty Deadly looks on from the ring.
– Ivy Nile and Julius Creed come out of the trainer's room and they're arguing. Brutus Creed is being checked out. Julius is sick and tired of being jumped. He's not good and wants to send a message. Julius doesn't care if Jinder Mahal is a former WWE Champion, doesn't care if he's back. Ivy tells him to stop or he will be in there with his brother. She asks when will you guys listen? Julius stresses that there is no moving on from these guys, but he is listening. Ivy has to go get ready for her Battle Royal, and Julius says he has to go get a match made. They go their separate ways and emotions are running high as Ivy wants The Creed Brothers to leave Indus Sher alone.
– Still to come, the reveal of the New Year's Countdown teasers. Back to commercial.
– Back from the break and we see Carmelo Hayes sitting in a diner with a cup of coffee. He's writing in his pad and we hear his thoughts – he proved last week to Apollo Crews that he is the past, present and future of NXT, he is beyond reach… Hayes is him. We hear Trick Williams speaking now. He says no one can see past the Trick Melo Gang, they are chiseled out of marble and about to reach legend status. Trick appears next to Hayes, wearing a lucha mask. Hayes asks what he's doing, and tells him to take the mask off because he looks ridiculous. Trick tosses it and says he can't see anything. Trick wonders how tag teams see anything under the mask. Hayes doesn't know and doesn't care. Hayes says the NXT Title has his name written on it, not Apollo's. Trick says they speak it into existence, and Hayes agrees. They toast their coffee to end the segment.
– We go back to the ring and the music hits but then the lights go out. The lights flash now as more music plays and out comes Tiffany Stratton to make her return as the cameras flash. Stratton marches to the ring to a pop as fans realize who this is making her return. Stratton enters the ring and poses, then blows a kiss as the camera shutters continue. Stratton takes the mic and asks how bad we missed her. We totally missed her so much it's not even funny. She says all the women in the locker room are sweating like disgusting pigs because NXT's biggest Superstar is back. Stratton can't blame them for feeling so inferior because she's a revelation. She brags about learning the business in her first 9 months, better than anyone else, and she's watched others fail to be her and try to replace her in recent months. No one has her shine, skill or style. Stratton says 2023 can now officially begin because she is back. Stratton poses more as the music starts up.
– We get a video package for tonight's NXT Title match. Back to commercial.
– Back from the break and we see NXT Women's Tag Team Champions Katana Chance and Kayden Carter walking through the parking lot. The camera man congratulates them on their record-breaking title reign. They say thank you, and say now they're coming for the men's tag team title record. They enter the building and out comes Tiffany Stratton. She walks right past them to her waiting car. The camera man wants to ask a few questions but Stratton says no. Stratton smacks the car away and gets in her car to drive away.
Bron Breakker vs. Grayson Waller for the NXT Men's Championship
The match starts and we get loud dueling chants. They lock up, then break. They lock up again and Waller stalls some, then talks trash. Waller slaps Breakker. Breakker chases Waller around the ring and back in. Waller drops an elbow but misses as Breakker dodges it. Breakker levels Waller now as the crowd barks.
Breakker with a long vertical suplex in the middle of the ring. Breakker with a standing moonsault. Vic confirms Julius Creed vs. Jinder Mahal for tonight. Bron takes Waller to the corner but then runs into a boot. Waller counters a powerslam with a big DDT as the dueling chants continue. Waller grounds Breakker now. Breakker fights up but Waller hits him with knee strikes, then takes him down into a submission. Waller with a belly-to-back suplex for a 2 count. Waller rocks Bron. Bron blocks a right hand and nails a big overhead toss of his own, then another.
Bron takes control and hits a tilt-a-whirl slam. Bron whips Waller but Waller counters and launches him into the turnbuckles. Bron goes down hard. Waller tackles Bron into the corner and the ring ropes are now broken. Waller is all smiles while Bron is still down. Crew members come to tend to the broken ring ropes as we go back to commercial.
Back from the break and Waller has Bron down, working on his leg. Breakker counters with an armbar, but Waller quickly goes to the ropes to break the hold. Waller rocks Bron but Bron gets back to his feet and fights back. The dueling chants start back up as the fight goes on. Bron tells Waller to bring it, and he does. Waller levels Bron with a clothesline to the back of the neck. Waller mocks Bron and locks in the Steiner Recliner in the middle of the ring.
Bron quickly powers to his feet, then slams Waller to break the Recliner. Bron with a flying shoulder tackle, and another. Bron catches Waller in mid-air and slams him for a big pop. Bron goes to the top for the big Bulldog. Bron drops his straps now and calls for the finish. Bron waits in the corner now. He charges but Waller ducks down and goes to the floor. Waller ends up running and leaping back through the ropes but Bron meets him with a Spear attempt. Waller nails a big knee to block it for a close 2 count. Waller shows some frustration now.
The ring ropes break again as Waller tries to walk them for an elbow drop off the middle rope. Waller falls out to the floor and lands bad. The referee counts. Waller gets up at the 9 count and he grabs the broken rope, but it's loose and he falls back to the floor. Waller is counted out.
Winner By Count Out: Bron Breakker
After the match, Breakker looks a bit confused and disappointed as the music hits and he takes the title. We go to replays. Waller is being checked out by referees and a medic now but he's furious, yelling at them to get away. Bron looks on from the ring as the crew tries to fix the ropes.
– McKenzie Mitchell is backstage with NXT Women's Champion Roxanne Perez. She's asked if she's rooting for anyone in particular for the Battle Royal tonight, and she says Cora Jade. McKenzie asks if she's serious and she laughs, then says no, anyone but Jade. All jokes aside, she says this is a huge opportunity and the women's roster is deep. She goes on about potential winners and says she can't wait to watch.
– We get a video package showing recent happenings with Drew Gulak, Hank Walker and Charlie Dempsey. Still to come, Dempsey vs. Walker. Back to commercial.
– We are back and we see Axiom thank Apollo Crews for helping him last week.  Apollo says they both know that Carmelo won't let him hear the end of his victory.  Axiom says that Trick is the most annoying person on earth and then Axiom says he can see it written on his face.  Crews asks Axiom if he is in for a match.
Hank Walker vs. Charlie Dempsey
They lock up and they go into the ropes and Charlie with a forearm on the break. Dempsey with an Irish whip and he runs into a boot. Walker with a shoulder breaker for a near fall. Dempsey puts Walker in the ropes and he chokes Walker. Dempsey pulls Walker into the ropes in the throat. Walker and Dempsey go through the ropes to the floor. Walker sends Dempsey into the apron. Dempsey kicks Walker as he returns to the ring. Dempsey with a chin lock in the ropes. Dempsey kicks Walker to the floor.
Dempsey kicks Walker and Walker kicks back. Dempsey blocks a kick and hits a bridging dragon screw. Dempsey with a bow and arrow but Walker gets to the ropes. Walker kicks Dempsey away. Charlie with a kick to the knee and a European uppercut. Dempsey with a forearm to the jaw. Dempsey sends Walker throat first into the ropes and then applies a front face lock. Walker with a cross arm breaker and Dempsey tries to get to the ropes and Walker pulls Dempsey back into the ring. Dempsey escapes and connects with a crossface. Dempsey tries to lock up Walker but Walker cannot get to the ropes and Dempsey rolls Walker into the center of the ring to force Walker to tap out.
Winner: Charlie Dempsey
After the match, Gulak checks on Walker.  Dempsey leaves the ring. Gulak has some words for Walker.
– We see Sol Ruca in the back and Alba Fyre shows up and she talks about the match they should have had.  Alba says she owes Sol a match.  Sol says that Alba is done with Isla.  Alba asks Sol if she is refusing the match.  Sol says she will take the match and it will happen next week.
– We have a video package for Tyler Bate. Tyler says he is back to settle some issues and face new challenges.  He will be back next week.
– Vic mentions that NXT Anonymous has struck again.  We see Scrypts putting a not on Oro Mensah's back.
Jinder Mahal vs. Julius Creed
Julius attacks Mahal before the match and punches him. Creed blocks a kick and runs Jinder into the turnbuckles. Creed with a spinebuster and a punch. Creed sends Mahal shoulder first into the ring post a few times. Creed follows Mahal to the floor but Mahal sends Creed into the apron. Creed avoids being sent into the ring steps and Creed sends Mahal into the steps. They return to the ring but Mahal with a double sledge to the back and kicks. Mahal with a forearm to the back of the head. Creed with a kick and punches. Mahal goes into the ropes but Julius pulls him back into the ring and gets a near fall. Creed with elbow drops. Cred with an Irish whip but he misses a splash into the corner.
Mahal with a clothesline. Creed with a drop kick. Mahal goes to the apron and Creed punches hiim. Creed sends Mahal into the turnbuckle and he sets for a superplex but Mahal stops hiim and punches Creed. Creed punches Mahal and goes back to the turnbuckles for the superplex but Mahal pushes him off again. Creed leaps to the turnbuckles and hits a superplex. Creed gets a near fall. Creed with shoulders in the corner. Mahal with a double thrust to the throat and then Mahal hot shots Creed. Mahal with a drop kick and he gets a near fall. Mahal chokes Creed in the ropes. Mahal with knee drops to Creed. Mahal with a forearm to the throat and the head. Julius with punches and a kick. Mahal with a Harley Race knee for a near fall. Mahal with a knee to the back and an elbow to the top of the head. Mahal with a half nelson and chin bar. Julius with an exploder to Mahal. Julius punches Mahal and connects with running forearms. Creed with an exploder slam for a near fall. Mahal with elbows to the side of the head. Creed gets Mahal on his shoulders and then hits the rolling slam.
Creed goes to the turnbuckles but Sanga gets on the apron. That delay allows Mahal to move and avoid the shooting star press. Creed lands on his feet and rolls through. Mahal with a thrust kick and Khallas for the three count.
Winner: Jinder Mahal
– Josh Briggs and Brooks Jensen are backstage in the trainer's room, and with them are Fallon Henley and Kiana James. They ask why would Gallus to this to them. Briggs says because they are sons of bitches, and Jensen says because they are still upset over the Pub Rules match a few months back. Henley says don't worry boys, they will take care of this. A trainer brings an ice pack to Briggs but he refuses it. He says to look at the shape Jensen is in. Henley looks and jokes that she doesn't like what she sees as James is tending to Jensen and they're close. Fallon says she has a Battle Royal to win, so she leaves. Jensen says James better go as well but she hesitates as she wants to stay and tend to Jensen. He wishes her good luck.
– We go back to the ring for tonight's 20-Woman Battle Royal main event and out first is Cora Jade. The winner of this match will challenge NXT Women's Champion Roxanne Perez at Vengeance Day. Back to commercial.
– We are back and Stevie Turner is coming to NXT.  Stevie Turner says you might be familiar with her from her days in NXT UK.  She says she is your resident data collector to record everything to do with her.  She says she is always two levels above and two steps ahead.
– Next week, Carmelo Hayes and Trick Williams will face Axiom and Apollo Crews.  Brooks Jensen and Josh Briggs will face Gallus.
20-Woman #1 Contender Battle Royal: Gigi Dolin, Jacy Jayne, Ivy Nile, Tatum Paxley, Sol Ruca, Cora Jade, Zoey Stark, Nikkita Lyons, Fallon Henley, Kiana James, Elektra Lopez, Wendy Choo, Ivy Nile, Thea Hail, Lyra Valkyria, Valentina Feroz, Lash Legend, Amari Miller, Jakara Jackson, Dani Palmer
Everyone pairs off and Cora Jade is eliminated by Lyra Valkyria. Ivy with forearms to Zoey and Lyra with forearms to Ivy. James sends Tatum into the ring post and she is eliminated. Fallon hangs from the ropes and Kiana makes the save. Lash has Miller on her shoulders but Miller with kicks. Miller with a chop to Lash and Lash sends Miller over the top rope to eliiminate her. Jacy sends Ruca to the apron and Gigi trips her but Sol gets to the floor but walks on her hands and then gets back to the ring.
Thea eliminates Feroz and Hail shakes the ropes. Lash is sent to the apron when she misses a kick and Indi with a boot to eliminate Lash.
Kiana avoids a splash from Lyra and she kicks Lyra. Lyra eliminates James. Zoey press slams Dani Palmer onto Kiana and Lash to eliminate her. Lyra kicks Zoey and tries for a clothesline over the rope but Zoey stays in the ring. Lyra kicks Zoey and Lyons joins in. Cora Jade tries to attack Lyra from behind and she goes over the top rope again.
Lyra and Ivy work on Zoey while Nikkita works on Gigi. Fallon is sent to the apron but she gets back into the ring. Alba sends Fallon to the apron and Fallon hangs on to the ropes but Alba drop kicks Fallon off the apron to eliminate her. Lyra is sent over the top rope but she hangs on and lands on the apron. Zoey and Ivy try to eliminate her but Lyra stays on the apron and gets back in the ring. Hail with kicks to Jacy but Lopez sends Thea over the top rope to eliminate her. Lyons kicks Zoey in the corner. Sol gets Lyra up but Lyra gets back to her feet and she sends Sol to the mat.
Ivy with a jumping thrust kick to Zoey. Zoey goes to the apron and Gigi with a forearm to knock her off the apron and eliminate her. Gigi holds on to the ropes to eliminate Indi thanks to some help from Jacy. Nikkita kicks Lopez. Gigi and Jacy kick and choke Alba in the corner. Wendy is sent to the apron by Zoey and Wendy hangs on. Sol kicks Lyra on the apron but she stays in the match. Lopez is sent to the apron by Lyons and Nikkita with foerarms. Nikkita kicks Lopez off the apron to eliminate her. Wendy is kicked off the apron but she lands on her pillow and Lopez pulls the pillow away to eliminate Choo. Lyons kicks Zoey and misses a spinning heel kick and Zoey eliminates Lyons. Sol throws Zoey over the top rope to eliminate her. Sol with a clothesline to Jacy and a drop kick to Gigi. Sol with an Irish whip to Alba but Alba with a thrust kick to stop a handspring move. Alba eliminates Ruca.
The final four are Alba Fyre, Lyra Valkyria, Jacy Jayne, and Gigi Dolin. Lyra with knees to Gigi while Jacy sends Alba to the apron and she holds on and rolls back in. Lyra with a double drop kick to Jacy and Gigi. Lyra with kicks to Jacy and Gigi. Lyra with a head butt to Alba. Lyra with a head scissors and they both go to the apron. Alba sets for a German suplex off the apron and Lyra holds on. Gigi and Jacy run into shoulders. Lyra with a head scissors to eliminate Alba. Cora fails to eliminate Lyra again but Gigi and Jacy knock Lyra off the apron to eliminate her.
Cora and Lyra fight around the ring.
Gigi and Jacy celebrate in the ring, but is there someone who was not eliminated yet? Gigi talks to Jacy and Jacy raises Gigi's hand and Jacy says she will do the honorable thing. Jacy goes over the top rope but Gigi tells her to stop. Jacy with a super kick and she sends Gigi over the top rope to the apron. Gigi sends Jacy into the turnbuckles and they are both on the apron. They both go to the turnbuckles and Jacy tries for a superplex to the floor but Gigi blocks it.
They exchange forearms on the turnbuckles. Both women fall off the turnbuckles and land at the same time.
Winners: Jacy Jayne and Gigi Dolin
The referees discuss who won the match and three think Jacy did while one thinks Dolin won. The replay shows both landed at the same time. The referee calls them into the ring and they are both officially announced the winners of the match.
NXT Women's Champion Roxanne Perez comes out and it is going to be a Triple Threat Match at Vengeance Day.
– Shawn Michaels is in the back with Bron Breakker and Grayson Waller.  He says they want a definitive winner and both men agree.  Shawn tells them not to fight.  Shawn announces that at Vengeance Day, it will be a Steel Cage match for the NXT Men's Championship.
We go to credits.
---
Since 2001, WrestlingAttitude is your number one source for WWE wrestling news, rumors and results. Make sure to follow us on social media to get the latest news in real time! We are facebook, Twitter, Pinterest and Instagram at the following links:
WA on Facebook – https://www.facebook.com/wrestlingattitude/
WA on Facebook (Women's Wrestling) – https://www.facebook.com/WrestlingDivas/
WA on Twitter – https://twitter.com/wa_wrestling
WA on Instagram (Women's Wrestling) – https://www.instagram.com/wa_wrestlingattitude/
WA on Pinterest – http://www.pinterest.com/realbadrose/wrestling/
---
NXT 2023 New Year's Evil Results