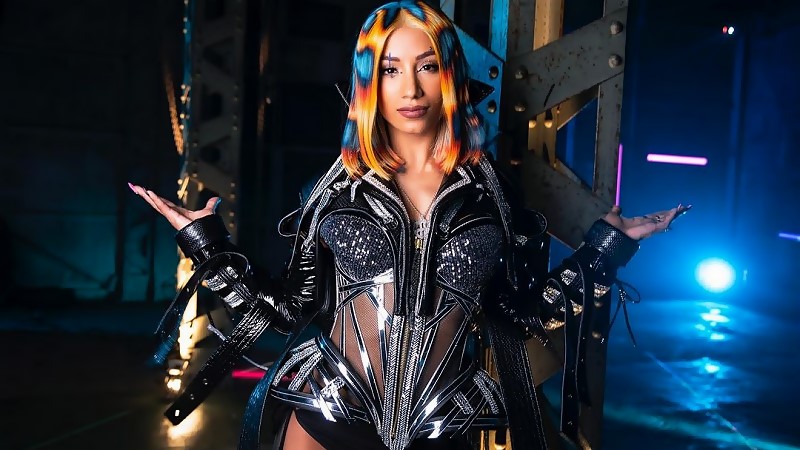 People In WWE Believe Mercedes Moné Isn't Wrestling For AEW – There had been speculation that Sasha Banks (Mercedes Moné) signed with AEW and would be revealed as Saraya's mystery tag team partner against Britt Baker and Jamie Hayter on the January 11 edition of AEW Dynamite.
On Wednesday's Dynamite, it was revealed that Toni Storm would team with Saraya. Moné just made her NJPW debut on Wednesday at Wrestle Kingdom 17.
While speaking on Wrestling Observer Radio, Dave Meltzer stated that he doesn't think Moné is coming to AEW.
"She is not in Los Angeles. She is not coming to AEW. I don't think she wants to make that commitment. Because if she goes to AEW it's a long commitment." Meltzer said.
Brian Alvarez pointed out that Baker said during the segment on Dynamite, "I'm the boss." He noted that nobody in AEW has denied that Moné is debuting next week, and while she won't be wrestling, she could make an appearance.
"I've heard denials from AEW people in the match. They knew that it was really screwed. That's why they had to announce somebody this week because they knew it was really screwed because everybody was thinking that it was her and it wasn't her."
"If that's the case, I'm wondering why the line was in there about 'I'm the boss.' Because what it has achieved is now people are still thinking she's going to be there because of that boss line. So what I thought was, maybe she is going to debut next week but she's not allowed to wrestle until after the Battle in the Valley, like her first match is gonna be for New Japan…if New Japan signed her they are gonna want her last match. Is it possible that she is coming in but she is not wrestling next week, obviously?"
Meltzer noted that he knows of people who believe Moné will return to the company and not wrestle for AEW.
"I also know from WWE that they are very strongly under the impression that she will not wrestle for AEW…They think that she's coming back at some point and she'll get this out of her system [and] she'll do her New Japan matches. She's only contracted for a couple of matches…If she's going to AEW, she's got to sign for 3 years minimum because why bother if she's going back [to WWE]. For AEW it would be really stupid to put her on TV if she's gonna go back in 6 months. I don't know that she wants to make that commitment that she can't go back.
"Again, what will happen? I just know that over in Japan and everything, everybody was pretty much saying this is just a New Japan deal and it's not an AEW deal."
Mercedes Moné Isn't Wrestling For AEW